Democrat Mark Herring Leads Virginia Attorney General's Race by 163 Votes
The next Attorney General of Virginia will be named Mark. And that's about all we really know at this point.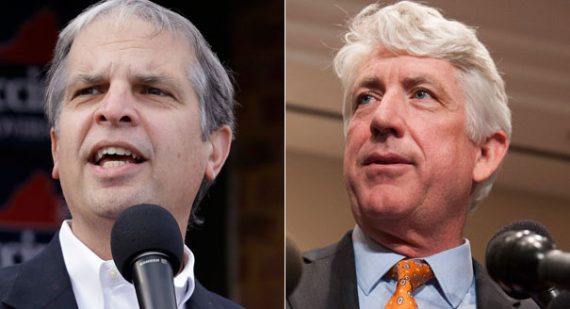 With all provisional ballots from Virginia's election last week now counted, Democratic nominee Mark Herring appears to have a 163 vote lead over Republican Mark Obenshain, thus making this the closest statewide race in Virginia history:
State Sen. Mark R. Herring padded his still-narrow lead over state Sen. Mark D. Obenshain on Tuesday night in the race for Virginia attorney general, giving the Democrat an apparent 163-vote advantage before the results of the contest are certified.

The Fairfax County Electoral Board finished reviewing provisional ballots – mostly cast by people who did not have ID or went to the wrong polling place – and added 160 votes to Herring's (Loudoun) total and 103 votes to the Republican's. Herring already led on the State Board of Elections Web site by 106 votes.

The additional 57-vote margin from Fairfax was expected to give Herring a statewide lead of 163 votes out of more than 2.2 million cast – barring any last-minute changes from other localities, which had until 11:59 pm Tuesday to submit their numbers to the state election board.

A recount appears all but certain after the statewide results are certified Nov. 25, and the Obenshain campaign made clear that it considers the race far from over. "We owe it to the people of Virginia to make sure we get it right, and that every legitimate vote is counted and subject to uniform rules," Obenshain (Harrisonburg) said in a statement.

Herring, by contrast, treated his victory as assured in a campaign statement.

"Voters in Virginia have spoken, their voices have been heard and I am honored to have won their votes and their trust to become Virginia's next Attorney General," Herring said. "Over the course of the past week, a thorough and extensive process has ensured that every vote has been tallied and accounted for."

The margins in the race have fluctuated since the polls closed a week ago. Obenshain's narrow lead on election night disappeared and then grew again to more than 1,200 votes.

Herring took the lead after Fairfax County found that more than 3,000 votes had not been properly counted on election night and Richmond discovered that a voting machine's results had not been included in its tallies.

Republicans said Tuesday night that they were unhappy with the way Fairfax had handled the 493 provisional ballots cast there. Fairfax gave voters who wanted to appear in person to argue for the validity of their ballots until 1 p.m. Tuesday to do so. Other jurisdictions had observed a Friday deadline.

Republican attorney Miller Baker, who had been observing the screening of provisional votes, formally objected to the results before the Fairfax Electoral Board voted Tuesday. He said the equal-protection rights of other provisional voters were violated because voters in Fairfax County had more time to testify to the legitimacy of their ballots.

"These in-person interviews have made a difference," Baker said. "Voters in Bedford, Richmond, Charlottesville and Danville were not given the same opportunity."
The next step in this process comes by November 25th, the deadline by which the State Board of Elections must certify the election results. At that point, the losing candidate, presumably Obenshain, will have the right to request a recount and, since the margin is so close, it will be a recount paid for at taxpayer expense. Based on history, though, it seems unlikely that a recount will change the outcome of the race significantly. When Virginia had its last statewide recount in 2005, for example, Bob McDonnell entered the recount leading by 323 votes and ended up netting an additional 37 votes to win by 360 votes. Obenshain would need to net some five times that amount in order to win even by a razor thin margin.
This is why the highlighted portion of the blockquote above is crucial. Based on my understanding of how recount procedures work, it does not appear that Republicans will be able to call the legitimacy of the counting of provisional ballots into question during the recount. To do that, other options would have to be pursued. One, obviously would be  separate litigation ruling on the question of whether the Fairfax County procedures did in fact deviate from the norms established by the State Board of Elections, or whether the differences in how provisional ballots may have been counted in different parts of the state violated the Equal Protection rights of voters. The other is one that would come after a recount that, presumably, would declare Herring the winner and would involve Obenshain formally contesting the results of the election to the Virginia General Assembly. If that occurs, the rules that would govern such a contest are set forth here and here, and the final authority on who the winner of the Attorney General's race would be a Republican dominated state legislature. The partisan rancor that would then ensue is easy to see from a mile away.
So, stay tuned, because this one isn't over quite yet.