Democrats Claim Obama Broke Their Party, Call on Him to Fix It
Some of his party's leaders want the president to save them.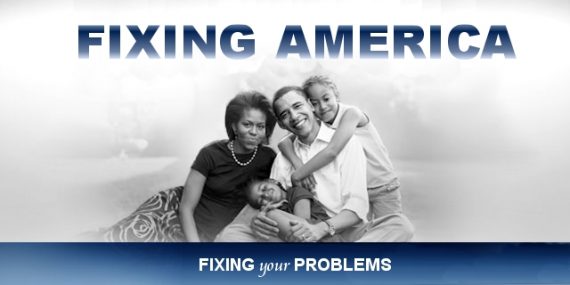 POLITICO reports on some tensions within the Democratic Party under the headline "Democrats to Obama: You broke the party, now fix it." I'm reminded of Colin Powell's Pottery Barn Rule.
Enough, Donna Brazile told White House political director David Simas the day after the midterms.

Democrats are in worse shape than when President Barack Obama came into office — the number of seats they have in Congress, the number of governors, a party approval rating that's fallen behind Republicans for the first time in recent history, enthusiasm, energy. The White House, Brazile said when she came to meet with Simas, has got to focus for the next two years on getting the party into better shape, and Obama's the best and most effective person to get out the message.
Well, so far, the only Democrat identified as wanting what the headline says they all want is Donna Brazile. And she's using a rather odd definition of breaking the party: having fewer elected officials than at the high water mark at the peak of the pro-Obama/anti-Bush wave in 2008. Even if Obama were a fairly popular president and things were going swimmingly, the party would likely be "broke" by that standard, since the 2006 and 2008 elections temporarily put Democrats into seats that had long been held by Republicans. They were always going to win a lot of those seats back.
"The base craves his leadership," Brazile said in an interview later that week, following a meeting of the DNC committee that's beginning to set the rules for the next presidential nomination. "They want him in the mix, talking about what Democrats accomplished, what Democrats are fighting for, and what the president has done to make lives better."
But he just spent months doing that with less than spectacular results. Indeed, many Democratic candidates explicitly didn't want Obama doing it in close proximity to them, lest they be diminished by association.
Nancy Pelosi was reelected minority leader. So was Harry Reid. Debbie Wasserman Schultz's term at the DNC isn't up until 2017. Obama said repeatedly before and after the votes were counted that he wasn't going to fire anyone because of election results. But if no one's going to take the blame for 2014, Democrats are hoping he'll take responsibility for getting things better for 2016.
Now, wait a minute. Why is it Obama's fault that House and Senate Democrats, elected independently of Obama and not beholden to him in the slightest, have just re-elected their failed leadership? Or that the party-in-organization is sticking with their failed head apparatchik?
"He may or may not be the best messenger," said Vic Fazio, the former California congressman who was the Democratic Congressional Campaign Committee chair for the 1994 rout. "But at this point, he is still our messenger. And the first year is very important."

At least until the next presidential campaign begins in earnest, Democrats say, it'll be up to Obama to centralize the Democratic message around something other than simply trying to paint the Republicans as extreme.

Interviews with leading party strategists turn to three main suggestions: Obama should be a much more frequent and strong voice on Democratic priorities, he should transform his West Wing political office from a midterm clearinghouse to an instrument for true party outreach, and he should reinvest his energy in the Democratic National Committee — including seeking a full-time chair who can begin the major clean-up and overhaul they need ahead of 2016.
We're now up to two named Democrats—and perhaps more, since it's not clear whether "leading party strategists" is a collective noun for Brazile and Fazio or there are others—who want Obama to do what he's already done, unsuccessfully, hoping that the results will be more successful upon repetition. Which, if I recall correctly, is the definition of insanity.
And if doing it for the party isn't enough for Obama, Democrats say, do it out of self-interest.

"A strong party is the key to a lasting legacy," said a senior Democratic strategist. "Whether it's for our ideals as Democrats or it's for his personal legacy — if we lose the White House and continue to get gutted down ballot, they will repeal the ACA and everything else we've fought so hard for, and all of this will be for naught."

That should be a short-term worry for Obama too, Brazile said.

"The Republicans have not retreated from the battlefield, so why should President Obama surrender?" she said. "He can't give up, he can't waver. All of that looks to Democrats like he doesn't stand for much, and it's not the truth."
But, even flush off midterm victory, Republican leadership acknowledges that they're not going to repeal the ACA. And there's zero evidence that the president intends to "surrender" or "retreat from the battlefield." Indeed, he's been as combative as ever post-election, rejecting the counsel of some that he should seek to be more conciliatory and work with Congressional Republicans a la Bill Clinton after the 1994 debacle.
In the West Wing, they've been projecting optimism since the midterms. The trip to Asia was a success, they say: Obama showed with the China carbon emissions deal how big and how bold he could go without Congress. He ignited a national debate from the other side of the planet by making a few short comments and releasing a fact sheet about net neutrality. There was progress, even, on the trade deals that might make up a big chunk of the limited agenda on which the White House is hoping to find workable compromises with Republicans.
In other words, he remains the president of the United States?
Through the election cycle, people in the White House would often say they felt frustrated and Obama to get out more and talk more about his message. Now, aides see two years of opportunities for a president who won't be constrained anymore, who'll be able to say what he wants without worrying about how it could scramble anyone else's political considerations.

Great, Democrats say. Now make something of it. Talk about the economic progress that's happened. Talk about how to achieve job growth to build on it.

"The best thing he can do is focus on income inequality, and talk about and propose things, and just be a fierce advocate for addressing the economic divide," said another Democratic strategist with ties to the White House. "That will leave people after two years saying the Democratic Party really stands for something."

"What Bush failed to do, and to some extent Bill Clinton failed to do, is to make the final two years of their presidency something big, and advocate for it and make it a defining characteristic of the party," the strategist said. "You have to come something that defines who your party is — even if you don't make law and you're not successful in the effort."
Clinton failed to do so because he was mired in scandal. Bush failed to do so because the Katrina fiasco and the growing unpopularity of the Iraq War sapped him of power. Obama is likely to do so, not so because he's afraid to speak out—there's zero evidence of that—but because he's out of agenda. His big ideas in 2008 were getting the US out of Iraq and Bush out of the White House.  His big idea in 2012 was, Meh, Romney.
Obama came to office at the low point in the Great Recession. Even in that environment, the closest he came to an income inequality agenda was negotiating the re-authorization of the Bush tax cuts minus the portion for the top bracket.  He's governed six years as a pragmatist. Why do Democrats think he's suddenly going to become Elizabeth Warren?