Don Zimmer, Baseball Player, Manager, and Coach For Six Decades, Dies At 83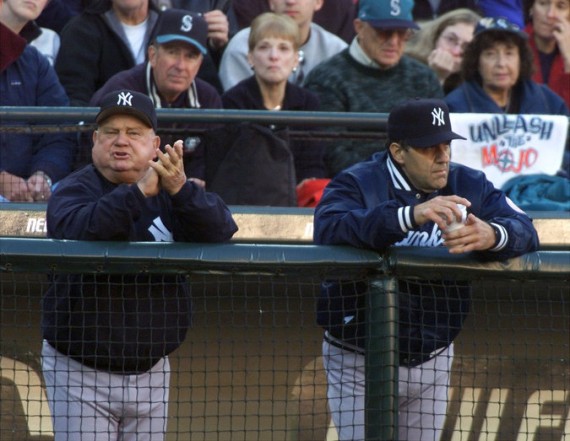 Don Zimmer, who spent nearly his entire adult life in Major League Baseball as a player, coach and manager for at least thirteen separate teams at various points in his career, died in Florida yesterday at the age of 83:
Don Zimmer, the stubby, Popeye-muscled baseball lifer with the unforgettable jowls whose passion for the game endured through more than 60 years as a player, manager, coach and adviser, died on Wednesday in Dunedin, Fla. He was 83.

His death was announced by the Tampa Bay Rays, a team he served recently as a senior adviser.  Zimmer had surgery April 16 to repair a leaky heart valve, according to The Tampa Tribune.

Zimmer had been having kidney dialysis since May 2012 after falling into a diabetic coma at his home. But he continued to visit the Rays' Tropicana Field when he could.

Zimmer was married on a baseball diamond in 1951, and it seemed he never left the field.

He played the infield for the Brooklyn Dodgers' only World Series championship team, he was an original member of the Mets and he was Yankee Manager Joe Torre's confidant as his bench coach on four World Series championship teams. He filled in as the Yankees' manager for 36 games in 1999 when Torre was being treated for prostate cancer.

Zimmer managed the 1978 Boston Red Sox, who were overtaken by the Yankees for a division title on Bucky Dent's playoff home run. He was the National League's manager of the year in 1989 when he led the Chicago Cubs to a surprising division championship.

He played in the majors for 12 seasons, mostly as an infielder, and he managed for 13 seasons. He was an All-Star only once, and he never managed a pennant winner, but his intensity remained undimmed. While a Yankees coach in October 2003, at 72, he charged Boston's star pitcher Pedro Martinez during a playoff melee. Zimmer swung and missed, and then was thrown to the Fenway Park turf by Martinez. He soon apologized for sullying the game he loved.

Eight years later, Zimmer's baseball juices were still flowing.

When Tampa Bay was trailing the Yankees, 7-0, in the sixth inning of their final game of the 2011 regular season, needing a victory for a wild-card playoff spot, Zimmer left the Rays' bench to head home. Halfway there, he realized that he had not said goodbye to the players, turned his car around and got back to Tropicana Field in time to see the Rays rally for an 8-7 victory to overtake the Red Sox for a playoff berth. Zimmer was still in the clubhouse at 2 a.m., when the celebration finally wound down.

"I'm 80 years old, and I thought I was playing," he told The Charlotte Sun of Port Charlotte, Fla. "This matches everything. It's crazy, it's beautiful, it's baseball."

(…)

Donald William Zimmer was born and raised in Cincinnati, where his father owned a wholesale fruit and vegetable company. He was signed out of high school as a shortstop by the Dodgers' organization in 1949.

On Aug. 16, 1951, while playing for the Dodgers' farm team at Elmira, N.Y., he married his high school sweetheart, the former Carol Jean Bauerle (known since childhood as Soot), at home plate under a canopy of crossed bats held by his teammates.

By the summer of 1953, Zimmer was playing for St. Paul in the American Association, a promotion to the Dodgers in sight. He had good speed and fine power. But he nearly lost his life when he was beaned in a game in Columbus, Ohio. He sustained a fractured skull and fell into a coma. Doctors drilled holes in the sides of his head to relieve pressure on his brain.

Zimmer made his major league debut in 1954, filling in briefly for Pee Wee Reese, the Dodgers' future Hall of Fame shortstop and Zimmer's boyhood idol. He hit 15 home runs in 88 games for the Dodgers' 1955 World Series championship team, but he endured a second severe beaning in 1956 against the Cincinnati Reds. It left his cheekbone shattered and his eyesight damaged.

Zimmer remained with the Dodgers through their 1959 World Series championship season in Los Angeles, played two seasons for the Cubs, making his lone All-Star appearance in 1961, and then joined the expansion Mets as their third baseman in 1962. He was 0 for 34 at the plate to start the season before being traded to the Reds. He later played for the Dodgers once more and the Washington Senators, and then retired after the 1965 season with a .235 career batting average and 91 homers.

Zimmer managed the San Diego Padres (1972-73), the Red Sox (1976-80), the Texas Rangers (1981-82) and the Cubs (1988-91), and then filled in for the recuperating Torre early in 1999.

He was Torre's bench coach from 1996 to 2003, and then quit, maintaining he had been treated abusively by the Yankees' owner, George Steinbrenner. He joined Tampa Bay the next season, providing tips to players and doing community-relations work in his advisory capacity.
Zimmer was part of a generation of ball players totally unlike most of those we see today, but his love for the game even as it changed over the years never waivered. Which is why, last night, it seemed like all of baseball fandom mourned his passing,