Donald Trump's Pettiness On Display Yet Again
Donald Trump is without question the pettiest, most vindictive person to ever occupy the Oval Office.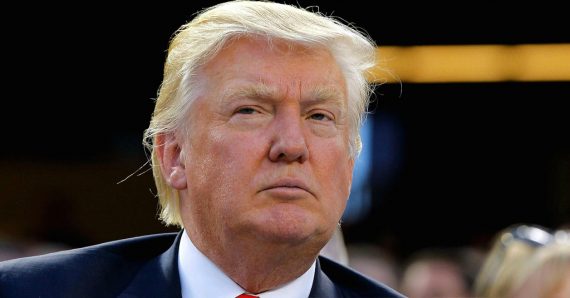 While President Trump was on his Asian trip, three players from U.C.L.A's basketball team were arrested in China on charges of shoplifting, including star player LiAngelo Ball. the brother of Los Angeles Lakers Rookie Lonzo Ball. After some intervention at the Presidential level between President Trump and Chinese President Li Jinping, the three men were released and returned to the United States at which point they were immediately suspended by U.C.L.A. for their behavior on the trip. During a press conference upon his return, Ball accepted responsibility for what happened and gave some thanks to the President for intervening to get him and his fellow players returned to the United States rather than detained in China at the potential mercy of that nation's criminal justice system. However, in his own comments over the weekend, Ball's father LaVar Ball, a businessman who had a brief career as a professional football player in the United States and Europe downplayed Trump's role in the release:
LOS ANGELES — LaVar Ball downplayed his son's shoplifting incident in China, as well as President Donald Trump's involvement in getting LiAngelo Ball and two other UCLA basketball players back to the United States earlier this week.

"Who?" LaVar Ball told ESPN on Friday, when asked about Trump's involvement in the matter. "What was he over there for? Don't tell me nothing. Everybody wants to make it seem like he helped me out."

UCLA freshmen LiAngelo Ball, Cody Riley and Jalen Hill, who had been detained in China on suspicion of shoplifting, landed in Los Angeles on Tuesday evening and addressed the media on Wednesday before being indefinitely suspended by the team.

Trump, who returned late Tuesday from a trip through Asia, raised the players' case with President Xi Jinping of China during a visit to Beijing last week. All three players offered thanks to Trump during Wednesday's news conference.

The players were arrested and questioned on Nov. 7 about stealing from high-end stores, including sunglasses from a Louis Vuitton store next to the team's hotel in Hangzhou, where the Bruins had been staying before leaving for Shanghai to face Georgia Tech.

UCLA athletic director Dan Guerrero said Wednesday that the players stole from three stores. They were released from custody after posting bail early Nov. 8, on the condition that they surrender their passports; they had been staying at a lakeside hotel in Hangzhou prior to flying home.

"As long as my boy's back here, I'm fine," LaVar Ball told ESPN. "I'm happy with how things were handled. A lot of people like to say a lot of things that they thought happened over there. Like I told him, 'They try to make a big deal out of nothing sometimes.' I'm from L.A. I've seen a lot worse things happen than a guy taking some glasses. My son has built up enough character that one bad decision doesn't define him. Now if you can go back and say when he was 12 years old he was shoplifting and stealing cars and going wild, then that's a different thing.
Perhaps inevitably, this led Trump to lash out on Twitter today:
A day after LaVar Ball, the outspoken father of LiAngelo and Lonzo Ball, downplayed President Trump's involvement in getting LiAngelo safely out of China without any criminal charges, the president fired back on Twitter.

Trump's tweet was in reponse to an interview with ESPN where Lavar Ball cast doubt on how much Trump was involved in freeing his son and the other two players.

"Who?" he said when asked about Trump's involvement. "What was he over there for? Don't tell me nothing. Everybody wants to make it seem like he helped me out."

LiAngelo Ball and his U.C.L.A. teammates, Cody Riley and Jalen Hill, were arrested on suspicion of shoplifting while in China with their teammates. Trump, who was in the middle of a tour of Asia, raised the case with President Xi Jinping of China, and the trio of players were allowed to return to the United States.

The president's chief of staff, John Kelly, described to The Times how the incident played out.

"Our president said to Xi, 'Do you know anything about these knuckleheads that got caught allegedly stealing?'" Mr. Kelly said. Unaware of the episode, the Chinese president dispatched an aide to get more information. "The president was saying, 'It's not too serious. We'd love to see this taken care of in an expeditious way,'" Mr. Kelly added.

Mr. Kelly added "I bet they learned a lesson in their lives."

The president made it clear on Twitter that he expected the players to thank him for his involvement, claiming they faced 10 years in jail, though many legal experts weighed in to say the charges wouldn't likely be that serious. Regardless, once they were home, U.C.L.A. held a news conference to discuss the incident, and all three players thanked Mr. Trump, while LiAngelo acknowledged that he had not used his best judgment. It was also announced that all three had been suspended indefinitely from U.C.L.A.'s basketball team.

Apparently satisfied with their level of thanks, Trump took to Twitter and had another request for them along with some advice.
Here's Trump's tweet from early this afternoon:
Now that the three basketball players are out of China and saved from years in jail, LaVar Ball, the father of LiAngelo, is unaccepting of what I did for his son and that shoplifting is no big deal. I should have left them in jail!

— Donald J. Trump (@realDonaldTrump) November 19, 2017
Shoplifting is a very big deal in China, as it should be (5-10 years in jail), but not to father LaVar. Should have gotten his son out during my next trip to China instead. China told them why they were released. Very ungrateful!

— Donald J. Trump (@realDonaldTrump) November 19, 2017
This comes just says after Trump took to Twitter to demand that the players thank him for his intervention on their behalf:
Do you think the three UCLA Basketball Players will say thank you President Trump? They were headed for 10 years in jail!

— Donald J. Trump (@realDonaldTrump) November 15, 2017
Which he acknowledged in a later tweet:
To the three UCLA basketball players I say: You're welcome, go out and give a big Thank You to President Xi Jinping of China who made…..

— Donald J. Trump (@realDonaldTrump) November 16, 2017
….your release possible and, HAVE A GREAT LIFE! Be careful, there are many pitfalls on the long and winding road of life!

— Donald J. Trump (@realDonaldTrump) November 16, 2017
To say that the President is being incredibly petty here is an understatement of titanic proportions. For one thing, looking out for American citizens who find themselves entangled in the justice system of a foreign power is part of his job. Expecting to be thanked for doing that job, and even publicly demanding it, is something you'd expect from an attention-seeking narcissist rather than someone with the emotional maturity of an adult, especially one who is supposed to be the leader of the free world. Moreover, it seems apparent in retrospect that President Xi interceded in the release of these three Americans because doing so cost him nothing and potentially gains him more influence over a President that is already proving to be a pushover when it comes to issues such as trade and China's interests in expanding its control over the South China Sea.Moreover, what Trump did here is no different from what countless other Presidents have done in the past in connection with Americans held on real or trumped up charges, especially in adversarial nations such as China. None of these Presidents made public demands that they be thanked by the person(s) release, and none of them lashed out in public when their role was downplayed by a family member or if such a public acknowledgment of their role in the release wasn't acknowledged.
The reason, of course, is that Donald Trump is not an ordinary President, nor is he really a mature adult. Even at the age of 71, he is behaving more like a child who expects to be praised for doing the right thing than a man who simply does what he's supposed to be doing without demanding or expecting praise for it. His reaction today to the relatively innocuous comments from Ball's father is a prime example of that, and reveals things about his character that are not good in any respect. Basically, we have an American President is saying that he should have left American citizens at the mercy of an authoritarian regime because one of the citizen's parents didn't thank him properly for freeing his son. This is petty, childish, and immature. In other words, it's textbook Trump, and we can expect more of it as long as he's in office.
Update: This post was update to include a second tweet that Trump sent regarding the remarks of LeVar Bell.