Down Syndrome Teen Stripped of Varsity Letter Jacket
A sad, complicated story.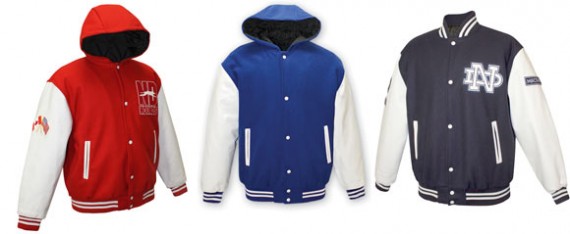 Michael Kelley is an athlete at a public school in Wichita, Kansas. But he's had his letterman's jacket taken away from him.
WaPo ("Why school officials forced a special needs teenager to remove his varsity jacket"):
Family members describe Michael Kelley as "warm and loving."

If there's one thing the outgoing teenager with the infectious smile loves, it's suiting up for games on the Wichita East High School special needs basketball team in Wichita, Kan.

Wanting to recognize her son's participation, his mother, Jolinda Kelley, purchased a varsity letter and placed it on her son's jacket, according to NBC affiliate KSNW. She was shocked, she said, when school officials told him to remove the jacket because he's not a varsity player.

"Another parent, from what I've been told, was upset that my son was wearing his letter jacket," she told KSNW, noting that her son — who has autism and Down Syndrome — was given a girl's sweatshirt to wear after his jacket was confiscated.

After Kelley's family got the news, his sister got on Twitter and started a hashtag to support her brother: #GiveThemLetters.

Asked if his administration would consider giving varsity letters to special needs athletes, Wichita East High School principal Ken Thiessen told the KSNW the matter was already decided.

"We have considered it and our decision was no," he said. "That is not appropriate, we believe, in our situation, because it is not a varsity level competition."

There is no district-wide policy against special needs students earning letters, but school board members said they would consider implementing a new policy to address potential discrimination, according to KSNW.
A Facebook friend asks, "What petty and unkind parent complains about a special needs student getting a varsity letter?" While I'm inclined to agree that the reaction is petty and unkind, it's not unreasonable.
A varsity letter is a symbol of a specific attainment: participation in varsity sports. Kelley isn't a varsity athlete. To allow him to wear a letterman's jacket may make him feel better—and that's a good thing, given the hand he's dealt—but it also lessens the symbol, since most seeing it won't know it's just something his mom sewed on. If he gets to wear it, then of course all the other special needs athletes should be entitled. And why not the jayvee athletes? Those on intramural teams? Those who play ball at recess?
If the argument is that the special needs kids are different because, through circumstances completely outside their control, they weren't born with the abilities that others take for granted, then I'm not sure where to draw the line. Most kids don't have the size, speed, and other attributes to play varsity sports, especially at a large public school. I wasn't very good at sports, which frankly is more socially beneficial in high school than being a good student, but it never occurred to me that I should get a varsity letter I didn't earn.
While I didn't really understand it at the time, participation in high school sports and wearing that varsity letter is not only a big deal to those who earn it, it's often the pinnacle of their achievement. Aside from their children's lives, it's the thing they look back most upon most fondly and with the most pride. While the memories of playing on the team would be there regardless, giving the same honor to those who didn't earn it cheapens it.
For that matter, if we're going to given unearned accolades to special needs kids simply on the basis that it makes them feel good—and, again, I'm all for making them feel good—then why not put them on the honor roll? Make them valedictorians?
This controversy is a sad, even ironic, outcome of the generally good policy of mainstreaming special needs kids. By being in the same classrooms and gymnasiums, they're more directly comparing themselves the rest of the students. But surely there's a way to recognize the achievements of special needs kids without giving them the prized symbols actually earned by others? Perhaps they could compete in a high school equivalent of the Special Olympics and earn medals and other symbols of achievement from that venue?
As an aside, the school should have handled this better. They shouldn't have taken the kid's jacket away from him, much less made him wear a girl's sweater. They could have called his mom and let her know the policy. Then again, his mom should have known better than to send him to school wearing a varsity letter he hadn't been awarded.