Drone Strike on Democracy
My first piece for the New York Daily News, "A Drone Strike on Democracy," has posted.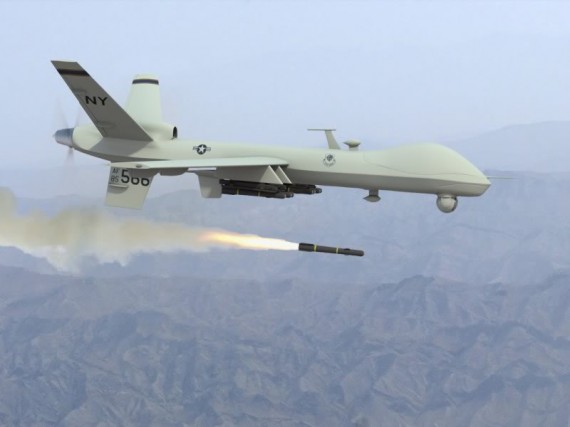 My first piece for the New York Daily News, "A Drone Strike on Democracy," has posted. The central part of my argument:
Most problematic, though, is the fact that drone policy is so shrouded in secrecy that it's essentially impossible to accurately assess the costs and benefits. Because it's run covertly by the intelligence and special-operations communities, only a handful of people are privy to the details of the drone war — and almost all of them are prohibited from sharing what they know.

What we do know is from the combination of dogged reporting and selective (and quite probably self-serving) leaks. Back in May, the New York Times described the painstaking process President Obama and his national security team allegedly use to decide who goes on its kill list. We were told that the President personally ensured that each strike would "align . . . with American values."

More recently, The Times reported that, in the weeks leading up to the election, the administration began "pushing to make the rules formal and resolve internal uncertainty and disagreement about exactly when lethal action is justified."

Apparently, it occurred to the White House that it might be a good idea to have some structure in place in case a President Romney were to take office and inherit the drone program. As one official put it, "There was concern that the levers might no longer be in our hands."

Of course, Obama easily won reelection; consequently, the enthusiasm within the Obama administration for defining and reining in presidential power is likely to wane. And given the acrimony on Capitol Hill, it's hard to imagine that the President is eager to have congressional Republicans weigh in on something as sensitive as a kill list.
More at the link.