Due Process When Everything Is A Crime
Glenn Reynolds has an interesting piece out today in the Columbia Law Review.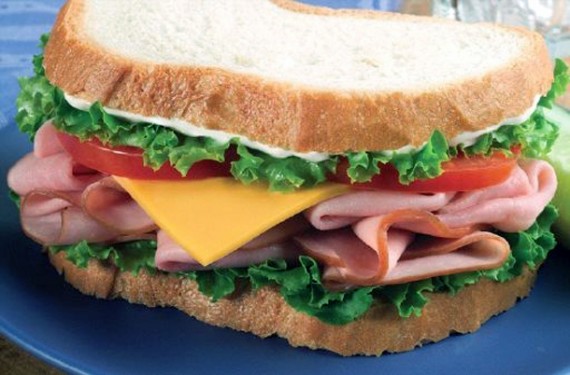 Glenn Reynolds has an interesting sidebar piece out today in the Columbia Law Review titled "HAM SANDWICH NATION: DUE PROCESS WHEN EVERYTHING IS A CRIME."
I joked with him on Twitter, "Some kinda tenured full prof with an endowed chair you are, cranking out law review articles. Yer doing it wrong!" But I didn't know the half of it: the piece is lucid and completely intelligible to a non-lawyer. Maybe that's allowed in sidebar pieces but, still, a dangerous precedent for the academy.
That aside, Glenn's thesis is that, while necessary, prosecutorial discretion is potentially quite dangerous.
Attorney General (and later Supreme Court Justice) Robert Jackson once commented: "If the prosecutor is obliged to choose his cases, it follows he can choose his defendants."4 This method results in "[t]he most dangerous power of the prosecutor: that he will pick people he thinks he should get, rather than pick cases that need to be prosecuted."5 Prosecutors could easily fall prey to the temptation of "picking the man, and then searching the law books . . . to pin some offense on him."6 In short, prosecutors' discretion to charge—or not to charge—individuals with crimes is a tremendous power, amplified by the large number of laws on the books.
Nor is this merely theoretical:
Overcriminalization has thus left us in a peculiar place: Though people suspected of a crime have extensive due process rights in dealing with the police, and people charged with a crime have even more extensive due process rights in court, the actual decision of whether or not to charge a person with a crime is almost completely unconstrained. Yet, because of overcharging and plea bargains, the decision to prosecute is probably the single most important event in the chain of criminal procedure.
The piece isn't alarmist, correctly noting that prosecutors tend to be decent sorts and that the incentives are to go after actual bad guys, not fishing expeditions. Still,
[T]hese limitations on prosecutorial power are likely to be least effective where prosecutors act inappropriately because of politics or prejudice. Limited resources or not, a prosecutor who is anxious to go after a political enemy will always find sufficient staff to bring charges, and political constraints are least
effective where a prosecutor is playing to public passions or hysteria.12 Once charged with a crime, defendants are in a tough position. First, they must bear the costs of a defense, assuming they are not indigent. Second, even if they consider themselves entirely innocent, they will face strong pressure to accept a plea bargain—pressure made worse by the modern tendency of prosecutors to overcharge with extensive "kitchen-sink" indictments: Prosecutors count on the fact that when a defendant faces a hundred felony charges, the prospect that a jury might go along with even one of them will be enough to make a plea deal look attractive. Then, of course, there are the reputational damages involved, which may be of greatest importance precisely in cases where political motivations might be in play. Worse, prosecutors have no countervailing incentives not to overcharge. A defendant who makes the wrong choice will wind up in jail; a prosecutor who charges improperly will suffer little, if any, adverse consequence beyond a poor win/loss record. Prosecutors are even absolutely immune from lawsuits over misconduct in their prosecutorial capacity.
The traditional safeguard is the need to secure an indictment from a grand jury. But, the title of the piece points to an old aphorism: "a good prosecutor can persuade a grand jury to indict a ham sandwich."
So, what then?
Even a shift to qualified, good faith immunity for prosecutors would change the calculus significantly, making subsequent review something that is at least possible. Another remedy might be a "loser pays" rule for criminal defense costs. After all, when a person is charged with a crime, the defense—for which nonindigent defendants bear the cost—is an integral part of the criminal justice process.17 For guilty defendants, one might view this cost as part of the punishment. But for those found not guilty, it looks more like a taking: Spend this money in the public interest to support a public endeavor, or go to jail.

Perhaps the prosecution could be required to pay a defendant's legal fees if he or she is not convicted. To further discipline the process, one could implement a pro-rate system: Charge a defendant with twenty offenses, but convict on only one, and the prosecution must bear 95% of the defendant's legal fees. This would certainly discourage overcharging.
And, of course: Charging.  People who seem rather obviously guilty seem, especially in high profile cases, to get acquitted with some frequency. Should Chris Darden and Marcia Clark really have had to pay for O.J. Simpson's team of super lawyers?
The "nuclear option" of prosecutorial accountability would involve banning plea bargains. An understanding that every criminal charge filed would have to be either backed up in open court or ignominiously dropped would significantly reduce the incentive to overcharge. It would also drastically reduce the number of criminal convictions achieved by our justice system. But given that America is a world leader in incarceration, it is fair to suggest that this might be not a bug, but a feature.18 Our criminal justice system, as presently practiced, is basically a plea bargain system with actual trials of guilt or innocence a bit of showy froth floating on top.19
This option is much more appealing. Granted, it means having to take big cases to long, expensive trials that, in many cases, both sides would prefer to avoid. Someone who's actually guilty of a crime punishable by up to 10 years imprisonment is presumably happy to accept a 2 year sentence and forgo the expense and stress of fighting a losing case–and the prosecutor is likely happy to get the conviction and move on to other cases, especially if it's a first offense. But Glenn's right: regardless of how the system is supposed to work, it's too often abused.
A less dramatic option might be to require that the prosecution's plea offers be presented to a jury or judge after a conviction, before sentencing.  Judges or jurors might then wonder why they are being asked to sentence a defendant to twenty years without parole when the prosecution was willing to settle for five. fifteen years in jail seems a rather stiff punishment for making the state undergo the bother of a trial.
This is a new-to-me idea and I haven't given it sufficient thought. At first blush, though, it sounds like a good move. A variant of this that occurs to me is to have the two parties plea bargain the sentence ahead of time that will go into effect only upon conviction.
It is also worth considering whether mere regulatory violations—malum prohibitum rather than malum in se—should bear criminal sanctions at all. Traditionally, of course, citizens have been expected to know the law. Yet traditionally, regulatory crimes usually applied only to citizens in specialty occupations, who might be expected to be familiar with applicable regulatory law. Ordinary citizens needed no special knowledge to avoid committing rape, robbery, theft, etc. But now, with the explosion of regulatory law, every citizen is at risk of criminal prosecution for crimes that, as David Gregory's defenders noted,20 involve no actual harm or ill intent.
This strikes me as a no-brainer on a whole variety of levels. Not only does it go a long way to solving the infamous "Three Felonies a Day" problem but it would instantly change the nature of our system of incarceration. Far, far too many things are punishable by long stints in the pokey.