Dueling Town Halls
Instead of a second presidential debate, we got competing TV shows.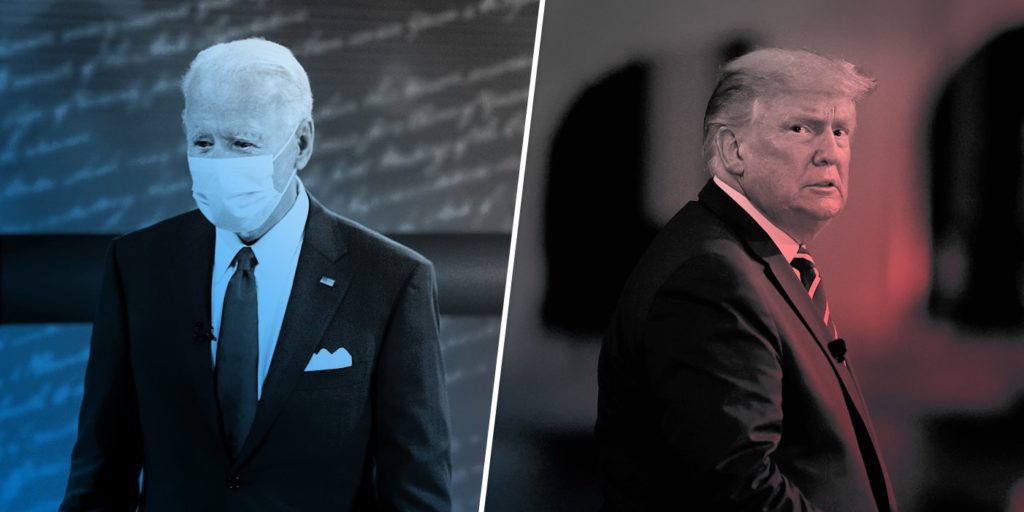 While I did not watch either Joe Biden's appearance with George Stephanopoulos or President Trump's last-minute counterprogramming with Savannah Guthrie, the consensus seems to be that both men doubled down on their brands.
NYT ("A Combative Trump and a Deliberate Biden Spar From Afar at Town Halls"):
President Trump spoke positively about an extremist conspiracy-theory group, expressed skepticism about mask-wearing, rebuked his own F.B.I. director and attacked the legitimacy of the 2020 election in a televised town hall forum on Thursday, veering far away from a focused campaign appeal. Instead, he further stoked the country's political rifts as his Democratic opponent, Joseph R. Biden Jr., pushed a deliberate message anchored in concerns over public health and promises to restore political norms.

Mr. Trump's defensive and combative performance came on a night that was supposed to feature a debate between him and Mr. Biden, but that morphed into a long-distance study in contrasts on different television networks after the president declined to participate in a virtual debate.

On the central issue of the election, the coronavirus pandemic, the two candidates appeared to inhabit not just different television sets but different universes. Mr. Biden has made the full embrace of strict public health guidelines the centerpiece of his candidacy, while Mr. Trump has continued to defy even the recommendations of his own government on matters as basic as the use of masks — a pattern that persisted in their opposing events on Thursday.
WaPo ("President Trump and Joe Biden clash in distant, dueling town halls"):
Separated by five states, two television news outlets and a deep trough of mutual animosity, President Trump and Democrat Joe Biden held dueling town halls Thursday that offered a jarring contrast of their opposing political styles and approaches to major issues like the coronavirus pandemic.

The events — with Trump on NBC from Miami and Biden on ABC from Philadelphia — appeared to be broadcast from entirely different dimensions. The soft-spoken Biden leaned back in a white chair, relaxed and conversational as he hit upon notes of optimism and uplift. Trump's appearance was heated and at times abrasive, with the candidate leaning forward as he defended his record and challenged the motivations of moderator Savannah Guthrie.
NBC News ("5 takeaways from Trump's and Biden's dueling town halls"):
Donald Trump and Joe Biden were in different cities for the dueling town halls Thursday that replaced their debate. But they may as well have been in different universes.

Replacing the presidential debate with competing conversations with voters was a fitting symbol of a politically divided and socially distanced America. Instead of speaking to, or even shouting at, each other, Trump and Biden spoke past each other on different networks, allowing Americans to choose a favored candidate to describe reality as they want to see it.

The town halls, hosted by NBC in Miami for Trump and ABC in Philadelphia for Biden, were unlikely to attract nearly the audience a debate would, history suggests, and even many Republicans were baffled by Trump's decision to withdraw from the second debate when he's down in the polls and needs every opportunity possible to try to disrupt the race's status quo.
I'll let those interested in detailed breakdowns read the above stories for themselves but I will list the "takeaways" from the NBC headline:
Trump gives oxygen to extremists — again
Biden acknowledges mistakes of 1994 crime bill
Biden says his approach on 'court packing' 'depends'
Trump forgot to attack Biden
Two candidates, two vastly different tones
To the extent that anyone is still persuadable at this point, all of the above except perhaps 3 redound to the benefit of Biden, the strong frontrunner.
Trump's decision not to appear in a second head-to-head debate with Biden once the Debate Commission decided it had to be held virtually, makes some sense. While he needs every opportunity he can get to make the case that he deserves re-election and/or that Biden is too old/liberal/whatever, he was unlikely to do that in a head-to-head format that didn't allow him to interrupt and bully.
But the format he/his team agreed to for last night was always going to be a disaster. Most observers gave Guthrie high marks for her pacing and aggressive fact-checking and refusal to let Trump evade questions. But the format lent itself to that in a way that a head-to-head contest doesn't.
Indeed, at one point Trump complained that Guthrie was going after him and not Biden. She, quite reasonably, pointed out that only he was on stage with her.