Rand Paul Dodges Questions About Changes In His Foreign Policy Positions
Rand Paul has changed position on several foreign policy issues, but he doesn't seem to want to talk about it.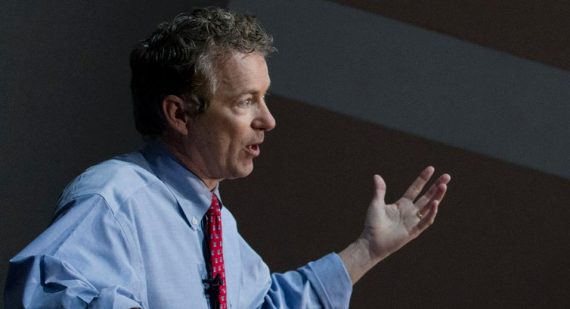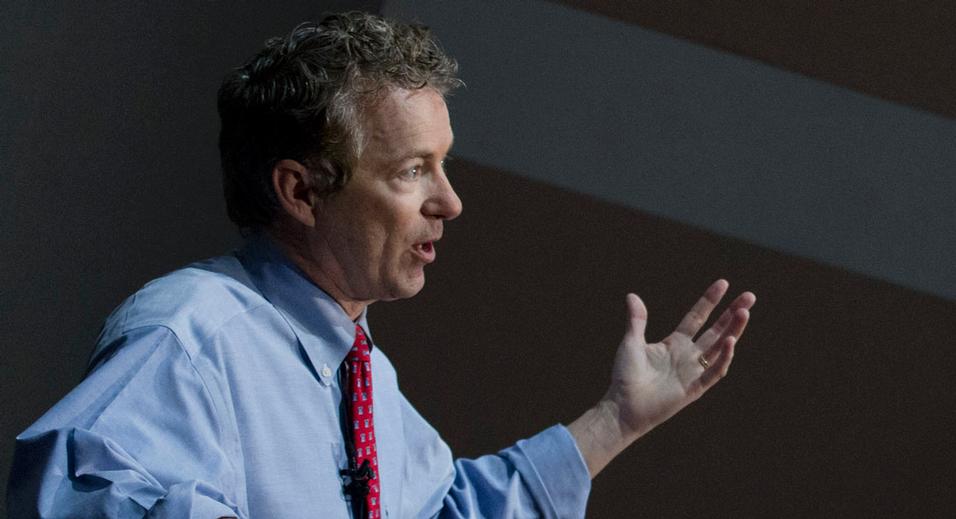 One day after announcing his candidacy for the White House, Kentucky Senator Rand Paul appeared on NBC's Today show and got somewhat testy when he was asked about what appear to be changes in his position on several hot button foreign policy issues:
Sen. Rand Paul clashed with "Today" show host Savannah Guthrie over her line of questioning during an interview Wednesday morning, criticizing her for editorializing over perceived changes in his political views since his election to the Senate.

"You have had views on foreign policy in the past that were somewhat unorthodox, but you seem to have changed over the years," Guthrie told the Kentucky Republican, who was appearing via satellite from Nashua, New Hampshire. "You once said Iran was not a threat, now you say it is. You once proposed ending foreign aid to Israel, now you support it, at least for the time being, and you once offered to drastically cut … defense spending."

Paul attempted to speak as Guthrie continued.

"Why don't we let me explain instead of talking over me, OK?" Paul interjected. "Before we go through a litany of things you say I've changed on, why don't you ask me a question, 'Have I changed my opinion?' That would sort of a better way to approach an interview."

"Is Iran still not a threat?" Guthrie asked in the cross-talk.

"No, no, no, no, no, no, no, no. Listen, you've editorialized," Paul said. "Let me answer a question. You ask a question, and you say, 'Have your views changed?' instead of editorializing and saying my views have changed."

Paul said he has come to the realization that limiting foreign aid to other countries "will have to be done gradually."

"My opinion has always been that we shouldn't borrow money from China to send it to any country — Pakistan, Israel, or any other country," he said. "But I also realize that things will have to be done gradually, and if we are going to try to eliminate or reduce foreign aid, why don't we start with the countries that hate us, that burn our flag. And the one thing that is true is that Israel doesn't burn our flag, and so I haven't proposed removing aid from Israel —"

"But you once did," Guthrie said.

"But I still agree with my original precept, which is," Paul continued. "Let me answer the question. I still agree with my original statement years ago that ultimately, all nations should be free of foreign aid because we shouldn't borrow money to do it."
Here's the video of the relevant part of the interview:
There's not any real question that Paul has changed, if not his position on the issues that Guthrie mentioned in the interview, at least the emphasis that he places on them when he addresses them publicly. This has become especially noticeable and apparent over the course of the past year as ISIS has become the focus of American foreign policy in the Middle East as well as being the latest source of terrorist threats against Americans. In the past, Paul's non-interventionist foreign policy positions, which have been heavily criticized by a number of his fellow Republicans, seemed to be receiving a warm reception among some segments of the Republican coalition, likely due both to the general American war fatigue in the wake of the Iraq and Afghanistan Wars and what can only be called a reflexive opposition to the President. In any case, with the rise of ISIS and the crisis between Russia and Ukraine, along with the Israeli war with Hamas last summer and the ongoing debate over how to deal with Iran's nuclear program, the foreign policy zeitgeist inside the Republican Party has changed significantly and it has become clear that Paul is much more vulnerable on foreign policy than he was a year ago.
It seems to be largely in response to those facts that Paul has noticeably changed both the substance and the emphasis of his foreign policy positions. As Guthrie notes, Paul no longer dismisses Iran as no real threat to the United States and now holds a position on the Iranian nuclear program that is largely indistinguishable from any other Republican's position, This is exemplified most notably by the fact that he was among the 47 Senators who signed Tom Cotton's "open letter" to the Iranian leadership, although he later tried to argue that he did so for the purpose of strengthening the President's bargaining position. Paul has also notably toned down his rhetoric regarding foreign aid to Israel, and he was about as voiciferous in his support for Israel during last summer's war as any other Republican. Denying that he has changed positions on these issues is to deny reality and, in this day and age, not really a very smart political strategy since everything a politicians says and writes is essentially available instantaneously.
Rather than acknowledging the fact that he's changed positions, though, Paul used the opportunity to turn the interview into what can only be described as an attack on the media. Ed Kilgore, who is admittedly no fan of Paul's, suggests that this may have been his intention all along:
You have to figure this was planned, since Guthrie's question was eminently predictable (though I guess he didn't anticipate she'd string three "flip-flops" together in one question). So is he simply trying to dictate the "narrative" about his candidacy? Or is he trying to counter the conservative taunt that he's a liberal media darling by baiting an interviewer into some unpleasantness?

If it's the latter, you have to wonder if it was the best idea to do this on Today, a show whose audience isn't quite the same as the people who stomped and cheered every time Newt Gingrich chewed out a debate panelist in 2012.
The best response to Kilgore, of course, is that if this was pre-planned then the intended audience wasn't the people watching Today this morning but Republican base voters who would see this exchange once the video went viral, as it has. This kind of combativeness with the media may not play well with the people watching Today while drinking the morning coffee, but it will no doubt be cheered by Republican base voters who already view the media as the enemy to begin with. So if it was deliberate, then it was done not to handle the inevitable flip-flopping charge but to throw red meat to Republican base voters, and it probably worked in that respect.
All that being said, though, the fact remains that Paul will likely be forced to deal with the charges that he has changed his position on these and other issues at some point. Friendly media figures like Sean Hannity will never bring it up, of course, but you can be sure that at least some of his opponents will as will the various outside groups that have already started to band together to attack Paul because of his views on foreign policy. At some point, he'll have to deal with the charge that he's changed his position, and he'll have to deal with the things he's said on these issues in the past, and he'll have to deal with charges that he has changed his position on these issues due to political expediency. Telling a news anchor to shut up may work for now, but it isn't going to work on the debate stage.