Electoral College Farce
While hardly the most compelling argument against an archaic institution, yesterday's silliness was noteworthy.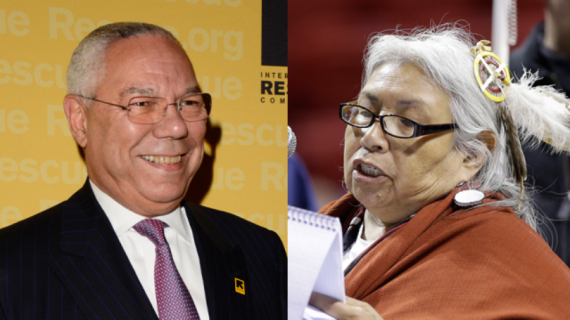 A grand total of seven members of the Electoral College were "faithless" yesterday, casting votes for other than the candidate their state elected them to support.
In Washington, a state where Senator Bernie Sanders of Vermont had strong support in the Democratic primary against Hillary Clinton, three of the state's 12 electoral votes went to Colin L. Powell, the Republican former secretary of state. One more elector voted for Faith Spotted Eagle, a Native American leader. Another Democratic elector in Hawaii voted for Mr. Sanders.

Two Texas electors voted for different Republican politicians: Gov. John Kasich of Ohio and former Texas congressman Ron Paul.

In addition, three Democratic electors, in Colorado, Maine and Minnesota, initially declined to vote for Mrs. Clinton. Two were replaced by an alternate, and one ended up changing his vote.
This was simultaneously a new record and, as Steven Taylor noted yesterday, somewhat comical in light of schemes to inspire enough Electors to defect to prevent Donald Trump from becoming president.
While it is ironic that more Democrats defected from Clinton than Republicans defected from Trump—and rather bizarre that three Democrats voted for Colin Powell, a nominal Republican rather than their party's standard-bearer—this should surely be seen as yet another sign that the system has outlived its usefulness.
First off, it would simply be a Constitutional crisis of the first order were faithless Electors to overturn the results of a presidential election campaign that was carried out over nearly two years. There was no danger of that happening yesterday, of course, but it is certainly possible in a very close election. In 2000, two Electors could have flipped it to Gore. (Instead, a DC Elector for Gore decided to abstain in a futile protest over the District's lack of congressional representation.)
Second, it's simply farcical that people not on the ballot—indeed, people who didn't campaign for the office at all—got votes. While the vote for Faith Spotted Eagle presumably garnered some attention for her cause, it's simply bizarre that she got more Electoral votes than Gary Johnson and Jill Stein, combined.  Powell is a fine man and I'd certainly prefer him as president over Trump or Clinton but he didn't run or get more than a handful of votes from actual Americans; there's no way he should have gotten three Electoral votes. And, while John Kasich got my vote in the Republican primary and was my favorite of all the candidates who threw their hat into the ring this cycle, he didn't come close to his party's nomination; yet he got more Electoral votes than the likes of Ross Perot or Ralph Nader, who were fairly major third party candidates.
The fact that Hillary Clinton lost fairly decisively despite getting nearly three million more votes than Trump nationally—or that George W. Bush won in 2000 despite getting half a million fewer votes nationally than Al Gore and could have lost in 2004 with a small shift in Ohio despite getting nearly three million more votes nationally than John Kerry—are of course more compelling arguments than yesterday's silliness. But we at least ran those contests with the state-level winner-take-all model baked into the rules at the outset. The prospect of individual Electors voting for whoever they damn well feel like is, to say the least, highly problematic given the stakes.