Electoral College Fantasies
No, the EC is not going to elect Clinton.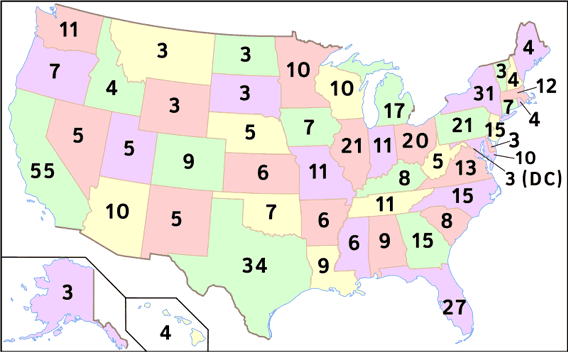 In various places I am seeing a lot of fantasizing about what the electoral college will do when the official votes for the president are cast next month.  These scenarios are being spun primarily from opponents of Donald Trump who are, in my opinion, in denial about how the EC functions and what types of behaviors we could reasonable expect from the electors.  A representative example was just published in WaPo by Harvard Professor (and briefly presidential candidate) Lawrence Lessig:  The Constitution lets the electoral college choose the winner. They should choose Clinton.
Lessig argues:
Many think we should abolish the electoral college. I'm not convinced that we should. Properly understood, the electors can serve an important function. What if the people elect a Manchurian candidate? Or a child rapist? What if evidence of massive fraud pervades a close election? It is a useful thing to have a body confirm the results of a democratic election — so long as that body exercises its power reflectively and conservatively. Rarely — if ever — should it veto the people's choice. And if it does, it needs a very good reason.

So, do the electors in 2016 have such a reason?

…if the electoral college is to control who becomes our president, we should take it seriously by understanding its purpose precisely. It is not meant to deny a reasonable judgment by the people. It is meant to be a circuit breaker — just in case the people go crazy.
This is problematic on two levels.
First, it is projecting a lot more onto the design than is reasonable if we look at the actual way the institution has functioned over the years.
Second, it ignores the way that the electors are chosen–a process that creates a great deal of constraint on potential outcomes.
On the first point I have noted on multiple occasions that the electoral college does not function the way the Framers thought it would (see here, here, and most recently here).  In the context of Lessig's argument the assumption that the electors would start behaving in some sort of deliberative manner , instead of as messengers conveying their state's preference, requires assuming that the institution will function in a way that it never actually did.  The first two presidential vote were all about Washington.  Starting with 1800 the electors functioned more like political operatives than wise delegates in deliberation mode, and it didn't take all that long before they became pure messengers.  Lessig (and others) who see the potentiality of the electoral college acting in some independent fashion to select the president is asking for the revival of something that never existed save in Alexander Hamilton's musings in the Federalist Papers.  Even then the notion that they would be some kind of "circuit breaker" against foolish popular choices is not really what Hamilton described or that the framers of the EC envisioned.  If anything, they never saw as significant a role of the popular vote at the state level as we currently have vis-à-vis the electoral college.
Institutions do not typically take on whole new behavioral patterns unless there is some substantial shock to a system or if the participants in a given process have some deep agreement on changing that process for whatever reason.  While I understand that many think of the election of Trump as a major shock to the system, the reality is that that a huge chunk of the electorate found him wholly acceptable as a candidate (and as a president).  As such, the notion that a couple of weeks of hearing  "President-elect Trump" is enough to radically changes the minds of those who were willing to vote for him after over a year of campaigning and substantial media exposure strains credulity.
On the second point, there seems to be a lot of denial about the composition of the electoral college and, specifically, the importance of the selection process of the electors.  Note that in each state the parties select a slate of electors in advance of the popular vote and it is for that slate that we, the voters, vote on election day.  This is because the states long ago, as is their constitutional prerogative, decided that the selection of electors would come via the popular vote (and not via selection by state legislators, as was the case in some states early on).  But it cannot be stressed enough that the selection of the slates is a highly partisan process.  One gets to be an elector only if one is a party loyalist:  a donor, an elected official at the state or local level, some kind of party functionary, etc.  We are not electing independent actors who see their role as deliberators, but rather we are electing party loyalists who are looking forward to enthusiastically casting a ballot for their party's nominee.  (Yes, there are exceptions to this description, but they are rare–even the unenthusiastic see their role are messenger, not independent voter).
Rules and processes matter.  The process to name an elector is the combination of a party level choice coupled with a partisan vote of the public.  This produces a party loyalists pretty much by definition.  Yes, there can be faithless electors, but the likelihood that the type of persons chosen by this process would become defectors this late in the process is slim to none.  Clinton would need 38 faithless electors to switch to get to 270 (and to lose no votes in the process).  I cannot see a reasonable scenario in which this would happen.  Fair Vote has a great run-down of faithless electors:
Since the founding of the Electoral College, there have been 157 faithless electors. 71 of these votes were changed because the original candidate died before the day on which the Electoral College cast its votes. Three of the votes were not cast at all as three electors chose to abstain from casting their electoral vote for any candidate. The other 82 electoral votes were changed on the personal initiative of the elector.
That is out of thousands and thousands of electoral votes.  More significant than the raw numbers, the last time there was more than one faithless elector was over a century ago:  1912 (and that was due to the death of a candidate).  1872 saw 63 faithless electors, but again the death of the candidate was the reason.  If we go back to the very early (pre-Civil War) era we see more examples of politically motivated votes, but that was before the institutional norms of the electoral college had been well established.  So to assume that all of a sudden, in the context of what in many ways was a normal election* we would see massive defections is unreasonable.  And keep in mind, we have never had any election turn on faithless electors.  As such, what Lessig and others are arguing for is utterly unprecedented.
As I have said in various places over the last couple of weeks:  the political atmosphere that would induce the electoral college to behave wildly outside of its norms is a political atmosphere in which Trump never could have won the electoral college in the first place.  We have to remember:  ~62.1 million voters considered Trump to be an acceptable president.  306 of the most loyal of those 62.1 million get to cast the constitutional vote for him in December.  Yes, a lot of people (myself included) think that Trump could be an historically disastrous president.  And yes, a lot of people (myself included) are still trying to comprehend how 62.1 million of my fellow citizens can't see the potential problems of a Trump presidency.  But  to assume that somehow that view is going to influence 38 electors to  change their minds is, in my informed opinion, a fantasy.  It is motivated thinking. It is a wish.
If Trump was truly so unacceptable that he would produce an unprecedented response from the electoral college I believe that he would have therefore been unacceptable enough that he never could have won the electoral vote in the first place.  For reasons that we are still trying to fully understand, he was able to win in states that had been solidly Democratic in the past (PA, WI, and MI).  He was considered sufficiently acceptable in those (and other) places to win the electoral vote. In other words, while Lessig and many opponents of Trump may think that "the people [have gone] crazy" in electing Trump, ~47% of the voting public don't think they went crazy, nor will the Trump electors think so.
Again, the punchline of this post is this:  the process to select the electors is such that it produces party loyalists who see their jobs as messengers for their states.  The process they participate in is not deliberative, it is depositive.  Further, the number of defections needed is historic in proportions.
I am a long-time critic of the electoral college.  I think it is an artifact of a political compromise that is not defensible in the current era (and would not be chosen if we were starting out now).  Further, I consider it a failed institution in the sense that it has never functioned as designed.  I also think it is a result of being an early adopter of representative government (the framers neither knew their options nor understood the full implications of their choices).  Even the argument that it balances the power of states (which I am not convinced by in 2016) falls apart when we look at a) the fact the ratio of largest to smallest has grown considerably since 1789, and b) the fact that the states added after 1789 were not drawn in a way that really took into consideration the ratios of population to physical space.  We did not go through a complex process to determine how states would function as representational units, rather we added states in a fairly ad hoc process that really did not take these notions into consideration.
In general, all appeals to original intent, whether it be to defend the electoral college or, in Lessig's case, to induce unprecedented behavior from that institution, are fool's errands.  (I do accept, however, that we have it and it is unlikely to be going away).
Is it impossible that the electoral college would vote for someone other than Trump?  Well, I suppose that any activity that involves human beings has to be left open for any number of potential outcomes, but the probability of such an outcome strikes me as so low that it might as well be impossible.  After all, it is possible that when Paul Ryan talks about repealing and replacing Obamacare he will eventually settle on a single-payer system.  After all, there is nothing that stops the Congress from voting in such a system, but who wants to take those odds?
—
*Trump was an unusual candidate, and is likely to be a very unusual president.  But when all was said and done, the election itself was not that strange in terms of process and voter behavior.  Indeed, the fact that so many Republicans did not see Trump as unusual led to the outcome we have.