What To Expect Today From The Electoral College
Beginning late this morning, the Electors in each of the states will meet to carry out their Constitutional function. Despite the drama accompanying this year's election, there's likely to be far less drama than some people seem to be hoping for.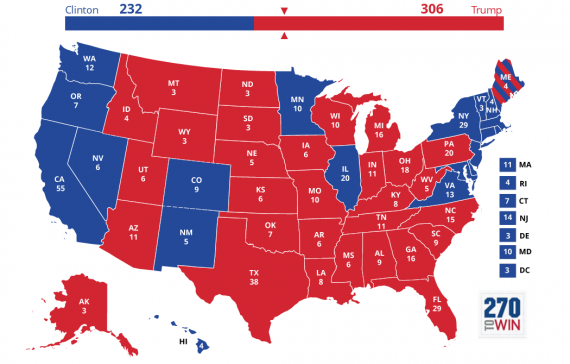 Today beginning around 10:00am Eastern time, the members of the Electoral College for each of the 50 states and the District of Columbia will meet to cast their ballots for President and Vice-President of the United States. In past years, of course, this been a largely ceremonial and routine process, with the Electoral College members basically mirroring what was projected on the night of the election. As Steven Taylor has cataloged here multiple times over the past several weeks, though, this year has been quite different. The fact that we're once again faced with the rare outcome of an Electoral College winner who did not win the popular vote and that the winner of the Presidential election as dictated by the Constitution was a man like Donald Trump, there has been unprecedented pressure on members of the Electoral College to change their vote in one final effort to stop Trump. In some cases, this has consisted of an outright appeal to ostensibly Republican Electors to back Hillary Clinton, something which seems very unlikely to happen. In other cases, the appeal has been to vote for some other candidate or abstain from voting in the hope that Trump would be denied a sufficient number of Electoral Votes that he would not have a majority and the election would be thrown into the Republican-controlled House of Representatives. The campaign has included appeals by celebrities and by a group calling itself "Hamilton Electors" that appears to consist mostly of Hillary Clinton supporters, much baseless speculation from a media that has little else to talk about as Christmas approaches and we enter the traditional end-of-the-year slow news period, and wishful thinking from people who really don't know what they're talking about. Unfortunately, it has also included measures that don't belong in any election year, such as harassment and even death threats aimed at Republican Electors across the country.
CBS News gives a preview of what to expect:
Across the U.S. Monday, every state's winning slate of electors will gather in person in the state capitals to cast their votes for president and vice president. Despite the efforts of some Democrats to pressure Republican electors to change their votes, there is no indication that they will have much of an impact.

The Associated Press tried to reach all 538 electors and interviewed more than 330 of them. It found "widespread Democratic aggravation with the electoral process but little expectation that the hustle of anti-Trump maneuvering can derail him." Three dozen GOP electors would have to switch their votes, and so far, only one has said he would.

Barring a major number of these so-called "faithless electors" — those electors who do not vote in accordance with the outcome of their states — Donald Trump is expected to hit the electoral majority of 270 electoral votes some time in the 3 p.m. ET hour Monday.

Throughout the day Monday — the timing of the Electoral College meeting varies by state — electors will cast their votes, which will be sent on to the nation's capital by late December.

Then, on the afternoon of Jan. 6, Vice President Joe Biden will open the electoral votes before a joint session of the new Congress, where they will be counted.
The schedule for when each state will be meeting today is embedded below. As noted, there will be livestreams of the proceedings from some states, but it's not indicated how you can access that stream. (If I can find information for individual states, I'll post it in an update below.) Additionally, for those states that do allow cameras into the proceedings for the count of their Electoral Votes, I would imagine that one or all of the cable news networks will carry it either live or on tape delay. C-SPAN will also have live coverage of the proceedings, including presumably live coverage of those states that will have livestreams of their proceedings beginning at 10:50am Eastern time today, and you should be able to watch that either on television over over the Internet if you're interested in seeing how that procedure unfolds. This is actually the first time I can remember the Electoral College vote being conducted live in this manner, so it should be interesting to watch even notwithstanding the fact that this year's vote has become enveloped in controversy.
As my OTB colleague has demonstrated quite clearly on the many occasions he's written about this the odds that enough Faithless Electors would defect from Trump to either support Clinton or throw the vote to the House is somewhere between slim and none. In order to deny Trump a majority, for example, there would need to be 37 faithless electors willing to go against the will of the voters in their respective states. To hand the election to Clinton outright, it would require 38 Republican Electors to change their vote from Trump to Clinton. While there have been faithless electors in Presidential Elections throughout American history, in the modern era a single election has only seen very small numbers of such electors who cast their ballot in a way other than the one dictated by the outcome of the vote in their state. During the 19th Century, there were occasions where there were large numbers of such electors, but that usually happened in extraordinary cases such as the Election of 1896 when Electors pledged to William Jennings Bryan as Democrats voted for him on the Populist Party line instead, or the Election of 1872 when Democratic nominee Horace Greeley, who had lost the election to Ulysses Grant, died before the Electoral College met and many of the electors pledged to him refused to vote for a dead man out of principle. In no case in the two-century history of the United States, though, has there ever been a case where faithless electors ended up resulting in the election of a candidate other than the one who should have won based on the results from Election Day. (Source) And it's not going to happen in 2016 either.
In the end, I expect we may well see a handful of Republican Electors who vote for someone other than Trump, or don't vote at all, as a form of protest. In the end, though, it won't be a large enough number to really be noticeable or worth paying attention to. My guess is that we'll see no more than two or three defectors nationwide, perhaps a few more, and that Trump will end the day with at least 300 Electoral Votes, which would mean that he'll lose no more than six electors. After today's vote, each state sends their results to Congress where they will be counted in a special joint session of Congress on January 6th, 2017. After this, the outcome of the 2016 election will be official, and Donald Trump will be inaugurated on January 20th.
Here's a schedule of today's events:
Electoral College Voting Schedule by CBS News Politics on Scribd