Electronic Money Coming to a Bank Near You
Citibank is helping the US catch up to the rest of the world with free, easy wire transfers.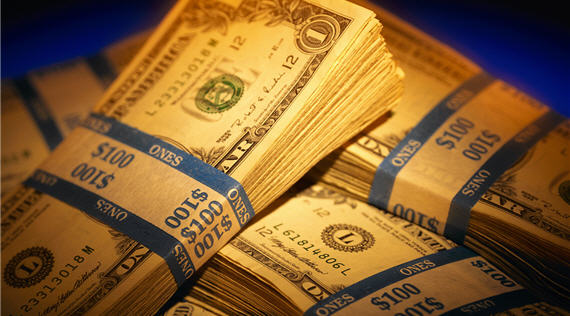 Felix Salmon is quite excited by a Citibank service that finally catches the US (or, at least, that bank's customers) up with the rest of the planet:
It's far too difficult to send money to your friends, family, or acquaintances.

At the moment, in the U.S., you basically have three options. You can try to do it physically, in person, with cash; that's cumbersome, and often the reason you want to send them money is precisely because they're paying cash for something and you want to pay them back. You can write them a physical check, which is even more cumbersome, and requires you to either carry your checkbook around or else start sending the payment in the mail. Or you can send them money through PayPal, which requires that they set up a PayPal account, and which often leaves them with less money than you sent, if you attached your PayPal account to your credit card.

If you live in Europe, or Canada, or just about anywhere else in the world, however, it's easy—all they need to do is give you their account details, and you can transfer money directly from your account to theirs, for free. The lack of this basic banking functionality essentially explains why PayPal was created in the first place—by rights, if the U.S. banking system were remotely efficient or sensible, PayPal would never have existed.

Finally, however, that's changing—and not just at forward-thinking credit unions and community banks. Citibank is now offering Popmoney, a service from CashEdge which allows Citi customers—and customers of 164 other banks—to send money easily to anyone in the U.S. with a bank account. If you send it straight to their account, the money simply appears there, just as it does in Europe. Alternatively, you can send it to their email address or mobile phone number, as you would with PayPal; in that case, they need to provide their bank account details to Popmoney before they can get the cash.
Frankly, I'd be happy to get rid of cash and checks entirely and go to an all-electronic system.  As it is, I use credit cards for every walking around purchase I make where it's permitted, using cash only for such things as valet and bellhop tips and the odd visit to the hot dog stand.   I write two or three checks a month for various things.  Otherwise, I send money electronically via a third party vendor that's more efficient than my bank used to be or through PayPal.
Salmon notes that it's long been possible to send wire transfers in the US.  But they're quite inconvenient, requiring a trip to the bank and waiting around for one of the account guys who sits at a desk, and expensive, costing $15 to $45 a pop.   There's no reason they should cost anything, since they're actually much less labor intensive and infinitely more secure than any alternate method the bank has of transferring funds.