Ending The N-Word
Should black people quit using the N-word to set an example for white folk?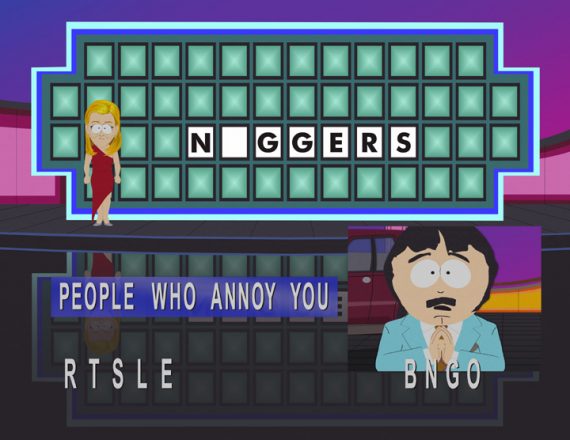 Keli Goff explains, "Why We Should Actually Thank Dr. Laura for Her N-Word Rant."
So the reason I'd like to thank her is because I'm hoping that her recent on air meltdown will finally help settle a philosophical debate over the n-word that has raged for years. On one side of the debate are those of us who believe that no one should say the n-word — not a white racist and not a black comedian — ever.

[…]

But the fact that she felt justified saying what she did confirms a fundamental reality: Arbitrary rules about who can say the n-word and who cannot simply do not work. Dr. Laura felt justified saying what she did because a host of rappers and comedians continue to validate her perspective.

[…]

And for those who argue the word's artistic value. Newsflash Kanye, Jaime, Sherri, Whoopi and others: if you are funny and talented enough, your act shouldn't cease being entertaining with the elimination of one word. The n-word is not like air or water. We can live without it, so why not try?

Which brings me to my final point. One thing that strikes as so strange about this entire debate is that our community has so much that is actually worth fighting for. We still lag behind in all of the areas in which it actually matters: graduation rates, life expectancy, compensation, and financial security. Why have some of us decided that keeping the n-word alive and well is a battle that deserves our time, attention and support? That seems to be a sad statement on our priorities.
Despite Doug having posted on Schlessinger's N-word rant and my commenting on her quitting her show in response to the backlash, I actually hadn't seen it.   Thinking it rather dubious that the reason Schlessinger said "nigger" several times on the air was because she's a devotee of rap music and urban comics, I read it.
Here's the relevant part:
SCHLESSINGER: No, no, no. I think that's — well, listen, without giving much thought, a lot of blacks voted for Obama simply 'cause he was half-black. Didn't matter what he was gonna do in office, it was a black thing. You gotta know that. That's not a surprise. Not everything that somebody says — we had friends over the other day; we got about 35 people here — the guys who were gonna start playing basketball. I was going to go out and play basketball. My bodyguard and my dear friend is a black man. And I said, "White men can't jump; I want you on my team." That was racist? That was funny.

CALLER: How about the N-word? So, the N-word's been thrown around –

SCHLESSINGER: Black guys use it all the time. Turn on HBO, listen to a black comic, and all you hear is nigger, nigger, nigger.

[…]

CALLER: I can't believe someone like you is on the radio spewing out the "nigger" word, and I hope everybody heard it.

SCHLESSINGER: I didn't spew out the "nigger" word.

CALLER: You said, "Nigger, nigger, nigger."

SCHLESSINGER: Right, I said that's what you hear.

CALLER: Everybody heard it.
Goff actually has a pretty good point here.    Schlessinger was literally repeating what is in fact a very common word in the popular culture.  Even the very, very mainstream purveyors like Chris Rock use it constantly.
So, should they stop?
The late Richard Pryor — if not the pioneer of using the word in question in stand-up comedy, then certainly its most esteemed practitioner — repudiated it toward the end of his life.  (Note:  The N-word is used, along with healthy doses of the F-word.)
I'm pretty sympathetic to the argument that the use of the word by iconic figures in the pop culture mainstreams and perpetuates it.   At the same time, I'm pretty close to a free speech absolutist.
The word is used because it's powerful and shocking.  Does its use for provocative effect by those without malign intent keep it alive and justify its use by those who mean it hurtfully?   Or does it transform the word into something more benign?
What's interesting is that it wasn't all that long ago that nigger, while understood to be vulgar, could be uttered on broadcast television, so long as it was clear that it was hurtful.    Apparently, the euphemism "the N-word" came into popularity during the O.J. Simpson trial 15 years ago and has replaced it in polite conversation.  (Amusingly, the Wikipedia entry at /wiki/Nigger is "Nigger" in the title tab but "The N-Word" on the page itself.)
So, clearly, the word is simultaneously dying in newspapers and broadcast media while it flourishes on the Internet, cable television, rap albums, and other media.