Etiquette In An Always-On World
Should we just accept that people are going to be on their iPhones and BlackBerries and redefine rudeness?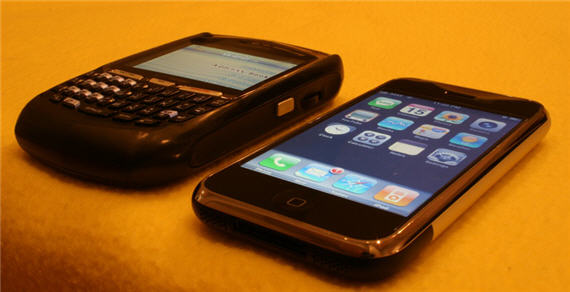 Peggy Nelson's provocative piece on smartphone etiquette, "How I Learned to Stop Worrying and Love the Flow," is getting some minor buzz.
It fits in your pocket, why shouldn't you carry it? It's always on, why shouldn't you answer it? Why shouldn't you text someone the minute you think of something, or check to see what they're doing? Why shouldn't you be available, to everyone, all the time?

Availability at a distance often means rudeness in person. Showing up means you're already over. Presence pales before possibility.

[…]

Our proximate legacy is the etiquette of the Enlightenment, in which the individual is the ultimate, indivisible unit of civilization, and is treated as such. For example, being with somebody means focusing attention on that person. You respect the discrete nature of the individual by being discreet about the rest. Do you need to make a call or check a message right that minute? No, actually, you don't; you wait until you have retired, to your office, to your private space, and conduct the rest of your affairs from there.

[…]

We've moved from the etiquette of the individual to the etiquette of the flow.

This is not mob rule, nor is it the fearsome hive mind, the sound of six billion vuvuzelas buzzing. This is not individuals giving up their autonomy or their rational agency. This is individuals choosing to be in touch with each other constantly, exchanging stories and striving for greater connection. The network does not replace the individual, but augments it. We have become individuals-plus-networks, and our ideas immediately have somewhere to go. As a result we're always having all of our conversations now, flexible geometries of nodes and strands, with links and laughing and gossip and facts flying back and forth. But the real message is movement.

Certain times and locations have been crucibles for the rapid development and proliferation of ideas; for example, 18th century coffeehouses, or the 19th century's café society. But now we assemble virtually, via the mobile technologies of the conversations themselves. The new coffeehouse is not a place per se, it's a feature.

[…]

We're beginning to inhabit ad hoc, overlapping, always-on virtual salons — you're talking to someone, and then you both get pulled off into different directions, to form different shapes and vectors within the conversations, and then come together again, having never really been apart. You can even have multiple conversations via multiple media with the same person in the same span of time. Single conversations are one-dimensional chess; our language games have increased in complexity. And, potentially, in reward. Because with its ability to feel distant stories in a more personal manner, the expanded self points a way towards those stories becoming more relevant, and perhaps more actionable.
While I have been carrying a smartphone for several years (until yesterday, a BlackBerry, now an iPhone) I still haven't adjusted to this new reality.  Nor, I gather from the commentary on this piece I've seen, have most people over the age of 30.
But the change is doubtless coming.
For twenty-somethings, I think this is already a non-issue within their peer groups.  Everybody's on their iPhones and Droids all the time, Facebooking, Tweeting, and texting the minutia of their existence.  Unless they're around old farts like me, nobody's the least bit upset by this.
As recently as twenty years ago, nobody expected to be able to get in touch with you after hours.  If you answered your home phone*, great.   If an answering machine** picked up, it was almost creepy.    Soon, though, people became annoyed when you didn't have an answering machine.
We've only been in the mass cell phone era for maybe fifteen years and in the smart phone era much less time than that.  But we're already at the point where people expect to get in touch with you almost immediately during waking hours.  And we're only going to get more connected as time goes on.
This means that we're in a transitional period.  If you're, say, 35 you'll annoy the people around you if you answer your cell or emails while you're at a small social gathering.  The smaller the gathering, the more annoying the act.  But, at the same time, you're going to annoy the people leaving you voice mails, text messages, and emails if you don't respond in a reasonable period.
So, which is ruder?
__________
*In those days, most of us had one or two land line telephones at home.  Only the very wealthy and early adopters had car phones, which were very large.
**A predecessor to voice mail.