Reviving American Manufacturing
Contrary to myth, the USA is still a major manufacturing power. But the factory has changed radically.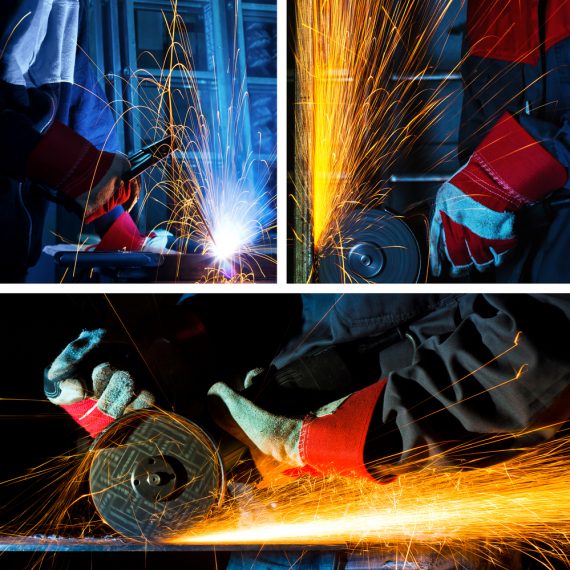 Contrary to myth, the USA is still a major manufacturing power. But the factory has changed radically, with the need for unskilled workers all but vanishing.
Last month's Atlantic has a long feature highlighting the case of Standard Motor Products and two of the workers in its Greenville, South Carolina plant.
I had come to Greenville to better understand what, exactly, is happening to manufacturing in the United States, and what the future holds for people like Maddie—people who still make physical things for a living and, more broadly, people (as many as 40 million adults in the U.S.) who lack higher education, but are striving for a middle-class life. We do still make things here, even though many people don't believe me when I tell them that. Depending on which stats you believe, the United States is either the No. 1 or No. 2 manufacturer in the world (China may have surpassed us in the past year or two). Whatever the country's current rank, its manufacturing output continues to grow strongly; in the past decade alone, output from American factories, adjusted for inflation, has risen by a third.

Yet the success of American manufacturers has come at a cost. Factories have replaced millions of workers with machines.
That much, I knew. I was also vaguely aware of this: "far fewer people, far more high-tech machines, and entirely different demands on the workers who remain." That is, I understood that American manufacturing was more machine-based and high tech; I didn't understand how much the jobs of those people who remained had changed.
Why is anything made in the United States? Why would any manufacturing company pay American wages when it could hire someone in China or Mexico much more cheaply?

I came to understand this much better when I learned how Standard makes fuel injectors, the part that Maddie works on. Like so many parts of the modern car engine, the fuel injector seems mundane until you sit down with an engineer who can explain how amazing it truly is.

[A longish discussion about how complicated modern automotive fuel injectors are.]

Luke Hutchins is one of Standard's newest skilled machinists. He is somewhat shy and talks quietly, but when you listen closely, you realize he's constantly making wry, self-deprecating observations. He's 27, skinny in his dark-blue jacket and jeans. When he was in his teens, his parents told him, for reasons he doesn't remember, that he should become a dentist. He spent a semester and a half studying biology and chemistry in a four-year college and decided it wasn't for him; he didn't particularly care for teeth, and he wanted to do something that would earn him money right away. He transferred to Spartanburg Community College hoping to study radiography, like his mother, but that class was full. A friend of a friend told him that you could make more than $30 an hour if you knew how to run factory machines, so he enrolled in the Machine Tool Technology program.

At Spartanburg, he studied math—a lot of math. "I'm very good at math," he says. "I'm not going to lie to you. I got formulas written down in my head." He studied algebra, trigonometry, and calculus. "If you know calculus, you definitely can be a machine operator or programmer." He was quite good at the programming language commonly used in manufacturing machines all over the country, and had a facility for three-dimensional visualization—seeing, in your mind, what's happening inside the machine—a skill, probably innate, that is required for any great operator. It was a two-year program, but Luke was the only student with no factory experience or vocational school, so he spent two summers taking extra classes to catch up.

[…]

In many ways, Luke personifies the dramatic shift in the U.S. industrial labor market. Before the rise of computer-run machines, factories needed people at every step of production, from the most routine to the most complex. The Gildemeister, for example, automatically performs a series of operations that previously would have required several machines—each with its own operator. It's relatively easy to train a newcomer to run a simple, single-step machine. Newcomers with no training could start out working the simplest and then gradually learn others. Eventually, with that on-the-job training, some workers could become higher-paid supervisors, overseeing the entire operation. This kind of knowledge could be acquired only on the job; few people went to school to learn how to work in a factory.

Today, the Gildemeisters and their ilk eliminate the need for many of those machines and, therefore, the workers who ran them. Skilled workers now are required only to do what computers can't do (at least not yet): use their human judgment. This change is evident in the layout of a factory. In the pre-computer age, machines were laid out in long rows, each machine tended constantly by one worker who was considered skilled if he knew the temperament of his one, ornery ward. There was a quality-assurance department, typically in a lab off the factory floor, whose workers occasionally checked to make sure the machinists were doing things right. At Standard, today, as at most U.S. factories, machines are laid out in cells. One skilled operator, like Luke, oversees several machines, performing on-the-spot quality checks and making appropriate adjustments as needed.

The combination of skilled labor and complex machines gives American factories a big advantage in manufacturing not only precision products, but also those that are made in small batches, as is the case with many fuel injectors. Luke can quickly alter the program in a Gildemeister's computer to switch from making one kind of injector to another. Standard makes injectors and other parts for thousands of different makes and models of car, fabricating and shipping in small batches; Luke sometimes needs to switch the type of product he's making several times in a shift. Factories in China, by contrast, tend to focus on long runs of single products, with far less frequent changeovers.

It's no surprise, then, that Standard makes injectors in the U.S. and employs high-skilled workers, like Luke. It seems fairly likely that Luke will have a job for a long time, and will continue to make a decent wage. People with advanced skills like Luke are more important than ever to American manufacturing.

But why does Maddie have a job? In fact, more than half of the workers on the factory floor in Greenville are, like Maddie, classified as unskilled. On average, they make about 10 times as much as their Chinese counterparts. What accounts for that?

[…]

"Unskilled worker," [factory manager Tony Scalzitti] narrates, "can train in a short amount of time. The machine controls the quality of the part."

"High-skill worker," on the other hand, "can set up machines and make a variety of small adjustments; they use their judgment to assure product quality."

To show me the difference between the two, Tony takes me from Luke's station through an air lock and into Standard's bright-white clean room—about a quarter the size of the dirtier, louder factory floor—where dozens of people in booties, hairnets, and smocks, most of them women, stand at a series of workstations.

[…]

Take Maddie's station. She runs the laser welding machine, which sounds difficult and dangerous, but is neither. The laser welder is tiny, more like a cigarette lighter than like something you might aim at a Klingon. Maddie receives a tray of sealed injector interiors, and her job is to weld on a cap. The machine looks a little like a microscope; she puts the injector body in a hole in the base, and the cap in a clamp where the microscope lens would be. The entire machine—like most machines in the clean room—sits inside a large metal-and-plexiglass box with sensors to make sure that Maddie removes her hands from the machine before it runs. Once Maddie inserts the two parts and removes her hands, a protective screen comes down, and a computer program tells the machine to bring the cap and body together, fire its tiny beam, and rotate the part to create a perfect seal. The process takes a few seconds. Maddie then retrieves the part and puts it into another simple machine, which runs a test to make sure the weld created a full seal. If Maddie sees a green light, the part is sent on to the next station; if she sees a red or yellow light, the part failed and Maddie calls one of the skilled techs, who will troubleshoot and, if necessary, fix the welding machine

The last time I visited the factory, Maddie was training a new worker. Teaching her to operate the machine took just under two minutes. Maddie then spent about 25 minutes showing her the various instructions Standard engineers have prepared to make certain that the machine operator doesn't need to use her own judgment. "Always check your sheets," Maddie says.

By the end of the day, the trainee will be as proficient at the laser welder as Maddie. This is why all assembly workers have roughly the same pay grade—known as Level 1—and are seen by management as largely interchangeable and fairly easy to replace. A Level 1 worker makes about $13 an hour, which is a little more than the average wage in this part of the country. The next category, Level 2, is defined by Standard as a worker who knows the machines well enough to set up the equipment and adjust it when things go wrong. The skilled machinists like Luke are Level 2s, and make about 50 percent more than Maddie does.

For Maddie to achieve her dreams—to own her own home, to take her family on vacation to the coast, to have enough saved up so her children can go to college—she'd need to become one of the advanced Level 2s. A decade ago, a smart, hard-working Level 1 might have persuaded management to provide on-the-job training in Level-2 skills. But these days, the gap between a Level 1 and a 2 is so wide that it doesn't make financial sense for Standard to spend years training someone who might not be able to pick up the skills or might take that training to a competing factory.

It feels cruel to point out all the Level-2 concepts Maddie doesn't know, although Maddie is quite open about these shortcomings. She doesn't know the computer-programming language that runs the machines she operates; in fact, she was surprised to learn they are run by a specialized computer language. She doesn't know trigonometry or calculus, and she's never studied the properties of cutting tools or metals. She doesn't know how to maintain a tolerance of 0.25 microns, or what tolerance means in this context, or what a micron is.
As generous as that excerpt is, the story is much, much longer and worth reading.
But the cases of Luke and Maddie really stuck out. Maddie, writer Adam Davidson acknowledges, is quite bright. She's hard working and friendly. She graduated high school with honors and expected to go on to college and get a good job. Alas, she got pregnant as a high school senior. You know the rest: "The father and Maddie didn't stay together after the birth, and Maddie couldn't afford to pay for day care while she went to college, so she gave up on school and eventually got the best sort of job available to high-school graduates in the Greenville area: factory work."
As a result, she's in a job that, quite literally, a reasonably intelligent person can learn to do as well as it can be done in one eight hour shift. And the gap between her Level 1 job and Luke's Level 2 job is so vast that it's hard to imagine her ever bridging it. Oh: it will eventually be cheaper to have a robot do her job. And she knows it.
Tony explains that Maddie has a job for two reasons. First, when it comes to making fuel injectors, the company saves money and minimizes product damage by having both the precision and non-precision work done in the same place. Even if Mexican or Chinese workers could do Maddie's job more cheaply, shipping fragile, half-finished parts to another country for processing would make no sense. Second, Maddie is cheaper than a machine. It would be easy to buy a robotic arm that could take injector bodies and caps from a tray and place them precisely in a laser welder. Yet Standard would have to invest about $100,000 on the arm and a conveyance machine to bring parts to the welder and send them on to the next station. As is common in factories, Standard invests only in machinery that will earn back its cost within two years. For Tony, it's simple: Maddie makes less in two years than the machine would cost, so her job is safe—for now. If the robotic machines become a little cheaper, or if demand for fuel injectors goes up and Standard starts running three shifts, then investing in those robots might make sense.

"What worries people in factories is electronics, robots," she tells me. "If you don't know jack about computers and electronics, then you don't have anything in this life anymore. One day, they're not going to need people; the machines will take over. People like me, we're not going to be around forever."
This isn't a matter of Tony and the high muckety-mucks at Standard screwing over their workers to keep a little extra for themselves. It's just the brutal realities of a very competitive industry–supplying aftermarket car parts. If Standard doesn't stay as efficient as possible, someone else will start undercutting their prices and put them out of business.
What's even more interesting to me than the Maddies of the world–which, again, I at least understood as a vague reality–are the Lukes. He's probably in the 95th percentile in mathematical smarts, has invested several years in acquiring skills, and will never stop having to acquire more highly complex knowledge. And he enjoys that fact, finding it challenging and rewarding. But despite all that, his job still sounds incredibly tedious and repetitive.
Every five minutes or so, Luke takes a finished part to the testing station—a small table with a dozen sets of calipers and other precision testing tools—to make sure the machine is cutting "on spec," or matching the requirements of the run. Standard's rules call for a random part check at least once an hour. "I don't wait the whole hour before I check another part," Luke says. "That's stupid. You could be running scrap for the whole hour."

Luke says that on a typical shift, he has to adjust the machine about 20 times to keep it on spec.
Because he's conscientious, he's actually working much harder than he's expected to. Even so, he's basically just measuring things. And making 20 minute adjustments over a 12-hour period. He works three of those a week, 6 pm to 6 am Friday, Saturday, and Sunday. At $20 an hour.
For the United States to rebuild a large, manufacturing based middle class, we'll need a whole lot of Lukes. In all honestly, I don't know how we'll find or create them. Even if, say, a quarter of us are capable of becoming proficient in calculus–and I'd say that's wildly high–what percentage of those with that capacity will have Luke's tolerance for tedium and be self-driven to keep learning? Further, even if we could make a few dozen million more Lukes would we be able to create enough jobs for them? And why won't the Indians and Chinese be able to create them faster and cheaper?
Manufacturing collage by Shutterstock.