Why iPhones Aren't Made In America
It's not just low wages that have kept technology manufacturing jobs out of the United States.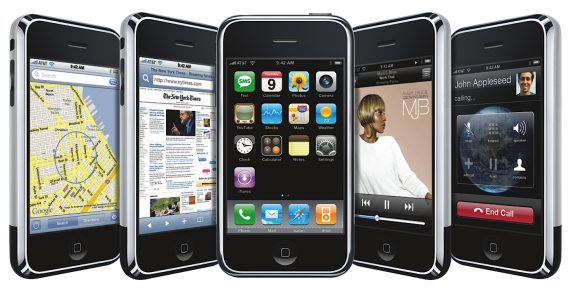 Charles Duhigg and Keith Bradshear have an excellent article in today's New York Times answering a question that President Obama once asked Steve Jobs. Contrary to what you might think, it isn't just cheap labor and lack environmental regulations that explain it:
 Not long ago, Apple boasted that its products were made in America. Today, few are. Almost all of the 70 million iPhones, 30 million iPads and 59 million other products Apple sold last year were manufactured overseas.

Why can't that work come home? Mr. Obama asked.

Mr. Jobs's reply was unambiguous. "Those jobs aren't coming back," he said, according to another dinner guest.

The president's question touched upon a central conviction at Apple. It isn't just that workers are cheaper abroad. Rather, Apple's executives believe the vast scale of overseas factories as well as the flexibility, diligence and industrial skills of foreign workers have so outpaced their American counterparts that "Made in the U.S.A." is no longer a viable option for most Apple products.

(…)

Apple executives say that going overseas, at this point, is their only option. One former executive described how the company relied upon a Chinese factory to revamp iPhone manufacturing just weeks before the device was due on shelves. Apple had redesigned the iPhone's screen at the last minute, forcing an assembly line overhaul. New screens began arriving at the plant near midnight.

A foreman immediately roused 8,000 workers inside the company's dormitories, according to the executive. Each employee was given a biscuit and a cup of tea, guided to a workstation and within half an hour started a 12-hour shift fitting glass screens into beveled frames. Within 96 hours, the plant was producing over 10,000 iPhones a day.

"The speed and flexibility is breathtaking," the executive said. "There's no American plant that can match that."

Similar stories could be told about almost any electronics company — and outsourcing has also become common in hundreds of industries, including accounting, legal services, banking, auto manufacturing and pharmaceuticals.
The article goes on to explain how the advantage that Apple found in China wasn't just cheap semi-skilled labor, but the economies of scale and speed with which requests could be complied with that really sealed the deal. The story about the iPhone's screen tells the tale most effectively:
For years, cellphone makers had avoided using glass because it required precision in cutting and grinding that was extremely difficult to achieve. Apple had already selected an American company, Corning Inc., to manufacture large panes of strengthened glass. But figuring out how to cut those panes into millions of iPhone screens required finding an empty cutting plant, hundreds of pieces of glass to use in experiments and an army of midlevel engineers. It would cost a fortune simply to prepare.

Then a bid for the work arrived from a Chinese factory.

When an Apple team visited, the Chinese plant's owners were already constructing a new wing. "This is in case you give us the contract," the manager said, according to a former Apple executive. The Chinese government had agreed to underwrite costs for numerous industries, and those subsidies had trickled down to the glass-cutting factory. It had a warehouse filled with glass samples available to Apple, free of charge. The owners made engineers available at almost no cost. They had built on-site dormitories so employees would be available 24 hours a day.

The Chinese plant got the job.

"The entire supply chain is in China now," said another former high-ranking Apple executive. "You need a thousand rubber gaskets? That's the factory next door. You need a million screws? That factory is a block away. You need that screw made a little bit different? It will take three hours."

(…)

Another critical advantage for Apple was that China provided engineers at a scale the United States could not match. Apple's executives had estimated that about 8,700 industrial engineers were needed to oversee and guide the 200,000 assembly-line workers eventually involved in manufacturing iPhones. The company's analysts had forecast it would take as long as nine months to find that many qualified engineers in the United States.

In China, it took 15 days.

Companies like Apple "say the challenge in setting up U.S. plants is finding a technical work force," said Martin Schmidt, associate provost at the Massachusetts Institute of Technology. In particular, companies say they need engineers with more than high school, but not necessarily a bachelor's degree. Americans at that skill level are hard to find, executives contend. "They're good jobs, but the country doesn't have enough to feed the demand," Mr. Schmidt said.
The article is already the subject of much commentary on both the political side, as tracked by Memeorandum, and among technology writers tracked at Techmeme. Tyler Cowen suggests that it's reason for us to spend less time worrying about the wage gap with China and other nations, and more time worrying about the economies of scale issues that the article raises.  Henry Blodget makes a starker point that makes one wonder exactly how the United States could ever get the "iPhone jobs" back:
 [Y]es, money is part of why all of our gadgets are built in China. But what started a couple of decades ago as a reach for efficiency has now resulted in the entire electronics-manufacturing ecosystem being lifted up and transferred to China.

Apple doesn't build iPhones in the United States, in other words, because there is no longer an ecosystem here to support that manufacturing. There's no supply chain, there aren't enough super-low-cost workers, and there are not enough mid-level engineers.  And many Americans looking for work are still hoping for a return to jobs, salaries, and lifestyles that have simply disappeared.

This is a complex problem, and there's no easy solution. But it's a problem this country is going to have to fix. Or the massive middle class that once drove America's prosperity will just cease to exist.
Of course, the problem with American politics is that easy solutions are all we ever hear from politicians because that's all that voters want to hear. Any politician who dares to present ideas that cannot be summarized into nice easy sound bites usually ends up getting ignored, and all that putting out a detailed plan of any kind tends to accomplish is that it leaves the candidate in question open to more and more criticism. More importantly, though, the American people don't want to hear things like Blodget says from their political leaders. Just ask John McCain when he bluntly stated during the Michigan Primary in 2008 that many of the manufacturing jobs that went overseas weren't going to come back. He was right, but he was roundly denounced not only be Democrats by members of his own party. Pessimism, or to put it better honesty, doesn't play well in politics. Americans want to hear that things are going to get better, quickly, that we will always be the leader of the world, and that we are the greatest nation ever to exist in the history of the world. Admitting that we've got a serious problem and that there's pain to come in the future? Yea, try to make that sell in a race for the White House
Yves Smith doesn't share in the praise for the article and notes that the authors missed a very important fact in their story about those iPhone glass screens:
So basically, the Chinese funded a completely non-economical glass R&D facility IN ANTICIPATION of getting the Apple order. There is no way anyone would build a factory like that unless the money was close to free. It already had glass samples in stock! The "some subsidies trickled down" sounds way too innocent. It sounds more like someone recognized the importance of Apple as a marquee customer, and whether the push came from the officialdom or businessmen with the right connections in high places, it doesn't really matter. This project smells of having serious government backing. How can private businesses anywhere compete with that?
They can't, of course, but I also don't think that anyone is seriously suggesting that the United States can or should adopt anything resembling Chinese industrial policy. For one thing, it goes against the entire ethos of our economic and legal systems not to mention our culture. For another, it doesn't strike me as an efficient use of resources. China has been pumping billions into projects like this, and many of them have laid dormant. That's seems to me like the classic signs of a bubble, when and how it pops is another question. Smith also points out that Apple may not be the best example of  how and why an American manufacturer prefers to rely on overseas labor. Changing the screen design mere weeks before product roll out, be points out, is as much an example of Jobs's erratic genius as anything else and isn't necessarily a sign of good project management. The only reason it worked out well for Apple, it seems, is because the Chinese firm was able to push its workers to work longer hours than any American ever would. In other words, Chinese near-slave labor saved Steve Jobs's ass.
Notwithstanding these valid criticisms, the article raises compelling points that should deeply concern all of us. As Blodget notes, it's principally the lack of the infrastructure needed for the kind of manufacturing that Apple, or any cellphone or electronics manufacturer for that matter, would need that makes it unlikely that those kinds of jobs will return any time soon. Moreover, thanks to offshoring, advances in technology, and increases in worker productivity, there are entire classes of employment that either no longer exist anymore or don't require nearly as many bodies as they used to. Many of these are the semi-skilled positions that were once a ticket to a middle class lifestyle. The same thing goes for the positions that used to be waiting for college graduates, and are now harder to come by. Where, exactly, are these jobs going to come from?
There is one factor the article cites that we could do something about. We don't graduate nearly enough engineers in this country, partly because American college students seem inclined to pick "easy" majors rather than one of the STEM subject areas. We also don't do much to encourage foreign students who come to the United States to study in these areas to stay here after they graduate. On that last point, many have suggested that we should offer H1-B visa's to any foreign college student who agrees to stay and work in the United States after graduating. It's a reasonable idea, as is any the encourages immigration by high-skilled workers and professionals, but right now immigration policy is ham-strung by a Republican Party unwilling to compromise at all until some ridiculous ideal of "border security" is achieved, even if its a policy that helps the economy. It's a dumb position to take on many levels, and it's hurting the economy.
Apple is now the leading corporation in America by any number of measures. However, even accounting for its overseas factories, it employees barely 1/10th of the number of employees that General Motors employed in the 1950s, and just a fraction of the number of employees that General Electric employed in the 1980s. Quite simply, they don't need that many workers anymore. And yet,  the population of potential employees is far higher now than it was in the 50s or the 80s. Unless everyone is going to be a software designer, we're going to have to find somewhere to employ all those people that provides more than just a minimal wage. During  his campaign for the Presidency, Jon Huntsman talked about a manufacturing renaissance that he believed was on the verge of occurring in America. One hopes he's right about that because, otherwise, we're going to have some big problems to deal with.
Update: Don Boudreaux shares a Letter To The Editor he sent to the Times in response to the article linked above:
As your reporters admit, Apple uses lots of overseas workers precisely because those workers are willing to work in worst conditions and for lower pay than are American workers – strong evidence that the options open to even low-skilled Americans are far superior to those of most workers in developing countries.  Our prosperity enables even the poorest of us to avoid such toil.

Of course, some people (apparently including, according to your report, Pres. Obama) wonder why Apple doesn't simply hire American workers at American wages to do more of those jobs.  Alas, the unavoidable result of that policy would be a substantial rise in the price of Apple products and a fall – likely total – in the number of such products produced and sold.

Put differently, your report, like Mr. Obama, insinuates that low-wage jobs overseas (and jobs currently performed by machines) would, if transferred to America, somehow become the same – but higher paying – jobs for workers here.  This insinuation is wrong.   If Apple followed Mr. Obama's suggestion, there would soon be no Apple and, hence, no "iPhone work" that the U.S. could possibly "lose out on."
This is a fair point, although I would quibble with the assertion that there are so many options open to Americans right now. As anyone who's been unemployed for more than a month or so can tell you, that's not necessarily the case, and for large segments of the American workforce it does seem like the path to a middle class life that used to exist is disappearing. That's not to say that Chinese wages and working conditions should be brought to the United States. That would be absurd, and I doubt most Americans would accept it. However,  it still leaves unanswered the question of where the jobs are going to come from in the future.