F-35 Costs $182 Million to $299 Million Per Plane
Nobody gets the airplane they wanted but at least they're paying more for the one they're getting.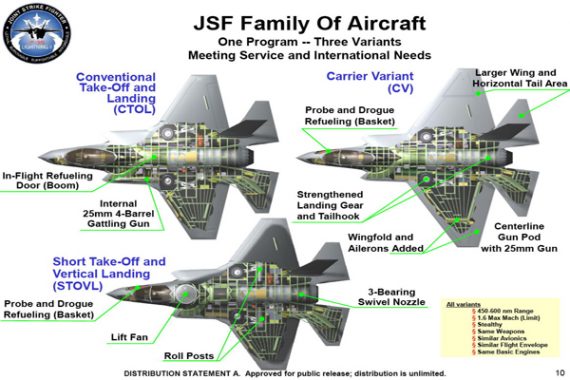 David Axe warns, "The Pentagon's New Jet Fighter Costs Twice as Much as You're Being Told."
In recent weeks several news outlets have repeated the pro-JSF [Joint Strike Fighter] camp's assertion that the F-35—planned to be the main warplane for the Air Force and Marines and half the Navy's future fighter fleet—will soon cost just $85 million a copy or less in near-future dollars, thanks to an increasingly efficient production line.

The "good news" helps bolster the $400-billion weapons program, the most expensive ever.

But it's not true. Not by a long shot. The much-maligned, single-engine F-35—which suffers from a complex design and a lack of maneuverability—currently costs twice what its proponents are projecting. And don't buy the argument that the jet's sticker price will substantially drop in coming years. Lockheed's been making that claim for a long time now, and it hasn't happened yet.

Trade publications Defense News and Breaking Defense and wire service Reuters all published stories in mid-December quoting Pentagon and Lockheed executives saying the cost of an F-35 is declining. The execs claimed the JSF, which has been in development for 12 years, could wind up being cheaper than competing planes.

Lockheed manager Lorraine Martin made the most outrageous assertion, insisting to Breaking Defense that the F-35 would cost "less than any fourth-generation fighter in the world" by 2019.

[…]

To put the F-35-boosters' claims in context, Winslow Wheeler, an analyst at the Project on Government Oversight in Washington, D.C., has calculated the true current cost of an F-35. It's way more than anyone in official circles likes to admit.

Forget the $85-million or $60-million figure being bandied about in the press. Each of the 29 F-35s the Pentagon is purchasing from Lockheed in 2014 costs between $182 million and $299 million. And that's leaving out research and development spending since the late 1990s, which could soon exceed $50 billion and add $16 million to true long-term acquisition cost of each F-35.

No, Wheeler calculated only the per-plane production cost, which includes advance funding for long-lead parts, the main funding in the year of authorization plus modification funds to fix design flaws on the planes shortly after they roll out of the factory.

By that measure, one Air Force F-35A—the simplest of the three JSF models—currently costs $182 million. A vertical-landing Marine F-35B sets taxpayers back $252 million. The Navy's carrier-compatible F-35C, still mired in serious development problems, comes in at a whopping $299 million per plane.
A recent RAND study prepared for the Air Force asked, "Do Joint  Fighter Programs Save Money?" The short answer: No.
While the idea makes sense—developing, procuring, and sustaining one aircraft rather than two should bring efficiencies—the reality of execution is more complicated.
[T]he need to accommodate different service requirements in a single design or common design family leads to greater program complexity, increased technical risk, and common functionality or increased weight beyond that needed for some variants, potentially leading to higher overall cost, despite the efficiencies.
The report concludes:
The quantitative analysis summarized in this report shows that, contrary to expectations, historical joint aircraft programs have not saved money compared with single-service aircraft programs. Although a joint approach has the theoretical potential to lower acquisition costs by pooling RDT&E resources and increasing production runs, historical joint aircraft programs show substantially higher acquisition cost growth than single-service programs. This higher cost-growth percentage is about twice the maximum theoretical joint acquisition savings percentage for a typical fighter program. In addition, whereas a joint approach can save O&S costs by taking advantage of economies of scale, analysis of actual fighter O&S data shows that the potential savings percentages are small and are not likely to counteract the higher average joint aircraft RDT&E and procurement cost-growth rates. On net, joint aircraft programs have not saved overall LCC compared with single-service aircraft programs.

An important reason for the joint acquisition cost-growth premium is that joint fighter and other complex military aircraft programs have had difficulty reconciling diverse service-specific missions, operating environments, and performance requirements in a common design. The attempt to accommodate different service requirements escalates technical and programmatic complexity and risk, which can drive up costs and prolong RDT&E. At the same time, service-specific requirements and demands tend to produce less commonality and lead to more variants, thus reducing the main source of joint cost savings in procurement and O&S. Even so, necessary design compromises often leave participating services unsatisfied and have often resulted in the withdrawal of partners from historical joint fighter programs. Indeed, of the 11 major historical joint fighter programs we examined dating from the 1960s to the 1990s, all but three led to the withdrawal of one of the partners or cessation of the program very early in the effort, almost always because of conflicts over performance requirements and design.
So, essentially, joint fighter programs like the F-35 are the worst of both worlds: nobody gets the airplane they wanted but everybody pays more.