Fear And The Housing Market
For many reasons, the housing market is unlikely to fully recover for the foreseeable future.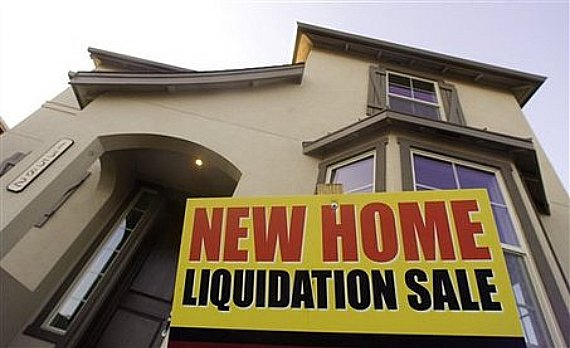 The New York Times points out today that,  just as irrational exuberence was driving the housing bubble until it collapsed in 2007-08, there's now a new psychology that goes a long way toward explaining why the market has yet to recover:
Just as the subprime bubble of 2006 and 2007 required one kind of perfect storm — namely, incentives to throw underwriting standards out the window — we are now living through the opposite kind of perfect storm. Essentially, every participant in the housing market has a reason to be afraid. And that fear is paralyzing.

The prospective buyer, for instance, has two good rationales to fear buying a new home. One is the unemployment rate. "A major psychological thing happens with high unemployment," says Dave Zitting, a veteran mortgage banker and founder of Primary Residential Mortgages. "Those with a job worry about whether they are going to keep that job" — which, in turn, prevents them from taking the plunge on a new home.

The second reason is that, Mr. Yun notwithstanding, most people simply do not believe that housing prices are even close to hitting bottom. "In the Bay Area, a house that was worth $300,000 a decade ago became a million-dollar home," said Greg Fielding, a real estate broker and blogger. "Now it is listed at $800,000." That price, he suggested, was still unrealistically high. The seller, meanwhile, doesn't want to face the fact that his or her home is too richly priced, and won't sell at a more realistic price — which may well be below his or her mortgage debt.
The incentives are similar on the Lender's side, with the added twist that the very government that talks about reviving the housing market is actually helping to keep it depressed:
Chastened by the excesses of the bubble, mortgage lenders have swung hard in the other direction, becoming excessively, almost insanely, conservative. They demand high FICO scores. They won't lend to anyone who is recently self-employed — even if the potential borrower has socked away a lot of money in the bank, or is making a good income. They won't count income from capital gains.

"I have wonderful people in my office every day who would have qualified for a loan prior to the bubble" but now can't get one, Mr. Zitting said. Mr. Barnes said: "Underwriting standards are vastly tighter than any time in my lifetime. It is choking off buyers."

Here's the strangest part, though: it is really not the lenders themselves who are imposing the most draconian of these tight new underwriting standards. Rather, it is the federal government. That's right, the government.

(…)

"The government right now is insuring something like 85 to 90 percent of the country's mortgages," said Daniel Alpert, a managing director of Westwood Capital. And given the enormous losses Fannie and Freddie were saddled with during the financial crisis, they are in no mood to take risks, not even on borrowers who are normally considered creditworthy. So they are saying no a lot more than they used to — even though this is having a terrible effect on the housing market.
Now, as any student of economics could tell you, what's going on here isn't irrational "fear" on the part of potential homeowners, or tight-fisted, irrational, lending policies on the part of borrowers. Both parties are responding in the best way that they can to the cards they've been dealt.
It's completely rational for someone who might be thinking about buying a home to take into account the fact that their own job security before entering the market. After all, there are few things worse than buying your dream home only to find out two months later that you've been laid off, or one of the bread winners has is suffering from a health problem that cuts the family income in half. Unless you've built up a nest egg, it's a virtually impossible situation to get through for most people. Given how well-publicized the foreclosure crisis has been over the past several years, people would be foolish not to take something like this into account.
Additionally, as I noted on Friday, there's plenty of reason to believe that housing prices aren't anywhere close to the bottom right now, especially when there's plenty of what realtors call "shadow inventory" that has yet to hit the market:
There is also an immense amount of inventory that has yet to hit the market but will, sooner or later. People in the real estate business have taken to calling this "the shadow inventory." It consists of homes for which the owners have stopped paying the mortgage but the banks haven't foreclosed on yet, foreclosed properties that have not yet been put up for sale, homes with modified mortgages that the owners still can't afford and will soon default on and so on.

Mr. Barnes describes the shadow inventory as akin to "ranks of Napoleonic infantry, rows deep, hidden in the fog." This inventory, estimated by Rick Sharga of RealtyTrac to be between three million and four million homes, is almost certain to drag down home prices for the foreseeable future. "The disinterest of buyers, in an interest-rate environment that may be the lowest ever, is striking," Mr. Barnes said. But, he added, it makes perfect sense. Since 2007, housing prices have been in a deflationary spiral, and nobody can say when it will end. "It doesn't matter if interest rates go down to 2 percent," Mr. Barnes said — buyers won't reappear in big numbers until they can see the light at the end of the tunnel.
In other words, simple supply and demand.
So, it's not "fear" that's driving the housing market down, it's the rational responses of homeowners, homebuyers, and lenders to the conditions around them. Until those conditions work themselves out, what we see today is likely to be the "new normal" for some time to come. Unfortunately, nobody in Washington has the courage to tell the public that.