Federal Appeals Court Blocks Implementation Of Oklahoma Sharia Law Ban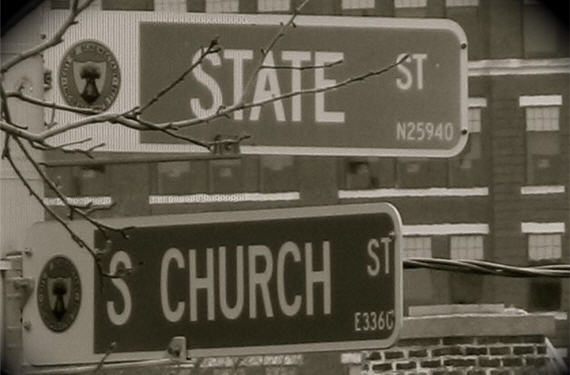 In 2010, Oklahoma voters passed a referendum blocking state judges from considering Islamic or any other form of international law when rendering decisions in Oklahoma courts. Despite widespread criticism, the referendum passed by a wide margin in what was widely attributed to the same kind of hysteria over Islam that we had seen the previous summer during furor over the so-called "Ground Zero" mosque. Almost immediately, legal scholars noted that the law had serious legal flaws and it wasn't long before a lawsuit was filed. Munweer Awad, a Muslim-American resident of Oklahoma filed a federal lawsuit alleging that the law violated his religious liberty in that it prevented him from abiding by Muslim principles in matters such as property distribution at death. The U.S. District Court blocked the law from being implemented, in a ruling that accepting the majority of Awad's argument. Today, the 10th Circuit Court of Appeals upheld that decision:
The 10th Circuit Court of Appeals​ today upheld a ruling that blocked the implementation of an Oklahoma initiative barring judges there from considering Islamic law in court decisions.

The Denver-based appellate court, one rung below the U.S. Supreme Court, said it is likely the initiative will be found unconstitutional because it singles out Islam for discrimination. The court said Oklahoma hasn't shown any reason for the need to specifically ban Islamic law.

"Given the lack of evidence of any concrete problem, any harm seek to remedy with the proposed amendment is speculative at best," 10th Circuit Judge Scott Matheson, writing for a three-judge panel of the court, concluded.

Oklahoma voters overwhelmingly approved the initiative in 2010. The measure prevents judges from basing rulings on international law and then mentions Islamic law — known as Shariah — specifically.

After the election, Muneer Awad, the executive director for the Oklahoma chapter of the Council on American-Islamic Relations, sued.

Awad argued that the initiative stigmatizes Islam and also denies him rights that are available to people of other religions. For instance, Awad said his will instructs a judge to look to Islamic precepts in situations where Awad's wishes aren't clear. The initiative, Awad said, would prevent a judge from doing that, even though the judge could do that for people who are Christian or Jewish.

"This is an important reminder," Awad said today in a statement, "that the Constitution is the last line of defense against a rising tide of anti-Muslim bigotry in our society."

A federal judge in Oklahoma granted a preliminary injunction last year that blocked the initiative from being certified. The state appealed that decision to the 10th Circuit.

Today's ruling means the injunction will stay in place while Awad's lawsuit goes forward.
In it's ruling, which dealt principally with whether the injunction issued by the District Court should remain in effect, the 10th Circuit held that the state of Oklahoma had not demonstrated any compelling state interest for the law:
Appellants provided only one sentence on compelling interest. They simply assert that "Oklahoma certainly has a compelling interest in determining what law is applied in Oklahoma courts." Aplt. Supp. Br. at 16.

Oklahoma's asserted interest is a valid state concern. But this general statementalone is not sufficient to establish a compelling interest for purposes of this case. Appellants do not identify any actual problem the challenged amendment seeks to solve. Indeed, they admitted at the preliminary injunction hearing that they did not know of even a single instance where an Oklahoma court had applied Sharia law or used the legal precepts of other nations or cultures, let alone that such applications or uses had resulted in concrete problems in Oklahoma. See Awad, 754 F. Supp. 2d at 1308; Aplt. App. Vol. 1 at 67-68.

Given the lack of evidence of any concrete problem, any harm Appellants seek to remedy with the proposed amendment is speculative at best and cannot support compelling interest.15 "To sacrifice First Amendment protections for so speculative a gain is not warranted . . . ." Columbia Broad. Sys., Inc. v. Democratic Nat'l Co., 412 U.S. 94, 127 (1973).

Because Appellants have failed to assert a compelling interest, they have failed to satisfy strict scrutiny. Mr. Awad has therefore made a strong showing that he is likely to prevail in a trial on the merits.
Additionally, as I noted shortly after the law was passed, the ban covered far more than Sharia Law and threatened to harm the interests of more than just the 10,000 or so Muslims who live in Oklahoma:
Native American tribes based in Oklahoma have already expressed concerns that the law will limit their ability to enforce tribal law on their reservations, for example. Additionally, business contracts have traditionally included what are called "Choice of Law" provisions which require that the law of a particular state would be applicable in interpreting it's provisions. In an increasingly international business world, those provisions have expanded to include laws of other countries. If , for example, an Oklahoma company seeks to enforce the terms of a contract that provide that Canadian (or Mexican) law would apply, then this law would make it illegal for a Court to abide by the terms of the contract.
Clearly, though, it was Islam that was the primary target of the law and paranoia over the non-existent threat of Sharia Law that was used to stoke voter fear on this issue. Additionally, ignorance about Muslims and plain old bigotry surely played a role in this mess.
The Court concluded:
As the Ninth Circuit explained, when a law that voters have approved "affronts the federal Constitution—the Constitution which the people of the United States themselves ordained and established—the court merely reminds the people that they must govern themselves in accordance with the principles of their choosing." Id.; see also Williams v. Rhodes, 393 U.S. 23, 29 (1968) ("[T]he Constitution is filled with provisions that grant Congress or the States specific power to legislate in certain areas; these granted powers are always subject to the limitation that they may not be exercised in a way that violates other specific provisions of the Constitution."). Appellants admitted at the preliminary injunction hearing that they did not know of any instance where an Oklahoma court had applied Sharia law or used the legal precepts of other nations or cultures. See Awad, 754 F. Supp. 2d at 1308; Aplt. App. 157-58. Delayed implementation of a measure that does not appear to address any immediate problem will generally not cause material harm, even if the measure were eventually found to be constitutional and enforceable.
This isn't over yet, of course. Upholding the injunction merely means that the case returns to the District Court for a trial on the merits, unless the State of Oklahoma decides to appeal this to the Supreme Court that is. While nothing is guaranteed, though, it seems fairly apparent that it will be next to impossible for the state to win this case at trial. Which is exactly as it should be.
Here's the opinion: