Feinstein Stepping Down
The 87-year-old former San Francisco mayor isn't woke enough.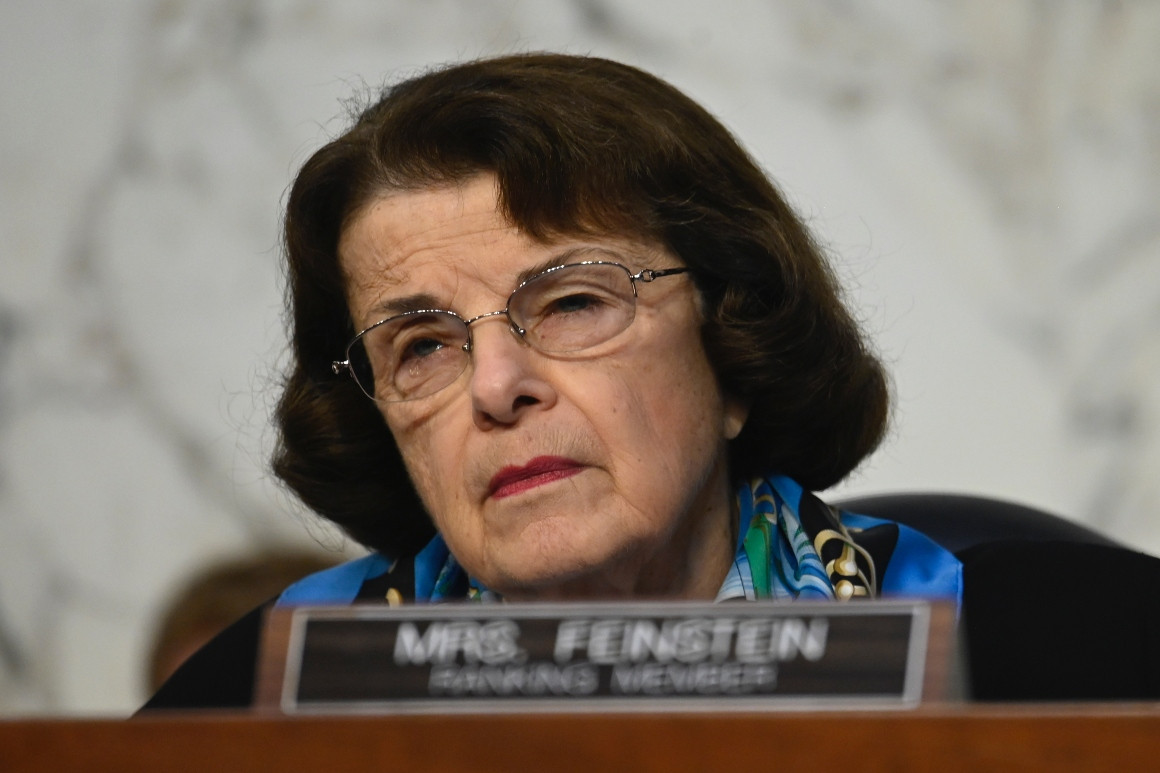 POLITICO ("Dianne Feinstein to step down as top Democrat on the Senate Judiciary panel"):
Sen. Dianne Feinstein plans to step down as the top Democrat on the Senate Judiciary Committee in the next Congress, after facing blowback from progressives for her handling of Amy Coney Barrett's contentious Supreme Court confirmation hearing.

Three people familiar with the matter told POLITICO, which Feinstein soon confirmed.

"After serving as the lead Democrat on the Judiciary Committee for four years, I will not seek the chairmanship or ranking member position in the next Congress," the California Democrat said in a statement. "I look forward to continuing to serve as a senior Democrat on the Judiciary, Intelligence, Appropriations and Rules committees as we work with the Biden administration."

Feinstein added that she planned to focus her attention on combating climate change and the coronavirus pandemic.

Members of her own party had expressed concern before Barrett's hearing that the 87-year-old wouldn't be aggressive enough. Her approach to the battle over filling the seat left by the late Ruth Bader Ginsberg soon confirmed many Democrats' fears, particularly after she praised Senate Judiciary Committee Chairman Lindsey Graham (R-S.C.) for his handling of the process and gave him a hug at the conclusion.

Shortly after the hearings, several liberal groups called on her to resign from her position. One of those groups, Demand Justice, applauded her decision to step down.

"This was a necessary step if Democrats are ever going to meaningfully confront the damage Donald Trump and Mitch McConnell have done to the federal judiciary," said Brian Fallon, executive director of Demand Justice. "Going forward, Democrats on the Senate Judiciary Committee must be led by someone who will not wishfully cling to a bygone era of civility and decorum that Republicans abandoned long ago."

After the hearings, Senate Minority Leader Chuck Schumer (D-N.Y.) said he had a "long and serious" talk with Feinstein. Senate Minority Whip Dick Durbin (D-Ill.) is next in line for the job, followed by Sen. Sheldon Whitehouse (D-R.I.).
As a former Republican who's now a de facto Democrat, I find it interesting that Feinstein and Speaker of the House Nancy Pelosi have aged from being among the leftmost figures in American politics into the target of progressive firebrands. Pelosi, though, has managed to maintain her power despite being insufficiently aggressive for the Squad by being so effective at managing her coalition. Feinstein likely sealed her fate by hugging Lindsay Graham and praising him for his conduct in the Barrett hearings.
At 87, Feinstein is well past the point where she should have retired. And I do think she's operating as if she's in the Senate she joined in 1992, not the one that has evolved from years of partisan escalation under Harry Reid and Mitch McConnell.
While I'm not quite sure what progressives expected her to do in the Barrett hearings—especially after she was so roundly criticized for going after her religious views in her previous confirmation for the Court of Appeals—she certainly wasn't a roadblock to the inevitable.