Firedoglake: Hey, Barack Obama Might Just Be A Worse President Than Bush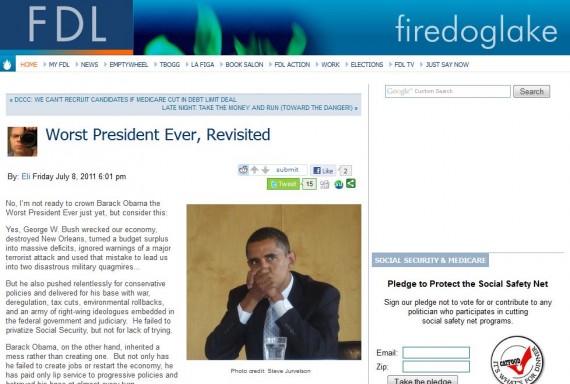 One blogger at the lefty Firedoglake utters the unthinkable:
No, I'm not ready to crown Barack Obama the Worst President Ever just yet, but consider this:

Yes, George W. Bush wrecked our economy, destroyed New Orleans, turned a budget surplus into massive deficits, ignored warnings of a major terrorist attack and used that mistake to lead us into two disastrous military quagmires…

But he also pushed relentlessly for conservative policies and delivered for his base with war, deregulation, tax cuts, environmental rollbacks, and an army of right-wing ideologues embedded in the federal government and judiciary.  He failed to privatize Social Security, but not for lack of trying.

Barack Obama, on the other hand, inherited a mess rather than creating one.  But not only has he failed to create jobs or restart the economy, he has paid only lip service to progressive policies and betrayed his base at almost every turn.
We've seen this before, of course. Back in September 2010, another liberal blogger accused the White House of "hippie punching" in its criticisms of those in the "Netroots" who were expressing disappointment similar to what the FDL blogger expresses here. As I noted during the "hippie punching" incident:
Expecting ideological perfection in a business that has been compared in the past to sausage making is, quite honestly absurd. And expecting the President of the United States to stroke the egos of a few bloggers just strikes me as vanity.
You see the same thing on the right, of course. The ability of ideologues to let the perfect be the enemy of the good is quite universal.
Nonetheless, it is amusing to see this happening on the left now.
H/T Balloon Juice