Political Derangement Syndrome
Whenever I despair at the current state of the Republican Party, I remind myself that things aren't much better across the aisle.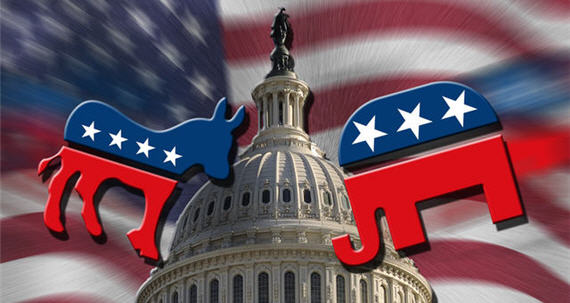 Whenever I despair at the current state of the Republican Party–which is rather frequently these days–I remind myself that things aren't much better across the aisle.
Digby, for one, is tired of hippie punching.
[W]hen anyone sets forth a truly liberal plan like Cohn proposes, they are not only met with shrieks of horror from conservatives, establishment liberals and Democratic third-way centrists stalk them like a pack of hyenas and marginalize them as outside the "mainstream" and assure everyone who will listen that they are not "serious." You may have noticed that Paul Ryan's lunacy is not similarly treated by his own. Indeed, it's not even similarly treated that way by liberals. Just try to imagine a plan like the one Cohn describes being hailed as "courageous" (even though it surely would be.) Yeah, I know. Shrill.

The fact is that there is no liberal establishment willing to validate liberalism. Indeed, for reasons only they can tell us, they almost always go out of their way to exclude anyone who can readily be identified as a person of the left and rush before the cameras and into print to reassure America that they have no support. I have my theories about why that might be, but suffice to say it's a fairly easily documented phenomenon. There is simply no space in the establishment political dialog for explicitly left policy or rhetoric.

I'm thinking that TNR is one place where the liberal wonks (Cohn excluded) might take a minute and ask themselves if their reflexive derision of the hippies for being unrealistic and lacking in pragmatism has served their own goals. When you wake up one morning and see a Democratic president praising the biggest spending cuts in history at a time of 8.8% unemployment, it might be time to take a look in the mirror.
BooMan sympathizes but points out:
The truth is that our government is set up to frustrate change. Our election laws and our media landscape create a lopsided political playing-field where those who already have huge amounts of money can pretty much guarantee that they continue to get more of it and everyone else gets less. We can make arguments. We can try to move the Overton Window, but what is actually achievable in Washington DC is extremely limited. There really isn't much sense in making a lot of promises that we can't keep. The only times the Democrats have been able to make breakthroughs have been brief interludes when we had enormous majorities. Right now, we have a small majority in the Senate and we don't control the House. Basically, in this situation, almost nothing can be accomplished, and even less can be accomplished on our terms. This is the context within which the president must perform.

[…]

I stopped being very idealistic when I finally got around to making myself understand our system of government. I don't get disappointed by a whole lot because my expectations are so low. I see a real threat out there. I see a threat to our way of life and to all humanity, and it stares me in the face every single day. That threat isn't coming from Barack Obama or the Democratic Party. It's coming from the other side of the aisle. And insofar as the Democrats are failing to meet the challenge (and they are failing) the real culprit is deep and structural and ingrained in our system and in our laws.

You may have noticed that the right is engaged in this fight on a structural level. They go after the people who register voters. They pass laws making it harder to vote. They attack the unions. They attack MoveOn.org. They go after anyone in the media, be it Bill Maher, Keith Olbermann, Phil Donahue, or Dan Rather who expresses any skepticism about the right. They built their own cable news station and took over the radio spectrum. They make it so corporations can give unlimited money anonymously. They are coming after us with real aggression, trying to make it impossible for even middle-of-the-road Bill Clinton-style Democrats to get elected in this country. If we want to defend ourselves and ever see real progressive change in this country, we have to fight on this structural stuff. In the meantime, we're playing defense. And we can't do much more than that.
The idea that the other party is a well-oiled propaganda machine while one's own is its own worst enemy because of internal strife ranks right up there with the notion that the other side is willing to be utterly ruthless while ours is hurt by being so principled. Both are emotionally satisfying and easily verifiable with examples from within the echo chamber. They're both utterly ridiculous when one steps back and examines the situation.
Democrats controlled the White House and Congress for two years and managed to pass the biggest stimulus package in history, the largest advancement of the welfare state since the 1960s, and lift the ban on gays in the military. Prior to that, with a two year interlude in which we had divided government, Republicans controlled the policymaking institutions for six years. What comparable advances in the conservative agenda did they manage to pass? Their most lasting achievements, the Medicare drug benefit and No Child Left Behind, were in the direction of a bigger state, not a smaller one. The closest thing that comes to mind is the Bush tax cuts, which were wildly popular and rather minor in an ideological sense–a couple percentage points on the top marginal rate.
Anyone who thinks there's no internal debate within the Republican Party hasn't been paying attention. Anyone who dares criticize Rush Limbaugh or to suggest that compromise is necessary is dismissed as a Republican in Name Only. And there's a bitter fight taking place between the Tea Party movement and the more traditional Republican establishment in terms of messaging, style, and candidate selection. Republicans who anyone would have considered staunch Reagan conservatives a couple years ago are now in danger of being primaried by more radical candidates.
And, I'm sorry, MoveOn.org, Bill Maher, Keith Olbermann, and Phil Donahue are simply in no way mainstream voices–even within Democratic circles. The notion that Republicans going after them proves that the conservative movement is somehow ruthless and doctrinaire is absurd. They're easy targets because they constantly say outrageous things. (Or, in the case of Donahue, said. He's been off the radar screen for years.) They're the left's analogues of the Family Research Council, Rush Limbaugh, Sean Hannity, and Bill O'Reilly.
The bottom line is that both of America's political parties, by the very nature of our system and society, have to cobble together huge and very diverse coalitions that are always at war with one another. The most ideological members of each party are always intensely frustrated by their leadership, seeing them as insufficiently committed to the Movement's principles, while seeing the leadership of the opposition party as much more wildly dogmatic than they are.
While Progressive bloggers are sardonically calling themselves "shrill" for daring to push the Democratic leadership to fight harder for their principles, Tea Party Republicans actually are being shrill in insisting the president isn't legitimate and demanding their leaders–who only control one half of the legislative branch–somehow force through an agenda they couldn't pass when they were in charge of the whole shebang.
Eight years ago, Megan McArdle coined "Jane's Law: The devotees of the party in power are smug and arrogant. The devotees of the party out of power are insane." She explained,
I used to think it was just the Republicans — well, some Republicans — who were insane. I mean, I am the only person I've ever met who actually thinks we got about the right result in the impeachment. We impeached the guy, to say "No, you can't just commit perjury", but we didn't remove him from office over a minor civil suit. (Although Democrats who are planning on deluging me with elegant arguments about how he shouldn't have had to answer those questions — I agree with you, except for one little thing, which is that he signed, with great fanfare, the law that made it so he had to answer those questions. As far as I'm concerned, therefore, he's the only guy in America who should have had to answer such questions under oath.)

But I could see how you wanted him impeached, and I could also see the argument for not impeaching him. It was a judgement call.

Except that a substantial portion of the Republican Party seemed, long before, to have lost all judgement. They were insane on the subject of Clinton. It wasn't enough that they disagreed with him politically; nothing would do but that he be the AntiChrist. They flooded the airwaves and newsprint with vituperative rants about the veriest trivialities of his administration. They raged impotently at the people in America — THE FOOLS! — who couldn't see that Clinton was the AntiChrist, even though it was as plain as the nose on your face. Every tiny shred of news about Clinton, no matter how innocuous, was waved about as evidence of his perfidy. I recall listening to some radio commenter go on and on about some Rose Garden ceremony for some law that was, as laws go, blandly heartwarming though ultimately useless, rather than, say, totally antithetical to basic concepts of liberty. The radio host used this law, which was so boring that I can't remember its topic except that it had something to do with kids and learning, as proof of Clinton's inherent evilness. How dare he cavort with children in the Rose Garden when, as we have already seen, he's EEEEVVVVVIIIIILLLL.

Republicans, I thought, seem to be insane. (This opinion was quickly vindicated when they nominated the charming, yet thoroughly unelectable, Bob Dole.) I wonder what makes them that way?

Now I know. The loss of the presidency clearly unhinges people's minds.

Democratic websites now offer the same vast well of spleen, the same conviction that every single news item with the word "Bush" in it somehow vindicates their thesis that Bush is not merely a center-right president with tax policies they dislike, but a proto-Fascist intent on establishing a dictatorship and herding his political opponents into camps. I'm not saying that all Democrats believe this, any more than all Republicans were crazy Clinton bashers. But just as the Republicans did, they tolerate an astonishing array of nutty opinion. And a very large percentage of the commentariat, from the blogerati upwards, are totally obsessed with proving that Bush is, like, the worst president ever.
The Democrats, of course, took back the White House two years ago. It took approximately 5 minutes for the process to reverse itself, with angry mobs descending on town hall meetings to shout down Members of Congress, a large movement to develop around the idea that a man born in Hawaii to an American mother–a fact announced in a Hawaiian newspaper contemporaneously–was actually a secret Muslim born in Kenya, and rallies around the country using the language and symbols of violent revolution.
Clinton Derangement Syndrome was followed by Bush Derangement Syndrome, which gave way to Obama Derangement Syndrome. It's a combination of a rapidly changing social and economic system with the rise of 24/7/365 instant communications and a permanent campaign. And there's no relief in sight.