First 2012 Debate Scheduled For Spring 2011
No, I'm not kidding:
Former first lady Nancy Reagan announced plans Thursday to invite the leading Republican contenders to the first debate of the presidential primary season, to be held at her late husband's presidential library and co-hosted by POLITICO and NBC News.

The debate, sponsored by the Reagan Presidential Foundation, will be held at the Ronald Reagan Presidential Library and Museum in Simi Valley, Calif., during the spring of 2011. NBC News will serve as the television partner for the debate while POLITICO is the online content partner.

The debate will be moderated by POLITICO and NBC News.

The foundation plans to sponsor a second debate on the eve of Super Tuesday during the height of the primary campaign. Media partnership for that event will be announced sometime in 2011.
As will, I am assuming, the identity of the participants since nobody has actually said they're running yet.
That said, the Reagan Library is a fairly cool venue for a Presidential debate, as we learned in January 2008: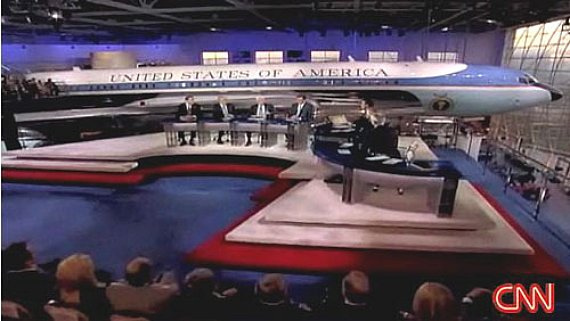 Once you've held a debate with Air Force One as your backdrop, the Elk's Lodge in Ottumwa, Iowa is going to look really small.