First Clinton-Trump Debate and Low Expectations Redux
Judging 2016 by historical standards hasn't worked out well thus far.
In my early morning post on last night's debate, I linked but didn't discuss Matt Yglesias' post, "This is everything that's wrong with how television covers the election." He begins by referencing this MSNBC pre-debate graphic: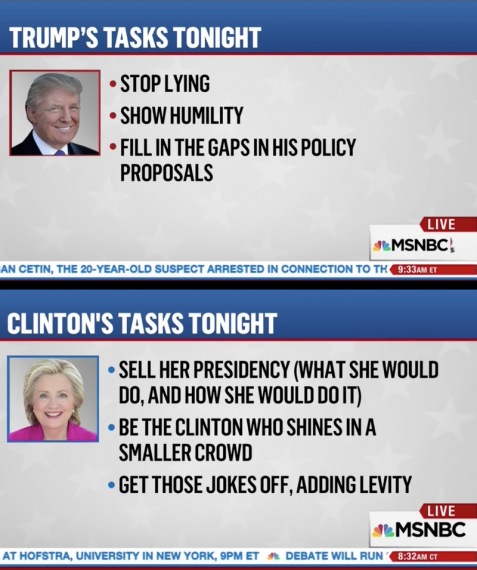 The whole piece is worth a read but the gist comes down to this:
Is it actually important whether the president of the United States makes funny jokes? Are the downside risks of an unfunny president large or small? I think if you consider it for a minute, the answer is that this pretty clearly does not matter.
Granting that Clinton has not done a stellar job of informing the mass public about what she would like to do as president, doesn't it matter that an interested citizen can easily access detailed information about her plans, whereas Trump needs to "fill in gaps" not about public knowledge of his proposals but their basic existence? There is, for example,a $1 trillion ambiguity in his tax plan.
Even if Trump does manage to "show humility" during a 90-minute live television broadcast, would a reasonable person familiar with his past 40 years in the public eye reach the conclusion that he is a humble person with a sense of his own limits and shortcomings? I'm going with no on this. The fact that we're in late September and we're still talking about how he should "stop lying" and have policy proposals is a big tell here.
Objectively, he's of course right. But so was MSNBC. While the media no doubt contributes to the "horse race" environment that Yglesias and others lament, it's simply a fact of life that human beings judge their political candidates partly on likability.
Leaving aside issue preferences, Clinton is leaps and bounds more qualified than Trump to be president. Not only does he have zero governing experience but he's demonstrated over the course of a long public life and more than a year running for president that he's a pretty horrible human being—mean, racist, misogynist, lazy, and other unflattering adjectives come readily to mind.  He's run the most undisciplined campaign by any major party nominee in my lifetime—and almost certainly ever—saying things that would have sunk almost any other candidate on a near-daily basis.
And yet he's within two-and-a-half points.
Among the many reasons I've written so much less of late than has been my habit since starting this site in January 2003 is that, not only do I not have a candidate in this race that I can support with even a modicum of enthusiasm but I feel that I've completely lost any ability to judge how campaign events will impact the race.  While I agree with Doug Mataconis and most of the blog's commentariat that Trump objectively lost last night's debate handily by any normal standard, I'm not at all sure that he lost in a way that mattered. That is, I wouldn't be at all surprised if his poll numbers stayed about the same or even rose after that bizarre performance last night. Again, he's said and done dozens of bizarre things since launching this campaign—including in previous debates—and risen in public affection every time.
Going in with incredibly low expectations—fully expecting him to be unprepared, unmoored from reality, and to utter obvious lies—I was actually mildly surprised at how well he did in the early going. My reaction mirrored Ross Douthat's:
Donald Trump won the first 25 minutes of the first presidential debate. He was too bullying and shout-y, too prone to interrupt, but he seized on an issue, trade, where Hillary Clinton was awkward and defensive, and he hammered away at his strongest campaign theme: linking his opponent to every establishment failure and disappointment, and trying to make her experience a liability rather than a strength.

In response, Clinton stumbled through a series of politician's tics — trying out a canned phrase ("trumped-up trickle-down"), urging people to go to her website and read her campaign book, reaching for the wonders of solar panels when the discussion turned to jobs, and urging the fact-checkers to get to work on her opponent rather than filleting him herself. He seemed passionate; she seemed stilted. His message seemed clear (if, yes, demagogic); hers seemed like a career politician's bob and weave.

But then the rest of the debate happened, and Trump simply couldn't keep it up. As one might have surmised from watching how he handled tough questioning in the primary debates, he lacked the … well, stamina to talk about policy in the sustained way required of a one-on-one presidential tilt. So he ended up serving up word salad more and more as the debate wore on, until Clinton's stiltedness sounded like eloquence by contrast.
While the "stamina" dig is a cute reference to one of Trump's unfounded criticisms of Clinton, the real culprit is sheer laziness. Chuck Todd and company:
Last night's first presidential debate between Hillary Clinton and Donald Trump was a night of contrasts on policy (trade, taxes, "stop and frisk") and personality. But maybe the biggest contrast of all was on the candidates' preparation — or the lack thereof. After a shaky start, Clinton was mostly prepared, disciplined, and methodical in her attacks. By contrast, after landing some early blows on trade, Trump was mostly winging it. And this exchange epitomized the difference:

TRUMP: You know, you've seen me, I've been all over the place. You decided to stay home, and that's OK [appearing to refer to Clinton's lack of campaign events]. But I will tell you, I've been all over. And I've met some of the greatest people I'll ever meet within these [African-American] communities. And they are very, very upset with what their politicians have told them and what their politicians have done.

CLINTON: I think — I think — I think Donald just criticized me for preparing for this debate. And, yes, I did. And you know what else I prepared for? I prepared to be president. And I think that's a good thing.

As NBC's Benjy Sarlin and Alex Seitz-Wald write, "In a battle of preparation versus instincts, preparation won in a major way." And it produced arguably the most lopsided debate we've seen in covering presidential politics.
I was talking earlier today with a neighbor, a professional Republican operative who is reluctantly supporting Trump after having worked early on for my preferred candidate, John Kasich. (Her husband, also a Republican pol, likewise is swallowing Trump even though he was a Jeb guy.) She likewise saw Trump losing but saw glimpses of a winning candidate and has hopes that he'll learn from this and rebound in the second debate. My response was that Trump has thus far displayed no indication that he's interested in learning.
Again, though, I'm less sure than I once was that it matters.  I maintained for months that there was simply no way such a lousy candidate would win the Republican nomination. Eventually, I conceded that the GOP is broken but there was no way this guy would resonate with the American people. His polling on the issues, on trustworthiness, on such things as "Should this guy be in charge of our nukes?" are historically bad. And yet he's within swinging distance of winning. The expectations are low and they probably got even lower last night. People are looking for an excuse to not vote for Hillary. They're looking for an excuse to blow the whole thing up and start over.
Yes, substance should matter. Experience should matter. Seriousness should matter. And it probably will. But it might not.
(Oh: Trump failed on all three of the absurdly low but probably right MSNBC thresholds. Clinton did some of 1 and gamely attempted 3.)