First Republican 'Debate' of 2016 Was Truly Awful
Last night reinforced what I thought about some candidates and changed what I think about others.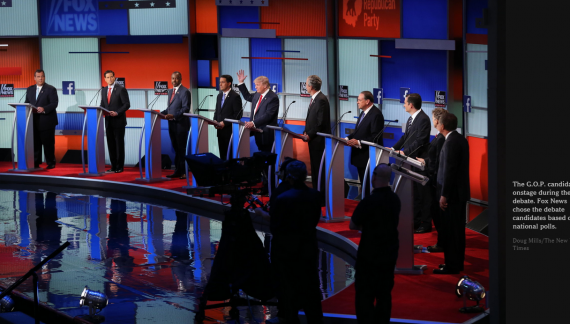 The first Republican debate of the 2016 season (or, technically, the second since seven candidates that barely register in the current polls held a mini-debate earlier in the evening) reinforced what I thought about some candidates and changed what I think about others. Like Donald Trump, I can not pledge to vote for all of them if they were to emerge as the nominee. Indeed, the number for whom I almost certainly couldn't vote increased over the course of the exchange.
First, though, a sidebar. While the moderators, especially Megyn Kelly, generally managed to maintain control of the festivities and ask sharp questions, the Fox News format was simply the most bizarre, outrageous setup I've seen in 35 years of watching presidential debates. That's saying something, given how awful these things can be.
The best we can hope for in multi-candidate debates is a serial press conference with some occasional cross-candidate shouting. Still, each candidate will respond to the same question and be given time to compare and contrast their record or platform with that of the others. Instead, the Fox team—with occasional help from  random yahoos who posted videos on Facebook—asked gotcha questions aimed one or two candidates and then moved on to another, generally leaving eight or nine of the participants unable to weigh in unless they violated the debate rules and simply started yelling. That made for a livelier television program but a really lousy debate.
Second, I'm very much an outlier as an analyst.  I'm a middle-aged political junkie and trained political scientist and yet watch almost no television news and talking heads programming, which means I'm actually seeing some of these candidates in earnest for the first time. Further, I've simultaneously been a Republican for decades and yet been increasingly alienated from the party 0ver the last decade or so.
Donald Trump, the frontrunner according to current polls, dominated the debate. He got the first questions and the most air time.  While I can see the appeal of his honey badger approach to the race, his performance last night just reinforced my view of him as a blowhard.
Jeb Bush was surprisingly sharp last night. He's stumbled and been unprepared these last several months but came across as a serious candidate last night, avoiding the gotcha questions deftly and positioning himself as a man prepared for the job. He managed to both tout his conservative beliefs and come across as someone who understands and respects the diversity of the country he's vying to lead. And, by the way, he's gotten into fighting shape in another way: he's lost a lot of weight since he first announced that he was thinking about running.
Scott Walker and Chris Christie both raised themselves in my esteem last night.  My introduction to Walker was his standoff against the teachers' unions in Wisconsin and, while I generally supported his policy position, I very much disliked the way he went about it. Similarly, Christie is generally very close to me on the issues but always came across as too abrasive to be taken seriously as a presidential contender.  Both were quite restrained and sensible last night. Appearing on stage with the likes of Trump, Mike Huckabee, and Ted Cruz helps in that regard.
Marco Rubio was occasionally impressive and likable last night, especially when talking about his heritage and vision for a more unified country. But he occasionally reminded me of how unseasoned he is.
Ben Carson was perhaps the most surprising. I'm not sure I've ever seen him on television before. My impression from reading about him was that he's a very smart and accomplished man who's got some really crazy ideas; essentially what Alan Keyes would be if he were a brain surgeon. Instead, he came across as mild-mannered and uninformed. It was as if a brain surgeon who didn't pay much attention to politics were told in the morning that he had to debate nine people for president that evening and prepared by studying a stack of index cards.
Rand Paul lowered himself in my esteem last night. There are a lot of issues on which his views are better aligned with mine than with any of the other candidates. But he just came across as unserious—a guy who's been debating these issues in a dorm room for years and has never contemplated the real world implications of his ideas. Thus, while I think he's closer to right than Christie on the NSA and Patriot Act, Christie got the better of those exchanges because he at least understands that there are trade-offs involved.
Ted Cruz did the most damage to himself in my eyes last night. Granting that I'm far from the typical Republican primary voter, Cruz was much worse than I thought. Based on what I've read, I've viewed him as sort of a socially conservative Rand Paul: a true believer who's just too adamant about his views to connect to those who disagree. Instead he came across as a smarter, scarier, less amusing version of Donald Trump. Indeed, he actually moved below Trump to the bottom of my list among the ten candidates on the stage.
Mike Huckabee always struck me as a lovable nut.  He was less lovable last night.
John Kasich was tenth of the ten in terms of the polls and likely didn't raise his profile much last night despite the debate being held in front of his home audience. He's a lot older and less fiery than the last time I saw him. He remained a legitimate contender for the presidency in my eyes, in that I think he's both eminently qualified for the job and quite reasonable on the issues. He helped himself a bit by dodging an absurd question about what God would want him to do in office and just told us what he thought he'd do. Also, he handled his turn at a Mike Dukakis question deftly. Asked a bizarre hypothetical about how he'd explain his opposition to gay marriage to one of his children if they came out as gay, he simply explained that he can love people without agreeing with their choices.
Bush and Kasich remain at the top of my list and are thus far the only candidates on the stage that I'd certainly vote for over any of the Democrats running or projected to run. Christie is in third place and would almost certainly get my vote over Hillary Clinton although probably not over Joe Biden or Jim Webb. Walker and Rubio moved themselves from almost certainly no way I can vote for guys into plausible if flawed candidates. Cruz, Carson, Trump, and Huckabee would force me to vote Hillary.