FISA, Blanket Searches, and the 4th Amendment
The government has your cell phone and credit card records. What can they do with that information?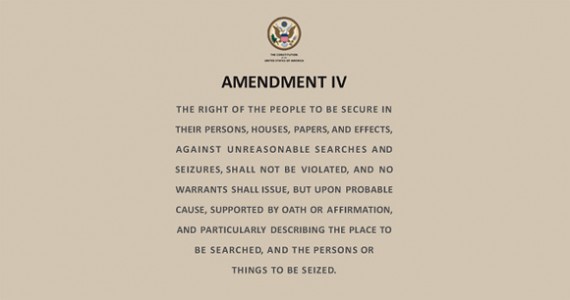 So, the NSA has copies of everyone's phone records. And probably our credit card transactions, too. And goodness knows what else, since it's all secret. As noted yesterday, I'm queasy but not outraged. While I share Doug Mataconis's fears about the impact on our liberty, I tend to agree with Michael Reynolds that the actual impact is negligible for reasons laid out at the first link.
Given that I can easily see the national security benefit to a sophisticated data mining operation—which strike me as a lot more tangible than the much-more-intrusive screening process to which we're subjected every time we fly—and that the sheer mass scale of the operation would seem to preclude snooping on individual citizens unless some pattern triggers a closer look, it strikes me as a reasonable intrusion. The problem, alas, is that this is all conjecture since we really don't know what the government is doing with the information.
One issue that's been brought up several times in discussions since this latest news broke is that, since the government has this information, they can now use it in ways unrelated to counterterrorism. Can they now use this for criminal investigations? To enforce the tax code? To blackmail political enemies.
The last of these, surely, would be illegal. I don't know the law well enough to offer more than conjecture on the first two.
Typically, the government needs to demonstrate probable cause to a judge or magistrate in order to get a warrant to conduct searches. FISA bypasses that process, allowing a "special" court to offer blanket warrants without probable cause on the individual level. It's legal. Congress has authorized this through various pieces of legislation and the courts are understandably reluctant to overturn the people's elected representatives on matters of national security, particularly when all the justifications are backed by highly classified materials.
Again, I'm disposed to cautious approval of FISA searches for FISA purposes. But can information obtained this way, bypassing the protections required for traditional searches, then be brought in to traditional cases? If so, that would indeed be a worrisome erosion of Americans' civil liberties.
The primary remedy in criminal and civil cases for evidence obtained in violation of the 4th Amendment is the Exclusionary Rule. Unique as far as I know to the American system (the Brits think it's crazy), such evidence is simply not admissible in court. Further, the corollary Fruit of the Poisonous Tree Doctrine also excludes information that the authorities collect pursuant to the unlawfully obtained evidence that they likely found only because of that evidence.*
It seems obvious to me that mass data obtained by the government through the FISA process should be off limits for use outside the national security realm. It's one thing to use it for leads in breaking up planning for terrorist operations. Or even to start an investigation that leads to a criminal case against people for planning terrorist operations, although that gets murkier. But, surely, it shouldn't be available to the IRS or the FBI in trolling for information about non-terrorism matters or as leverage in their investigations. If, for example, the government discovered that a citizen was having an extramarital affair through these records and threatened to expose that information if said citizen didn't cooperate, it would be outrageous.
Moreover, it's safe to assume that this program will never end. Congress and the American people seem fine with it and it's inconceivable than an American president will ever decide to give up information that's potentially valuable for protecting the national security. But, if the information is freely available within the government, then the FBI or IRS would never again need to demonstrate probable cause to get people's phone and credit card records.
Surely, though, that's not the case? Surely, the information is available only to the NSA and other intelligence agencies for the requested purpose of data mining? Surely, as with other Top Secret information, it's not treated as if it were stored in a public library and available to anyone with a valid card but rather available only to those who have the equivalent of a Need to Know for the purposes of the classifying program?
UPDATE: Stewart Baker, former general counsel of the NSA, answered most of my questions in a superb piece for Foreign Policy yesterday.
No one has repealed the laws that prohibit the National Security Agency (NSA) from targeting Americans unless it has probable cause to believe that they are spies or terrorists. So under the law, the NSA remains prohibited from collecting information on Americans.

On top of that, national security law also requires that the government "minimize" its collection and use of information about Americans — a requirement that has spawned elaborate rules that strictly limit what the agency can do with information it has already collected. Thus, one effect of "post-collection minimization" is that the NSA may find itself prohibited from looking at or using data that it has lawfully collected.

I would not be surprised to discover that minimization is the key to this peculiarly two-party, three-branch "scandal." That is, while the order calls for the collection of an enormous amount of data, much of it probably cannot actually be searched or used except under heavy restrictions. (If I'm right, the administration is likely to find itself forced quite quickly to start talking about minimization, perhaps in considerable detail.)
Even Baker is admittedly forced into conjecture. That's the nature of dealing with highly classified projects.  Indeed:
 I have not been briefed on this program. (If I had, I wouldn't be writing about it.)
But it's safe to say that this program has been pretty highly vetted by serious people who take the Constitution seriously. Does that preclude abuses? Nope. But this isn't tyranny run amok, either.
UPDATE 2:  Baker adds more reassurance, quoting Director of National Intelligence James Clapper, over at Volokh:
Here's the DNI:

By order of the FISC, the Government is prohibited from indiscriminately sifting through the telephony metadata acquired under the program. All information that is acquired under this program is subject to strict, court-imposed restrictions on review and handling. The court only allows the data to be queried when there is a reasonable suspicion, based on specific facts, that the particular basis for the query is associated with a foreign terrorist organization. Only specially cleared counterterrorism personnel specifically trained in the Court-approved procedures may even access the records.
All information that is acquired under this order is subject to strict restrictions on handling and is overseen by the Department of Justice and the FISA Court. Only a very small fraction of the records are ever reviewed because the vast majority of the data is not responsive to any terrorism-related query.

In short, there's less difference between this "collection first" program and the usual law enforcement data search than first meets the eye.  In the standard law enforcement search, the government establishes the relevance of its inquiry and is then allowed to collect the data.  In the new collection-first model, the government collects the data and then must establish the relevance of each inquiry before it's allowed to conduct a search.

If you trust the government to follow the rules, both models end up in much the same place.  I realize that some folks simply will not trust the government to follow those rules, but it's hard to imagine a system with more checks and restrictions and doublechecks than one that includes all three branches and both parties looking over NSA's shoulder.
I don't fully trust the government or any large institution. There's always the possibility of a J. Edgar Hoover emerging, much less a low level employee misusing the information. At the same time, I trust Clapper and Chuck Hagel and, yes, President Obama as much as one can reasonably trust government officials. (For that matter, I trusted Bush, Cheney, Rumsfeld and company in the same regard–there were abuses in their zeal for going after suspected terrorists but they weren't using the information to go after political enemies or the rights of ordinary citizens.)
___________
*At least, this was the state of the law in the late 1980s when I last studied it closely.