Fleming Begaye, World War II Navajo Code Talker, Dies At 97
One of the last of the Navajo Code Talkers, who provided the U.S. military with an unbreakable code in the fight against Japan in World War Two, has died at the age of 97.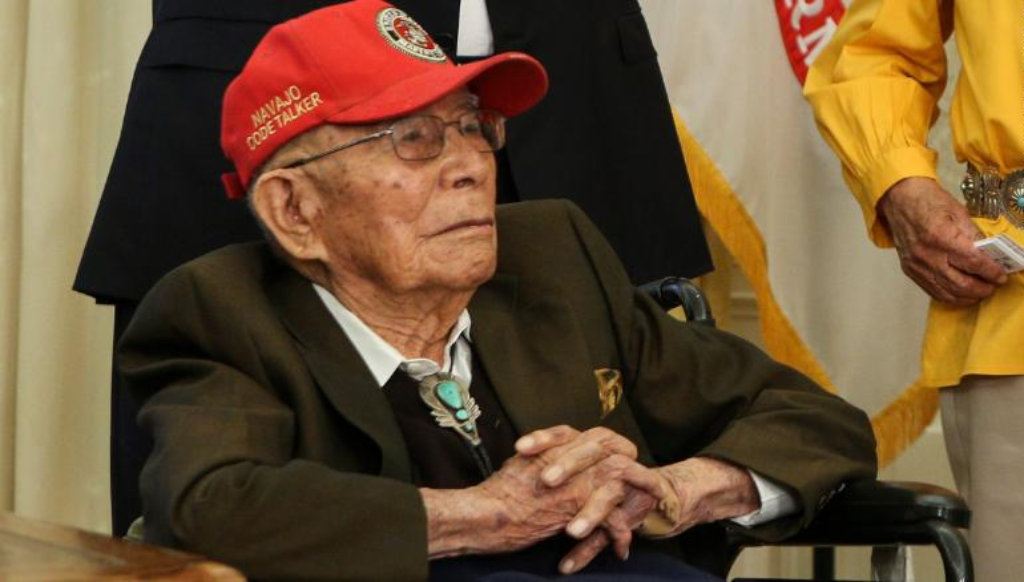 Fleming Begaye, one of the last surviving members of a legendary group of Native Americans who played a crucial role in the Second World War, has died at the age of 97:
Fleming Begaye Sr., a Navajo code talker in World War II who was honored at a White House ceremony in 2017 during which President Trump mocked Senator Elizabeth Warren's claims of Native American ancestry, died on Friday in Chinle, Ariz. He was 97.

His death was confirmed by his granddaughter Theodosia Ott.


Mr. Begaye and two other former code talkers, Peter MacDonald and Thomas Begay, were alongside Mr. Trump at the White House when the president derided Ms. Warren as "Pocahontas."


"You were here long before any of us were here," Mr. Trump said to the veterans, who wore their military uniforms for the occasion, along with turquoise and silver, hallmarks of Navajo culture. "Although we have a representative in Congress who, they say, was here a long time ago. They call her Pocahontas."


Mr. Trump was referring to Ms. Warren, Democrat of Massachusetts, a former Harvard Law School professor who came under fire in 2012 after it emerged that during her academic career she identified herself as a minority, citing Native American ancestry.

His Pocahontas remark prompted Russell Begaye, former president of the Navajo Nation, to call it "derogatory" and "disrespectful to Indian nations."


Fleming Begaye, who was born in Red Valley, Ariz., in 1921, was a student at a boarding school when he heard that the United States military was looking for Navajo speakers, Ms. Ott said.


He became one of more than 400 Navajo code talkers in the Marines.

They were recruited to create top-secret coded messages so that the United States military could safely communicate during battles, and they are credited with helping secure victory in the Pacific. While the Japanese were able to break other military codes, they never broke the Navajo code.


Mr. Begaye survived the Battle of Tarawa, a costly offensive on a Japanese-held Pacific atoll that took place in 1943. Out of 18,000 Marines who landed on Betio, more than 1,000 died.


"His landing craft was blown up and he literally had to swim to the beach to survive," Mr. MacDonald said of Mr. Begaye at the White House ceremony.


Mr. Begaye landed on Tinian, one of the Mariana Islands, in 1944 and was "shot up real badly," Mr. MacDonald said. He spent a year in a naval hospital.


Mr. Begaye served in the Marines from 1943 to 1945, according to a statement by the Navajo Nation's president, Jonathan Nez, and vice president, Myron Lizer.


After returning to the United States, he owned and operated a trading post in Chinle, where he lived with his wife, Helen M. Begaye, and three children. Ms. Begaye died in 2008.


The business began as a gas station, Ms. Ott said, and Mr. Begaye added a car repair shop, a cafe and a small grocery store. She said he was later a farmer, growing apple, cherry and plum trees and raising cattle and sheep.


For years Mr. Begaye seldom discussed the war, Ms. Ott said. The Navajo code was not fully declassified until 1968, and many felt compelled to honor the order of secrecy even longer.

Then, in the mid-1990s, he started opening up, Ms. Ott said. "I kept asking him, I saw these pictures of him in the war: 'Where did you go? What happened to you?' " she said.


She added: "He was proud to serve his country. He said, 'It was already our country anyway; we were just helping to make sure it stayed our country.' "
More from AZCentral.com
The idea behind the Navajo code talkers was both ingenious and dangerous. Especially in the war in the Pacific, the U.S. military during World War II found itself in need of a means of communication that could be as impenetrable as possible during its assault against Japanese forces designed to clear them from the territory they had conquered and win the war, and spoken language was the preferred method of communication. The obvious problem was that the Japanese would be able to intercept and, with sufficient work break even the most intricate code. What they were unable to do, though, is understand the Navajo language. Because of this, the military recruited Navajo men who would be used to communicate between units and transfer information in a manner that was essentially indecipherable.
Obviously, the code would theoretically be breakable if one of the Navajo men was captured. As a result, there were outstanding orders that required soldiers accompanying the code talkers to kill them, or for the men themselves to kill themselves, to avoid capture and maintain the integrity of the code. Fortunately, that was never necessary and the Navajo "code" remained unbroken throughout the Second World War and the story of the code talkers didn't start to become public until well after the war as over. The story of the code talkers was later dramatized in Director John Woo's 2002 film Windtalkers, which I highly recommend if you're interested in learning about this story.
The most compelling thing about the code talkers, of course, is the fact that they served their nation notwithstanding the fact that they and their ancestors had been treated badly by the American government. In that manner, they are reminiscent of the Japanese-American men who served in Europe in World War II, including the late Senator Daniel Inouye, despite the fact that their families had seen their homes taken away by the Roosevelt Administration under the government's Japanese internment policy. In both cases, we have examples of real American heroes who sacrificed for their nation notwithstanding the fact that they were being discriminated against. They deserve to be remembered and thanked for their service to the country.