Folk Singer Pete Seeger Dead At 94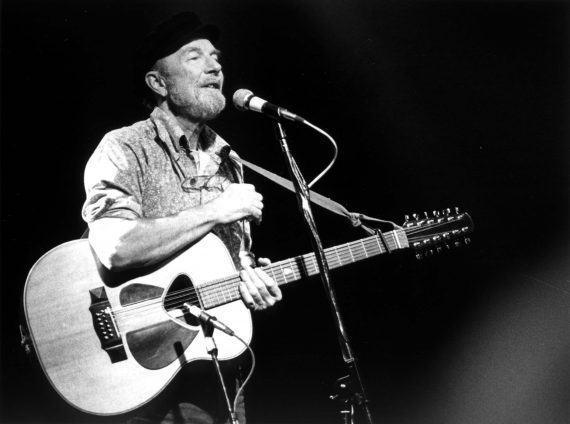 Pete Seeger one of the primary forces behind the popular revival of American folk music and a long time political activist, has died at the age of 94:
Pete Seeger, the singer, folk-song collector and songwriter who spearheaded an American folk revival and spent a long career championing folk music as both a vital heritage and a catalyst for social change, died Monday. He was 94 and lived in Beacon, N.Y.

His death Seewas confirmed by his grandson, Kitama Cahill Jackson, who said he died of natural causes at NewYork-Presbyterian Hospital.

Mr. Seeger's career carried him from singing at labor rallies to the Top 10 to college auditoriums to folk festivals, and from a conviction for contempt of Congress (after defying the House Un-American Activities Committee in the 1950s) to performing on the steps of the Lincoln Memorial at an inaugural concert for Barack Obama.

For Mr. Seeger, folk music and a sense of community were inseparable, and where he saw a community, he saw the possibility of political action.

In his hearty tenor, Mr. Seeger, a beanpole of a man who most often played 12-string guitar or five-string banjo, sang topical songs and children's songs, humorous tunes and earnest anthems, always encouraging listeners to join in. His agenda paralleled the concerns of the American left: He sang for the labor movement in the 1940s and 1950s, for civil rights marches and anti-Vietnam War rallies in the 1960s, and for environmental and antiwar causes in the 1970s and beyond. "We Shall Overcome," which Mr. Seeger adapted from old spirituals, became a civil rights anthem.

Mr. Seeger was a prime mover in the folk revival that transformed popular music in the 1950s. As a member of the Weavers, he sang hits including Lead Belly's "Goodnight, Irene" — which reached No. 1 — and "If I Had a Hammer," which he wrote with the group's Lee Hays. Another of Mr. Seeger's songs, "Where Have All the Flowers Gone?," became an antiwar standard. And in 1965, the Byrds had a No. 1 hit with a folk-rock version of "Turn! Turn! Turn!," Mr. Seeger's setting of a passage from the Book of Ecclesiastes.

Mr. Seeger was a mentor to younger folk and topical singers in the '50s and '60s, among them Bob Dylan, Don McLean and Bernice Johnson Reagon, who founded Sweet Honey in the Rock. Decades later, Bruce Springsteen drew the songs on his 2006 album, "We Shall Overcome: The Seeger Sessions," from Mr. Seeger's repertoire of traditional music about a turbulent American experience, and in 2009 he performed Woody Guthrie's "This Land Is Your Land" with Mr. Seeger at the Obama inaugural. At a Madison Square Garden concert celebrating Mr. Seeger's 90th birthday, Mr. Springsteen introduced him as "a living archive of America's music and conscience, a testament of the power of song and culture to nudge history along."

Although he recorded more than 100 albums, Mr. Seeger distrusted commercialism and was never comfortable with the idea of stardom. He invariably tried to use his celebrity to bring attention and contributions to the causes that moved him, or to the traditional songs he wanted to preserve.

Mr. Seeger saw himself as part of a continuing folk tradition, constantly recycling and revising music that had been honed by time.

During the McCarthy era Mr. Seeger's political affiliations, including membership in the Communist Party in the 1940s, led to his being blacklisted and later indicted for contempt of Congress. The pressure broke up the Weavers, and Mr. Seeger disappeared from television until the late 1960s. But he never stopped recording, performing and listening to songs from ordinary people. Through the decades, his songs have become part of America's folklore.

"My job," he said in 2009, "is to show folks there's a lot of good music in this world, and if used right it may help to save the planet."
Early on, Seeger showed his political side when he took on the House Un-American Activities Committee:
In 1955 he was subpoenaed by the House Un-American Activities Committee, where he testified, "I feel that in my whole life I have never done anything of any conspiratorial nature." He also stated: "I am not going to answer any questions as to my association, my philosophical or religious beliefs or my political beliefs, or how I voted in any election, or any of these private affairs. I think these are very improper questions for any American to be asked, especially under such compulsion as this."

Mr. Seeger offered to sing the songs mentioned by the congressmen who questioned him. The committee declined.

Mr. Seeger was indicted in 1957 on 10 counts of contempt of Congress. He was convicted in 1961 and sentenced to a year in prison, but the next year an appeals court dismissed the indictment as faulty. After the indictment, Mr. Seeger's concerts were often picketed by the John Birch Society and other rightist groups. "All those protests did was sell tickets and get me free publicity," he later said. "The more they protested, the bigger the audiences became."

By then, the folk revival was prospering. In 1959, Mr. Seeger was among the founders of the Newport Folk Festival. The Kingston Trio's version of Mr. Seeger's "Where Have All the Flowers Gone?" reached the Top 40 in 1962, soon followed by Peter, Paul and Mary's version of "If I Had a Hammer," which rose to the Top 10.

Mr. Seeger was signed to a major label, Columbia Records, in 1961, but he remained unwelcome on network television. "Hootenanny," an early-1960s show on ABC that capitalized on the folk revival, refused to book Mr. Seeger, causing other performers (including Bob Dylan, Joan Baez and Peter, Paul and Mary) to boycott it. "Hootenanny" eventually offered to present Mr. Seeger if he would sign a loyalty oath. He refused.
Many people who comment on Seeger's passing will discuss his politics, of course, but I think conservative blogger Rick Moran has it about right on that part of Seeger's legacy:
Many will focus on his wretched politics. A former member of the Communist party (he quit in the 1940's), Seeger referred to himself as a "communist with a small 'c'." How much do we judge an artist by his political beliefs compared to the largeness of his talent and his impact on society? It will vary among all of us. Some of you may never be able to get beyond his anti-capitalist beliefs. And his idea of what America should be was clearly at odds with what the majority of us believe.

But for many of us, we can look beyond his misguided, even childish notions of politics to glory in his music.

What was his music? It was loosely defined as "folk music," but it was much more than that. His repertoir ran the gamut from Scotch-Irish traditional songs, to Mississippi Delta blues, to traditional (and non-traditional) children's songs, to Gospel favorites, to songs of work, play, love, danger, disaster, injustice, war, peace, and the quiet struggle of ordinary people's lives.

His were the songs of the American experience, gathered and collated over a lifetime. It is a priceless collection for which future generations will enjoy only because of Seeger's abiding love and passion for music.

He was singing about civil rights before civil rights were cool. He was singing about our polluted rivers and lakes before environmentalism was even an issue. He mentored a generation of folk artists and supplied them with musical ammunition to right obvious wrongs like Jim Crow.
I can't say I was old enough to appreciate the height of Seeger's popularity, but there's no denying the role that he played in reviving a genre of American music that had seemingly fallen off the grid during the rise of rock and roll and popular music. As for his politics, yes it's probably true that he and I would have disagreed about many things, but there are many others, such as the fight against Jim Crow and resistance to the tyranny of McCarthyism on which he was absolutely right. Besides, I long ago reached a point where I can largely separate the political beliefs of a musician, actor, or artist from their contribution to our culture.