Food Prices Under Biden and Trump
We shouldn't be surprised that Americans have noticed their grocery bill.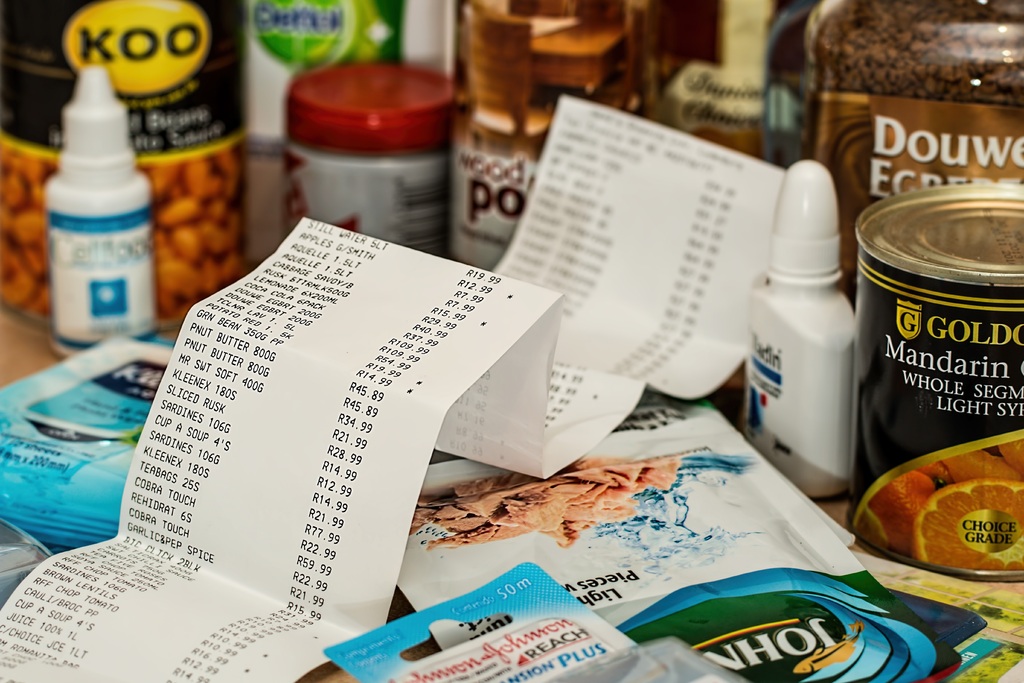 A weird post from Nobel laureate Paul Krugman at Bluesky Social this morning. He comments, "I'd be curious to see a survey asking people what they think has happened to the price of groceries this year (yes, they're higher than 2020). They've actually been roughly flat — some up, some down. But I bet most people won't believe that" above this chart: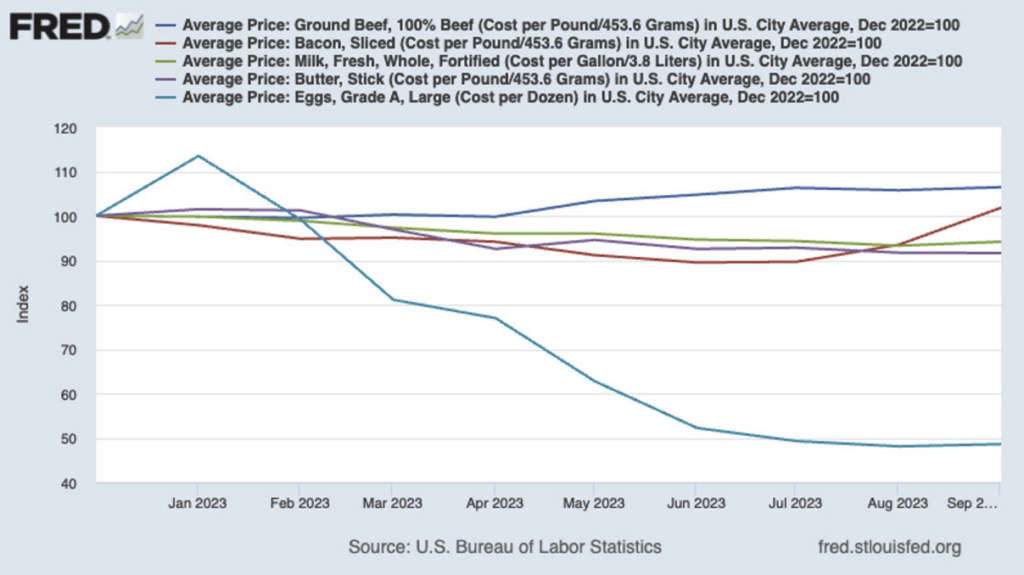 As I responded, "December 2022 is a weird starting point for the graph if we're looking at the perception that prices have gone up under Biden. They decidedly have!"
I haven't figured out how to produce the five-product comparison graph so did it the hard way, looking at each of the five commodities in the list from January 20, 2017—the date of Trump's inauguration—through September 1, 2023 (the max in the FRED dataset).
In the order of Krugman's comparison . . .

Ground beef decidedly up both since January 2017 and since January 2021 (Biden's inauguration).

Bacon way up in both time periods.

Ditto milk. (Who's still buying whole milk, I don't know.)

BLS apparently didn't start tracking butter until June 2018. (Where one buys a single stick, I don't know. 7-11 maybe?) But, yes, it's more expensive now than when Trump took office and when Biden took office.

And ditto eggs, making it five for five. To be sure, they're way down from the crisis point but they're they're still more expensive than they were during the Trump presidency.
Now, as I immediately noted in my Bluesky post, "That the President has next to nothing to do with the price of eggs and hamburger is, of course, noteworthy. But the public just knows things are considerably more expensive than they used to be."
That was my intuitive sense and it was confirmed by checking the five items Krugman picked. And that's to say nothing of the price of Diet Coke, which is through the roof.
(The data starts in April 2018.)
Again, I don't think Biden has much to do with these price hikes. It's likely that his two huge giveaway programs, ostensibly to provide COVID relief, contributed to overall inflation. That, indirectly, led the Fed to seriously jack up interest rates. Those all presumably had some marginal impact on food prices. His policies, especially the embargo on Russian energy (which I wholeheartedly endorse) also contributed to higher gas prices, which presumably impacted farming and delivery costs.

Now, as Kevin Drum continually reminds us, it's not reasonable to look at prices in isolation—we really need to consider them in relation to people's buying power which, in many cases, have gone up more than these prices. But people aren't reasonable. Indeed, while I'm more analytical than probably 99% of people by both inclination and training, I don't really do this. I still have "ought to cost" prices in my head that, for some items, are decades old and don't adjust for inflation or my own increased affluence.
Further, as I've noted many times, we fixate on certain prices—gasoline, most especially, since the cost is generally in giant font visible from the road but also eggs, milk, bread, and ground beef—which have an outsized impact on our impression of cost. Anecdotally, while I think nothing of paying $9 for a glass of beer at a restaurant lunch, I plan my gasoline fill-ups around the lowest price stations that I expect to pass during the week. That's true even though the 50 cents or so a gallon I save is less than the cost of that beer.
Regardless, prices of things people need have gone up considerably under Biden's tenure and the people have noticed. They blame Biden for it. That's a normal feature of politics in our abnormal political atmosphere.