Forced Masking to Protect the Most Vulnerable
Parents of disabled kids have successfully sued to mandate masks in schools.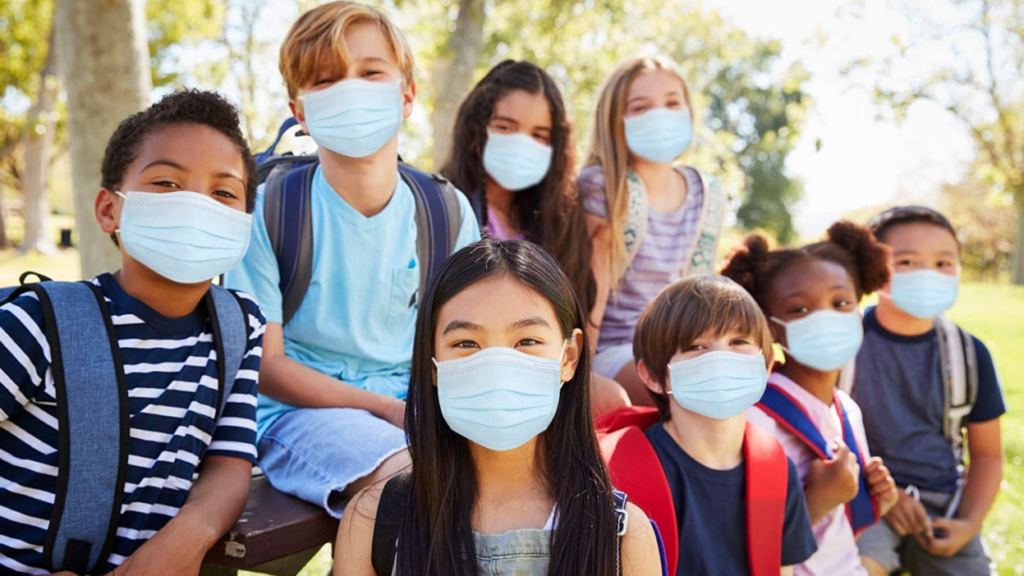 NYT ("A Virginia judge rules that 12 families can enforce mask mandates in classrooms for their vulnerable children, despite state law"):
A federal judge on Wednesday ruled in favor of 12 Virginia families who argued that policies making masks optional in classrooms violated the rights of their children, who have health conditions that make them vulnerable to the virus. The case is only the latest example of the legislative back and forth that is accompanying the adjustment to new, post-pandemic norms.

The families filed suit against Gov. Glenn Youngkin, a Republican, and other state officials last month after the governor signed a bill that effectively bars mask mandates in schools.

[…]

On Wednesday, U.S. District Judge Norman K. Moon granted a preliminary injunction to allow the 12 families in the lawsuit to request mask requirements at their children's schools if recommended by a doctor as a "reasonable modification" while their case proceeds. In effect, the decision challenges the interference of state law with federal disability rights law when a child requires community masking in order to participate in a classroom setting.

The students have health conditions — which include cystic fibrosis, asthma, Down syndrome, lung conditions and weakened immune systems — that make them particularly vulnerable to coronavirus infections, their parents outlined in the complaint.

The judge made clear that families of other vulnerable children will have to pursue their own suits, as the executive order and the state law remain in effect.

"This is not a class action, and the twelve plaintiffs in this case have no legal right to ask the court to deviate from that state law in any schools in Virginia (much less school districts) their children do not attend, or indeed even those areas of their schools in which Plaintiffs' children do not frequent," Mr. Moon wrote in the decision.

Eden Heilman, legal director for the A.C.L.U. of Virginia, said that while the injunction is limited to these 12 students, it is "clearly a blueprint" for any parent of a student with a disability who may need classroom masking as an accommodation under the Americans with Disabilities or Rehabilitation acts — which make clear that children with disabilities should not be segregated or denied access to the same education as their non-disabled peers.
I honestly don't know what to make of this.
The legal wrangling here is beyond my limited expertise. The state legislature passed and the governor signed a law that I have no reason to believe violates either the US or Virginia constitution. So, it should be presumed binding. And, indeed, the judge seems to think that; he's simply granting an injunction for 12 students.
But what I actually wrestle with is the equity issue. We have twelve kids with various serious medical conditions. How much power should they (or, in this case, their parents) have to impose requirements on other people to ensure their safety? The hell if I know.
The ADA's "reasonable accommodations" typically don't impose negative externalities on ordinary citizens. If a student is dyslexic, as my youngest is, school officials are required to provide extra services, allow additional time to complete certain tasks, and the like. But other students aren't expected to make sacrifices.
We know that masking is not cost-free. My 13-year-old was very happy to get hers off. But, as with me and finally getting rid of them at the office, it was mostly a matter of normalcy, not the lifting of a massive burden. My 10-year-old, though, is hard of hearing and the masks genuinely made school more of a struggle for her, as she was unable to pick up physical cues from facial expressions that help her make sense of what she's hearing.
The closest analogy to this that comes to mind is the proliferation of policies in recent years to protect those with peanut allergies. Some workplaces and schools either ban the bringing of peanut products or otherwise provide some protections for employees or students with said condition. My kids' schools have typically banned peanut-based snacks in the classroom—especially if any of the other kids were known to have a peanut allergy—and had segregated "nut-free tables" in the lunchroom. That's inconvenient for the vast majority of students who don't have allergies—and, especially, for parents of picky young eaters for whom a PB&J sandwich was the easy button—but pretty minor in the grand scheme of things.
Where the line should be drawn, though, I haven't the foggiest. The students at the center of the lawsuit have no way to impose masking requirements on the general population, so this injunction only protects them while at school. And, when they turn 18, they'll be unprotected everywhere. Unless they're able to get similar orders that follow them wherever they go. Which seems quite unreasonable.