Former San Diego Mayor Pleads Guilty To Imprisonment, Battery Charges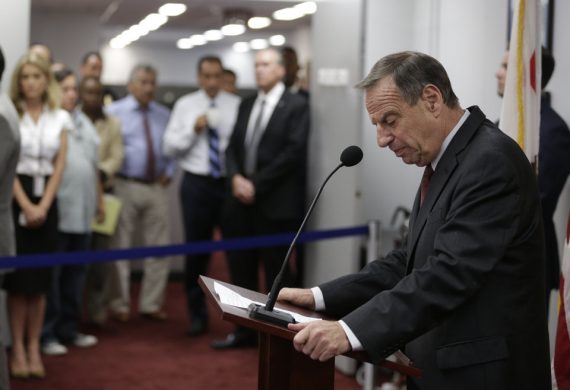 Bob Filner may no longer be Mayor of San Diego, but it seems his story will continue:
Former San Diego mayor Bob Filner (D) pleaded guilty Tuesday to false imprisonment and battery charges involving three women, according to an official with the San Diego Superior Court.

Court spokeswoman Karen Dalton said that Filner will be sentenced Dec. 9. She said the state attorney general's office had charged Filner "with one felony count for false imprisonment by violence, fraud, menace and deceit (Penal Code Sections 236 and 237) and two misdemeanor counts of battery under Penal Code Sections 242 and 243." The victims are three unnamed women.

Filner resigned from office in August as part of a settlement of a lawsuit alleging sexual harassment. At least 18 women have accused Filner of sexual harassing them.

Under his plea agreement, Filner will reportedly avoid jail time but must spend three months under house arrest and promise not to run for elected office again.
That seems to be the least he should've gotten