San Diego Sues Its Own Mayor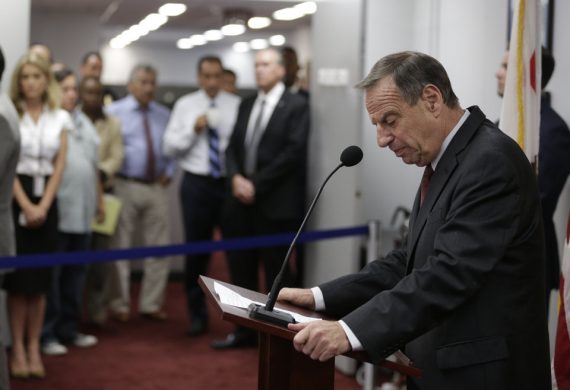 San Diego Mayor Bob Filner, currently on a bizarre two week hiatus for supposed counseling related to the numerous accusations of sexual harassment against him, is being sued by the City of San Diego:
San Diego Mayor Bob Filner is facing yet another lawsuit, this time from his own city.

San Diego is suing its mayor for the costs incurred as a result of the sexual harassment lawsuit filed against him by his former communications director Irene McCormack Jackson, according to the Los Angeles Times. On Tuesday, the San Diego City Council decided unanimously to file the lawsuit during a closed-door session.

McCormack Jackson sued Filner for sexual harassment last week, becoming the first of a series of women to come forward publicly to accuse Filner of harassment. Following the allegations and a chorus of calls for his resignation, Filner announced Friday that he would be taking two weeks to undergo intensive therapy starting Aug. 5. However, he has said that he will not resign.

An eighth woman, Lisa Curtin, came forward late Tuesday with sexual harassment allegations against Filner. Curtin, who is the director of government and military education at San Diego City College, described a meeting that she had with Filner in 2011, while he was still a congressman.

Curtin told local news station KPBS that Filner gave her "a very wet, saliva-filled kiss" after asking her to go out with him and questioning whether her wedding band was real.

"This is part of due process," City Attorney Jan Goldsmith said of the city's lawsuit. "If Bob Filner engaged in unlawful conduct and the city is held liable, he will have to reimburse us every penny the city pays and its attorney fees."

Goldsmith's office is not representing Filner, having promised after McCormack Jackson filed her lawsuit to "not, under any circumstance, represent Bob Filner."
This story is likely to just get more bizarre before its over, but one fails to see how Filner doesn't get removed from office eventually.