Fraudster Trump
The chickens are slowly coming home to roost.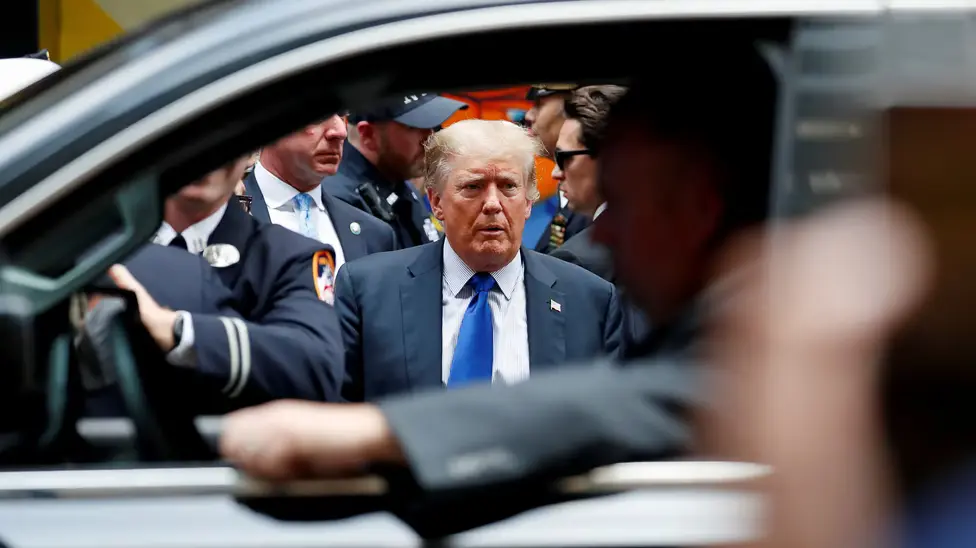 Economist (unsigned) ("Donald Trump is found liable for fraud in his real-estate dealings"):
The purpose of a trial is to find facts and assign fault. But for civil lawsuits in which the evidence is unassailable, parties can ask a judge to skip the fact-finding and cut to the punishment. So it was in the fraud case brought by New York's attorney-general, Letitia James, against Donald Trump in state court. On September 26th the presiding judge agreed with prosecutors that for years Mr Trump had misled lenders about the value of his properties in Florida, New York and Scotland to secure better terms on his loans. Inaccuracies of the kind unearthed by prosecutors and backed up with "indisputable" evidence, wrote Arthur Engoron in a withering judgment, "can only be considered fraud". This was, he ruled, not a matter of "rounding errors or reasonable experts disagreeing".

Mr Trump denies all allegations and will appeal against the ruling; his lawyer called it "outrageous" and "completely disconnected from the facts". The process of appeal will probably drag out over years. But if the judgment is ultimately upheld, parts of Mr Trump's business operation may be dismantled. Judge Engoron ordered the cancellation of corporate licences that enable the Trump Organisation to operate in New York. Mr Trump's properties would come under the control of a receiver and "could be put up for forfeiture by the state", says Catherine Christian, a lawyer at Liston Abramson and former prosecutor in the Manhattan district-attorney's office. The decision, seethed Mr Trump's lawyer, "seeks to nationalise one of the most successful corporate empires in the United States".

[…]

The judge is not done with the case. He determined that several of the alleged offences—that business records were falsified, for example—warrant a trial. If Mr Trump is found liable again, there could be more penalties, which he will surely contest, too. Ms James wants to fine Mr Trump $250m and bar him from serving as a director of a corporation in New York. Her burden of proof is lower than if it were a criminal trial (he faces four of those, in federal and state courts, over separate allegations).

But Ms James has already won on the "big kahuna", says Ms Christian. Not for nothing is the punishment that has been ordered by Judge Engoron known, in legal circles, as a corporate death penalty.
Maggie Haberman and Alan Feuer, NYT ("Ruling Against Trump Cuts to the Heart of His Identity"):
Nearly every aspect of Donald J. Trump's life and career has been under scrutiny from the justice system over the past several years, leaving him under criminal indictment in four jurisdictions and being held to account in a civil case for what a jury found to be sexual abuse that he committed decades ago.

But a ruling on Tuesday by a New York State judge that Mr. Trump had committed fraud by inflating the value of his real estate holdings went to the heart of the identity that made him a national figure and launched his political career.

By effectively branding him a cheat, the decision in the civil proceeding by Justice Arthur F. Engoron undermined Mr. Trump's relentlessly promoted narrative of himself as a master of the business world, the persona that he used to enmesh himself in the fabric of popular culture and that eventually gave him the stature and resources to reach the White House.

The ruling was the latest remarkable development to test the resilience of Mr. Trump's appeal as he seeks to win election again despite the weight of evidence against him in cases spanning his years as a New York developer, his 2016 campaign, his efforts to overturn his 2020 election loss and his handling of national security secrets after leaving office.

[…]

The former president now faces not only the prospect of having to pay $250 million in damages, but he could also lose properties like Trump Tower that are inextricably linked to his brand.

[…]

In straightforward terms, Justice Engoron punctured Mr. Trump's bubble of protective falsehoods about the way he conducted his business.

"In defendants' world," Justice Engoron wrote, "rent-regulated apartments are the same as unregulated apartments; restricted land is worth the same as unrestricted land; restrictions can evaporate into thin air."

"That is a fantasy world," the judge went on, "not the real world."
David A. Graham, The Atlantic ("The End of Trump Inc."):
The surprise is not that Trump and his co-defendants, including his sons Donald Jr. and Eric, committed fraud. What is surprising is that he could finally be punished for it—and quite harshly.

[…]

The greatest blow to Trump may be reputational and psychological. He has claimed that the case against him is political persecution, and some of his supporters will find that compelling, but being found to be a fraud is no more an advantage than being indicted is. Because Trump has gotten away with this way of operating for decades, his fantasy world came to seem almost real. The idea that a judge might actually punish him seemed remote—both to Trump and to his detractors.

Though the civil case in New York has no direct connection to Trump's other legal troubles, Engoron's ruling suggests that the courts are now catching up to a man who has long behaved as though there would never be any consequences for his deceptions. Trump has tried to convince Americans that he won more votes than Joe Biden, that the 2020 election was stolen from him, that he had every right to abscond with classified documents and obstruct the federal government from recovering them, and that he was the greatest president in American history. This is a fantasy world, but the real world has ways of intruding on it.
Given that it's been pretty clear at least since 2015 that Trump routinely committed fraud—even bragging about screwing over people he did business with as a matter of course—it's not obvious why this ruling would change anyone's mind. Still, one can hope that, at some point, one of this rulings serves as a wake-up call.
If nothing else, the fines—not to mention the legal fees—are likely to be ruinous. One can't imagine that his attorneys aren't demanding cash up front at this point and I doubt Trump has $250 million in available assets.