From The Office Of Sen. Saxby Chambliss (R., GA): "All Faggots Must Die"
A staffer for U.S. Sen. Saxby Chambliss left a threatening slur on an Internet discussion of the right of gays and lesbians to serve openly in the U.S. military.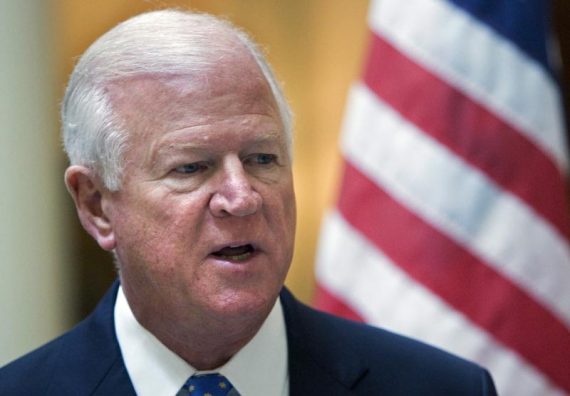 It appears that someone in the local Atlanta office of Georgia Senator Saxby Chambliss spent part of their afternoon yesterday leaving an anti-gay slur on the Internet in the wake of the Senate's vote on Don't Ask, Don't Tell:
U.S. Sen. Saxby Chambliss confirmed Tuesday that he investigating whether one of his staffers left a threatening slur on an Internet discussion of the right of gays and lesbians to serve openly in the U.S. military.

"We have seen the allegations and are moving quickly to understand the facts. This office has not and will not tolerate any activity of the sort alleged," Chambliss spokeswoman Bronwyn Lance Chester said. "Once we have ascertained whether these claims are true, we will take the appropriate steps."

The comment was posted on Joe.My.God., a blog dedicated to gay and lesbian issues.

"All [gays] must die," wrote the commenter, identifying himself as "Jimmy," shortly after a Democratic bid to repeal "don't ask, don't tell" faltered in the U.S. Senate.

Blog author Joseph Jervis of New York City used the Internet Protocol address attached to the comment to trace the slur to "the neighborhood" of Chambliss' office in Atlanta. Readers quickly helped.
While it hasn't been confirmed in print yet, it would seem that the Senator's office admits that the offending quote originated from a computer in their office:
I've just gotten off the phone with Atlanta Journal-Constitution political writer Jim Galloway who says that Sen. Saxby Chambliss has confirmed that the "All faggots must die" comment left here on JMG earlier today did indeed come from his Atlanta office. Galloway reports that Chambliss told him his office is conducting an internal investigation.
Of course, not everyone reading the story about this at the Atlanta Journal-Counstitution thinks this is a bad thing, juding from some of the comments:
This "investigation" smacks of religious persecution. Whoever made the comment was just paraphrasing the Holy scripture: "If a man lies with a male as he lies with a woman, both of them have committed an abomination. They shall surely be put to death. Their blood shall be upon them." (Leviticus 20:13) Our laws should reflect God's law, right? This is a Christian nation after all.
No word on whether Senator Chambliss plans to fire the person responsible for this when they are discovered.
H/T: Jason Pye and Stephen Gordon