Gaetz' Gambit
What's behind the sure-to-fail bid to oust his own party's Speaker?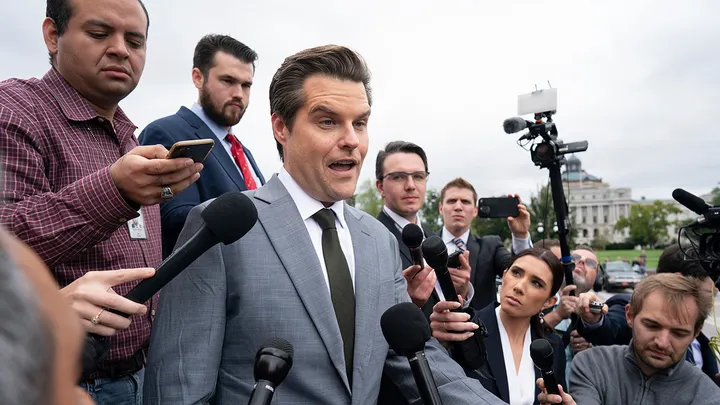 Fox News ("House GOP members seek to expel Gaetz amid renewed threat to vacate House Speaker McCarthy"):
House GOP members are preparing a motion to expel Rep. Matt Gaetz, R-Fla., amid his renewed threat to pursue a motion to vacate House Speaker Kevin McCarthy.

The House Republican members will seek to expel Gaetz if the ethics committee report comes back with findings of guilt, Fox News has learned. One member told Fox News the report is mostly written but does not know what it contains. Yet following threats to vacate McCarthy, the member said of Gaetz, "No one can stand him at this point. A smart guy without morals."

It takes a two-thirds vote to expel. And Republicans are treading on thin ice with their majority. The House is down to 433 members. It's unclear where things stand with federally indicted Rep. George Santos, R-N.Y. If you were to have members expelled, retire or die, the majority could be right on the edge for the GOP.

During an appearance on CNN Sunday morning, Gaetz said he planned "to file a motion to vacate against Speaker McCarthy this week."

"I think we need to rip off the Band-Aid. I think we need to move on with new leadership that can be trustworthy. Look, the one thing everybody has in common is that nobody trusts Kevin McCarthy. He lied to Biden. He lied to House conservatives," Gaetz told CNN "State of the Union" host Jake Tapper. "Kevin McCarthy's goal was to make multiple contradictory promises to delay everything back up against shutdown politics and at the end of the day, blow past the spending guardrails he had agreed."

In response to that motion to vacate, McCarthy said, "I'll survive."

"This is personal with Matt," McCarthy said, according to ABC producer and reporter Ben Siegel. "Let's get over it, let's start governing."

But on CNN, Gaetz insisted he was not pursuing McCarthy's ouster over personal matters.

"This isn't personal, Jake. This is about spending," Gaetz said Sunday. "This is about the deal Kevin McCarthy made. If Kevin McCarthy didn't want to keep the deal to return to pre-COVID spending, if he didn't want to keep the deal to have single subject spending bills, not vote for government spending all up or down at once, then he shouldn't have made that deal. So this is about keeping Kevin McCarthy to his word. It's not about any personal animus."
Unless there are Republican votes to elect a Democratic Speaker—and there aren't—I simply can't imagine why Democrats would go along with this gambit. Who is the candidate Gaetz supports that would get a single Democratic vote?
Sure, AOC and a handful of other gadflies might enjoy the chaos for a bit but there is simply no plausible outcome where McCarthy doesn't survive. And, while at least 90 Republicans are presumably unhappy with McCarthy for brokering the deal with Democrats to keep the government open, who is it that could get every single Republican vote and a third of the Democrats?
It's sheer idiocy.
Rather clearly, this isn't driven by shrewd political calculation. Indeed, POLITICO's Olivia Beavers is asking the same question many of us are: "What does Matt Gaetz really want?" Writing shortly before the surprise cross-party vote that kicked the government shutdown can down the road:
What is Matt Gaetz's endgame: spending cuts, a political boost, or revenge?

It's the question reverberating on Capitol Hill after the simmering feud between the Florida conservative and Speaker Kevin McCarthy flared up again Thursday morning in a closed-door meeting, with one lawmaker telling Gaetz to "fuck off" for leveling unproven accusations against the speaker. Gaetz has threatened to force a vote on booting McCarthy for weeks, publicly called him "pathetic" and accused him of lying multiple times.

Hill Republicans, when granted anonymity to speak candidly, say they don't believe Gaetz when he insists it "isn't personal" (though rank-and-file GOP lawmakers are quick to add they don't know what has set off the Florida Republican).

Some in the GOP chalk it up to Gaetz seeking a future foothold as a conservative TV pundit, others to a desire for name recognition ahead of his widely expected gubernatorial bid in 2026. Still others say he's sincere in his demands for more spending cuts before voting to fund the government.

The speaker hasn't publicly weighed in. But in private, McCarthy has questioned what he could have done to trigger this level of hostility from Gaetz, according to a longtime ally of the speaker. Other McCarthy allies have theorized that Gaetz's fury dates back to a now-closed Justice Department inquiry into sex trafficking allegations, when some in the House GOP came just short of openly celebrating his potential political demise.

Gaetz said in a brief interview that he doesn't fault McCarthy for anything related to that probe: "No, I think that was all handled fine." And he denied he's running for governor, saying in a statement to POLITICO: "I am singularly focused on my current job in Congress. I'm exactly where I'm supposed to be, doing exactly what I'm supposed to be doing. I am not making plans to run for governor or any other office."

Still, calling Gaetz a thorn in McCarthy's side would be an understatement. The Floridian has repeatedly threatened to call for a vote to strip the speaker's gavel if he works with Democrats to avert a government shutdown. He's the most vocal among the conservatives who have sworn to oppose any stopgap plan to keep the government's lights on, and while he's not in the House Freedom Caucus, he counts many of its most obstreperous members as frequent allies.

[…]

The Californian pointedly declined to criticize Gaetz during the federal sex trafficking probe that ensnared him. But in recent weeks, as their relationship curdled, McCarthy has occasionally hurled his own accusations back at Gaetz — while shrugging off the threats with "Matt is Matt."

[…]

Their tense relationship began affecting the entire House GOP more than a year ago, when the Floridian vowed to nominate former President Donald Trump for speaker. That clear message of no confidence in McCarthy shortly thereafter translated into open resistance on the floor throughout January's speakership election.

Gaetz never cast a ballot for McCarthy, remaining one of six conservatives who — only after 14 failed rounds — agreed to vote "present" in order to let the Californian claim the top gavel. Now, he insists that his repeated antagonizing of the speaker has everything to do with holding McCarthy to the promises he made during that standoff, including bringing all 12 individual spending bills to the House floor.

"It's based on the terms of the January agreement. If Kevin comes into compliance with the January agreement, he doesn't have any problems. If he continues to be out of compliance with the January agreement, he's got problems," Gaetz said, though he's publicly acknowledged that some of the priorities he's demanded from McCarthy would likely fail in floor votes.

Immediately after the tense Thursday meeting, Gaetz brushed off reporters' questions on whether he was ready to force a vote to boot McCarthy from the speakership. He maintained that his "principal goal" is passing the individual spending bills the House GOP has struggled to clear this week.

Some members believe there's more on Gaetz's mind, however. The Florida conservative has already built significant name recognition as McCarthy's foil, and Republicans see Gaetz as someone who likes to punch up for political gain — he's rumored to be eyeing Florida's governorship in 2026, when Gov. Ron DeSantis is termed out.

That means allying himself with other gadflies, more so than just a partnership with hardliners in the Freedom Caucus. Some Republicans noted Gaetz's defense of former Rep. Katie Hill (D-Calif.) and Rep. Pramila Jayapal (D-Wash.), both progressives who have clashed with their own leadership, as a further sign he aligns himself with self-styled outsiders.

"I just really think that one person wants a lot of attention. It may not be all that personal. It is maybe made-up to be personal," GOP Rep. Carlos Giménez said of his fellow Floridian, later clarifying that the attention-seeker he referenced was not McCarthy.

"I think [Gaetz] is just using that as a vehicle to run for governor, and he thinks that the one way to go lift his profile is becoming this rebel," Giménez added, describing his motivations as "despicable" either way.
It's simultaneously bizarre in any normal political world and plausibly a good strategy in the current Republican milieu. Gaetz has clearly elevated his profile and done so in a way that likely appeals to Florida GOP primary voters.