McCarthy Won't Run For Speaker. Now What?
We won't have Kevin to kick around anymore.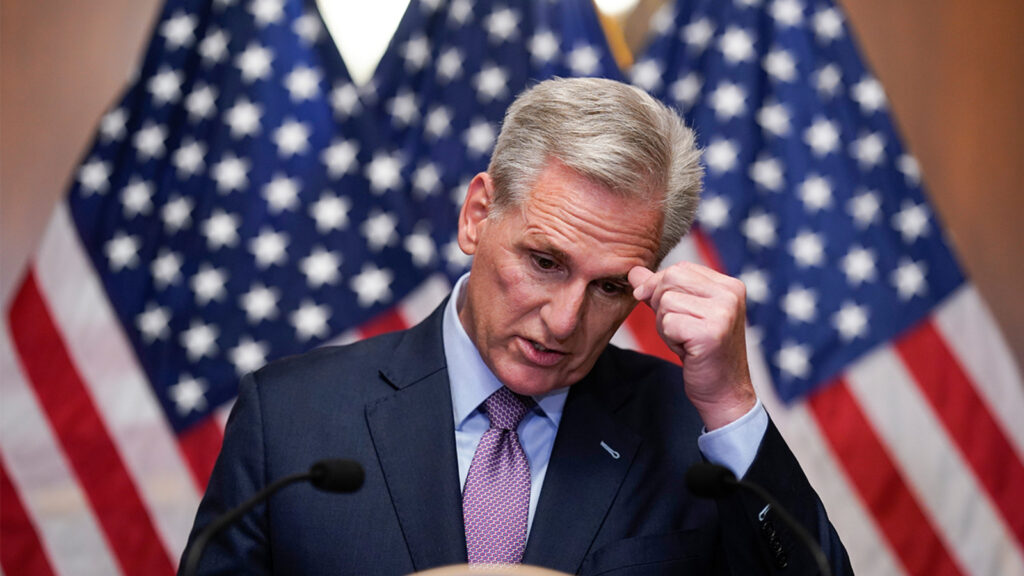 The Hill ("McCarthy won't run for Speaker again"):
Rep. Kevin McCarthy (R-Calif.) said he will not seek the Speaker's gavel again after being removed from the position on Tuesday, a stunning decision that capped off a historic day on Capitol Hill.

"From the day I entered politics, my initial mission has always been to make tomorrow better than today. I fought for what I believe in, and I believe in this country of America," McCarthy said in a press conference. "My goals have not changed. My ability to fight is just in a different form."

"Unfortunately, 4 percent of our conference can join all the Democrats and dictate who can be the Republican Speaker in this House," McCarthy continued. "I don't think that room is good for the institution, but apparently I'm the only one. I believe I can continue to fight, maybe in a different manner. I will not run for Speaker again. I'll have the conference pick somebody else."

McCarthy first informed members of his conference Tuesday night that he would not run again in a closed-door meeting, multiple lawmakers told The Hill, before later addressing the press.

"Everybody was kind of stunned," Rep. Ralph Norman (R-SC) told reporters.

[…]

McCarthy let loose on his detractors in a lengthy press conference — namely Gaetz.

"You all know Matt Gaetz," McCarthy said. "You know it was personal. It had nothing to do about spending, it had nothing to do about everything he accused somebody of he was doing. It all was about getting attention from you."

"I mean, we're getting email fundraisers from him as he's doing it. Join in quickly," McCarthy continued, referring to Gaetz fundraising off his motion to vacate. "That's not governing, that's not becoming of a member of Congress. And regardless of what you think, I've seen the text, it was all about his Ethics, but that's alright."

Gaetz, whom the Justice Department declined to charge after a lengthy sex-trafficking investigation, is facing another investigation by the House Ethics Committee. McCarthy has said that he thinks the Florida congressman has blamed him for the investigation. Gaetz has denied that the ethics probe factored into his move.

McCarthy rejected the suggestion that those who voted to remove him were more conservative.

"They are not conservatives," McCarthy said, later adding: "They don't get to say they're conservative because they're angry and they're chaotic."

He also accused former Speaker Nancy Pelosi (D-Calif.) of reneging on a promise to help him keep the gavel after recommending that he give in to demands from his detractors in January to lower the motion to vacate threshold to just one member. Pelosi's office did not immediately respond to a request for comment.
Blaming the Democrats for this mess likely makes sense for him politically but it's rather silly. It would be highly irregular, indeed, for even a single Democrat to cast a vote for a Republican Speaker. And, if Pelosi did promise help under these extraordinary circumstances, I suspect she feels no longer bound by that promise after McCarthy reneged on promises he made in the debt ceiling negotiations.
Then again, it might explain this:
POLITICO ("McHenry ordered Pelosi to leave her Capitol hideaway office by Wednesday"):
As one of his first acts as the acting speaker, Rep. Patrick McHenry ordered former Speaker Nancy Pelosi to vacate her Capitol hideaway office by Wednesday, according to an email sent to her office viewed by POLITICO.

"Please vacate the space tomorrow, the room will be re-keyed," wrote a top aide on the Republican-controlled House Administration Committee. The room was being reassigned by the acting speaker "for speaker office use," the email said.

McHenry, a close McCarthy ally, was first on his list to become acting speaker after the Californian was booted in a Tuesday afternoon vote.

Only a select few House lawmakers get hideaway offices in the Capitol, compared to their commonplace presence in the Senate.

[…]

The former speaker blasted the eviction in a statement as "a sharp departure from tradition," adding that she had given former Speaker Dennis Hastert "a significantly larger suite of offices for as long as he wished" during her tenure.
It's a jerk move given her long service, compounded by the fact that she's in California preparing for Dianne Feinstein's funeral.
NYT Congressional reporter Annie Karni, writing ahead of the vote to oust him ("There Is No Clear Replacement Candidate for McCarthy"), asks the obvious:
If not Speaker Kevin McCarthy, then who?

[…]

"I think there's plenty of people who can step up and do the job," Representative Tim Burchett of Tennessee, one of the rebels bent on pushing Mr. McCarthy out, said Tuesday morning, but he said he did not know who he had in mind for the job instead.

Representative Eli Crane of Arizona, another one of the hard-line holdouts against Mr. McCarthy, said he wasn't there yet in terms of supporting someone else.

"I don't like to get the cart before the horse," he said. "For me, right now, this is just about representing my voters and holding the speaker accountable for deals made and deals broken."

Some names were starting to be bandied about, even as all of the potential successors vowed that they were not looking to replace Mr. McCarthy, whom they said they still supported.

Representative Matt Gaetz, Republican of Florida, on Monday night said he was open to supporting Representative Steve Scalise of Louisiana, the current No. 2 House Republican and a longtime McCarthy rival who is undergoing chemotherapy treatment for blood cancer.

"I am not going to pass over Steve Scalise just because he has blood cancer," Mr. Gaetz told a horde of reporters as he left the Capitol on Monday night.

Representative Tom Emmer of Minnesota, the No. 3 Republican in the House who serves as the majority whip, has also been mentioned by some of his colleagues as a viable option. Mr. Emmer, who has hosted many late night sessions in his office with various factions of the Republican conference, trying to help the group find common ground, has gained the trust of the far-right members. But they don't view him as a particularly strong leader.

"He's a good sounding board. He's got some nice conference rooms. He doesn't lie to us," Mr. Gaetz said of Mr. Emmer in an earlier interview. "We know he can't make anything happen."

Another logical person to turn to would be Representative Patrick McHenry, the longtime North Carolina congressman who is close with Mr. McCarthy and has previously served in leadership. But Mr. McHenry would most likely resist any attempt to draft him into the role. He chose not to run for a leadership role last year, opting instead to lead the powerful financial services committee.

In a scramble, Representative Elise Stefanik, the top woman in leadership whose role means she works closely with all members of the conference, could emerge as another potential alternative. Serving as conference chair and overseeing messaging for all House Republicans, she is widely seen as someone with big political ambitions outside of the House — like potentially serving in a future Trump administration.

Representative Tom Cole of Oklahoma, one of the longest serving Republicans in the House who leads the Rules Committee, is also respected by both Republicans and Democrats alike.
Scalise is indeed mulling a run. Ditto Jim Jordan. I'm skeptical any of them can gather near-unanimous support from the GOP caucus and trying to appeal to Democrats is clearly a firable offense.
Indeed, journalists and pundits aren't the only one with no idea what comes next.
Axios' Andrew Solender ("GOP tensions explode after McCarthy bows out of speaker race") reports that the caucus is equally confused.
House Republicans were distraught, furious and concerned for the future of their party after Rep. Kevin McCarthy (R-Calif.) announced he won't run for speaker again after being ousted on Tuesday.

Why it matters: Several Republican lawmakers suggested it will be a challenge for any would-be McCarthy successor to unify the fractious conference he failed to tame.

What they're saying: "Frankly, one has to wonder whether the House is governable at all," said Rep. Dusty Johnson (R-S.D.) coming out of the closed-door meeting where McCarthy made his announcement.

Johnson, the chair of the 70-member Main Street Caucus, said he doesn't have a favored candidate for the role: "I'm not sure I would wish this job on anyone. Kevin McCarthy was the most talented member of our conference."
"I'm at a loss … I don't know who would want to operate under this set of rules," Rep. Dan Crenshaw (R-Texas) said of McCarthy's announcement, adding that the "right people may have to be convinced" to run for the job.
"We have a lot of talented individuals in the conference," Rep. Greg Murphy (R-N.C.) told Axios. But, he said, "the problem lies" with the eight Republicans who voted to oust McCarthy: "Who are they going to accept? Are they going to attack him or her?"

State of play: The House is set to adjourn for the week and return Tuesday for a candidate forum followed by a possible GOP election on Wednesday to determine their next nominee for speaker, according to multiple members who were at the Tuesday night meeting.

The decision to skip town on a Tuesday met with anger from some members: "It's absolute horses**t we're jumping on a plane and heading home when our work isn't done," Rep. Kat Cammack (R-Fla.) said.

Zoom in: Some Republicans also vented their fury at the eight Republicans who voted with Democrats to remove McCarthy as speaker.

"I think we have eight selfish a**holes that undermine the institution and the conference," said Rep. Mike Lawler (R-N.Y.). "It's wrong. I think Kevin McCarthy certainly did not deserve that."
Rep. Carlos Gimenez (R-Fla.), a vocal McCarthy ally, said he was "very disappointment, very hurt" by the former speaker's decision "because it means that a group of terrorists have won."

"The man just loves chaos," Murphy said of Rep. Matt Gaetz (R-Fla.), who introduced the motion to vacate.

The other side: Rep. Bob Good (R-Va.), who voted to remove McCarthy, called the vote a "win for America because it's a win for change in Congress."

"I think the American people are looking for a Republican conference, Republican speaker that's going to fight in full force, with every tool at our disposal, to attack and defeat the radical leftist agenda," Good said.

What we're watching: Republicans are in for a hectic week as they scramble to find a replacement for McCarthy.

Rep. Troy Nehls (R-Texas) announced plans to nominate former President Trump for the job: "Donald J. Trump should come back and be the speaker."
Yes, why not bring in a guy under multiple criminal indictments whose also running for President?
POLITICO's John Harris rightly declares "The House GOP Is a Failed State."
For nine months, McCarthy had the title and the gavel and a Capitol suite with a nice view. But he never really held the office of speaker in anything like the historic meaning of that job. He never inspired fear. He sought favor from GOP colleagues — 210 of whom actually stayed with him until the end — but he had scant influence to bestow favors in return. He wasn't associated with any particular governing idea.

At the start, his speakership was effectively an optical illusion. At the end, it was an exercise in self-abasement.

[…]

McCarthy's ouster is dramatic evidence, if redundant, about the state of the modern GOP. A party that used to have an instinctual orientation toward authority and order — Democrats fall in love, went the old chestnut, while Republicans fall in line — is now animated by something akin to nihilism. The politics of contempt so skillfully exploited by Donald Trump is turned inward on hapless would-be leaders like McCarthy with no less ferocity than it is turned outward on liberals and the media.

The GOP dissenters who joined Democrats in evicting McCarthy professed to be concerned about controlling spending, and some surely are genuine about that. In the case of Gaetz, the ringleader, it is clear the dispute is primarily about personal animus, not ideology. He wanted McCarthy's antlers on the wall of his rec room, and he got them. Needless to say, there are many Republicans who are now hunting for him.

And, yet, in the nihilistic spirit of the age, it is worth asking of these intraparty feuds: Who cares? Certainly, in McCarthy's case, it is far from obvious that anyone should care that much. He simply never made the case for being consequential.

With a go-along personality that many colleagues found sufficiently agreeable, he did not cut a large public profile of the sort cultivated by Gingrich or even a former vice-presidential nominee like Ryan. Perhaps under different circumstances he might have governed the House like Hastert, who projected a bland and impassive exterior while the real deal-making was carried out with ruthless precision by Rep. Tom DeLay, who eventually left the House amid ethical and legal storms. (Hastert came to grief and went to prison, only after leaving the speakership, when he was convicted of financial offenses related to his sexual abuse of teenage boys.) McCarthy didn't draw interest in his political dramas in the fashion of John Boehner, whose chain-smoking and merlot-quaffing habits suggested an old-style coalition-building pol who found himself lost in an angry new age.

Most of all, McCarthy showed his malleable core on the paramount question of Republican politics, or for that matter all American politics: Where do you stand on Trump?

[…]

The House GOP now resembles a failed state. The party elects leaders with no capacity to lead members who have no interest in being led. McCarthy is like one of the succession of short-lived Soviet leaders who followed the long reign of Leonid Brezhnev, before the radical disruption of Mikhail Gorbachev at the end of the Cold War.
Gorbachev is, of course, better remembered. But (SPOILER ALERT) it didn't end well for his party.