House GOP Drowning [UPDATED]
In a bathtub?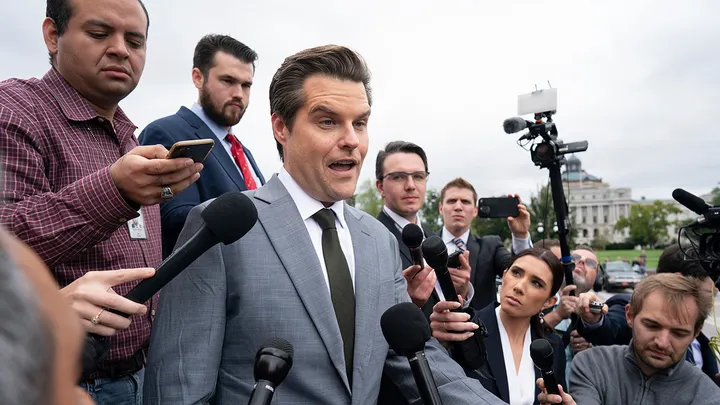 POLITICO ("House GOP drowning as crisis reaches breaking point"):
When Matt Gaetz stepped to the microphones during Thursday's three-hour private House GOP meeting on the speakership, the speaker he ousted promptly yelled at him to "sit down."

Kevin McCarthy was not the only Republican to vent fury with Gaetz, the Florida conservative who successfully ousted the House's leader. The room met Gaetz with booing, profanities and calls to back off, according to multiple lawmakers in the room. When Gaetz refused, Rep. Mike Bost (R-Ill.) stood up and hollered a command at him that one Republican recalled as: "If you don't sit down, I'll put you down."

It seems that every day without a speaker brings a new release of pent-up anger from the House GOP, which is stuck in the bewildering position of technically controlling a chamber of Congress where it can't even vote on bills. At the moment, their latest pick for speaker, Rep. Jim Jordan (R-Ohio), cannot win the gavel on the floor and yet still won't end his campaign — preventing a half-dozen or more other ambitious GOP lawmakers from jumping into the race.

Republicans' inability to elect a new leader is so acute that by Thursday, they squabbled over whether to empower a colleague who they wouldn't elect to control the floor, only to jettison that idea hours later. Those talks about elevating Rep. Patrick McHenry (R-N.C.) quickly grew nasty as conservatives accused fellow Republicans of pursuing a power-sharing arrangement with Democrats.

What went unsaid: Those same conservatives are loath to abandon Jordan's doomed candidacy lest it underscore that their most influential voice couldn't get the votes.

After 16 days adrift, it was clear by Thursday evening that House Republicans have hit rock bottom. What began as social media sniping over their failed speakership battle has devolved into real fears for the safety of members whose families are receiving personal threats over their decision to oppose Jordan.

Making matters worse, the implosion of the empower-McHenry push leaves them without a backup plan. And Jordan's disavowal of aggressive tactics used against his skeptics didn't move them at all. After meeting with some of the holdouts later Thursday evening, Jordan didn't make headway. Instead, the members opposing him urged him to drop out.

Even so, he's planning to push another ballot on Friday morning.

When asked if he changed his mind, Rep. Mike Kelly (R-Pa.) replied: "I can't."

"We had an election. We elected somebody," Kelly said, noting that Jordan allies helped block Majority Leader Steve Scalise (R-La.) from the gavel last week.

Multiple conference members, including Reps. Nathaniel Moran (R-Texas), Lance Gooden (R-Texas) and Debbie Lesko (R-Ariz.) pressed Jordan on how he could decide to stay in the speaker race, including his decision to do so while also backing a plan to empower McHenry.

During Thursday's meeting, Moran pressed Jordan on a previous vow to the GOP last week that he would step down if he couldn't get 217 votes — which has become increasingly obvious.

[…]

Much of the GOP frustration is aimed at Gaetz and the seven other Republicans who linked arms with House Democrats to oust McCarthy earlier this month, standing against an overwhelming majority of the GOP conference.

"If you are going to blow a bridge, you better have another one to cross. And those eight clearly didn't have another one to cross before they blew this bridge," Rep. Mike Waltz (R-Fla.) said.
NBC News ("In the latest sign of House chaos, the temporary speaker is threatening to quit"):
In a closed-door meeting Thursday, Rep. Patrick McHenry, R-N.C., told GOP colleagues he might resign as speaker pro tempore if Republicans push him to try to move legislation on the floor without an explicit vote to expand his powers, according to multiple lawmakers in the room.

"If you guys try to do that, you'll figure out who the next person on Kevin's list is," McHenry told the room, three sources said, referring to former Speaker Kevin McCarthy's secret list of GOP lawmakers who would serve as temporary speaker in the event of a vacancy.

McHenry's comments underscore the quandary Republicans are in: They can't really do anything until they choose a new speaker, but they can't agree on someone who can get the votes to be that new speaker.

And McHenry is unwilling to set a precedent that would give future temporary speakers the full power of speakers who are elected on the House floor. It could mean that the House wouldn't need to elect speakers in the future.
Jordan was supposedly going to call for a third vote yesterday afternoon. That's now scheduled for some time this morning. I predict that the votes for non-Jordans will increase, possibly into the 30s. What happens after that is a complete mystery.
UPDATE (1216): Jordon only had 25 defectors. Still, it's rather obvious that the opposition is growing stronger rather than giving in.