Jordan Backs Patrick McHenry as Super-Temporary Speaker [UPDATED]
He might prefer McDeath.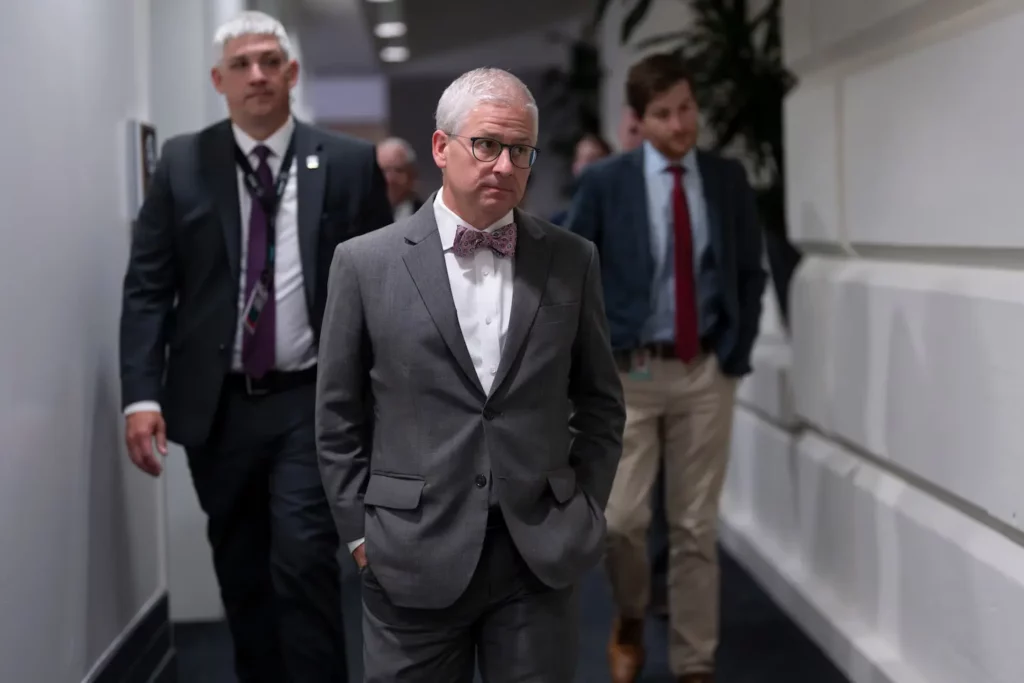 WaPo:
Rep. Jim Jordan (R-Ohio) will not seek an additional speaker vote Thursday, and he will back a plan to give Rep. Patrick T. McHenry (R-N.C.), the temporary speaker, additional powers, according to multiple people who spoke on the condition of anonymity to describe the situation. After two rounds of votes, a group of Republicans had made clear that Jordan did not have enough support to win the speaker's gavel. With House functions at a standstill, lawmakers can now consider a proposal to expand McHenry's powers.
and
Rep. Mark Molinaro (R-N.Y.), who twice voted for Rep. Jim Jordan (R-Ohio), told reporters he's "hopeful" Jordan supports the effort to empower the temporary speaker to move legislation through the House.

"I think that would go a long way to, sort of, resetting where we are, de-escalating the situation and most importantly, getting us back to work," Molinaro said.
and
Rep. Marjorie Taylor Greene (R-Ga.) said she's absolutely opposed to the resolution to empower Speaker Pro Tempore Patrick T. McHenry (R-N.C.) and believes it's a mistake for Rep. Jim Jordan to back it.

Greene said it's time for the GOP to stop the "never" attitude. "The 'Never Trump,' the 'Never Kevin McCarthy,' the 'Never Steve Scalise,' the 'Never Jim Jordan' is only working against each other, which is working against our voters and working against the country," she said. "And I really want to see us people put down their egos."
and
Rep. John Rutherford (R-Fla.), who has voted against Rep. Jim Jordan (R-Ohio), said Republicans may have no other choice but to empower Speaker Pro Tempore Patrick T. McHenry (R-N.C.) to move legislation through the House, if Jordan does not do the "honorable thing" and step down as the Republican speaker designee amid this stalemate.

Rutherford added, "If it takes another two months, I'll still be voting against him."

"Look," Rutherford said. "[Rep.] Steve Scalise [R-La.] beat him in a head-to-head race in the conference, and he refused to accept the outcome of that race. He broke the rules, didn't follow the majority vote, and now he wants us to."
Apparently, Jordan realized that he's not going to win the Speakership any time soon. He has not formally withdrawn from the race but it's clear he has a pile of enemies in the Republican Caucus. At some point, he'll realize he's never going to be Speaker, allowing some other candidate to emerge.
All the signs point to Democrats backing allowing McHenry to assume most of the powers of Speaker in order to get the government back in operation, so it really doesn't matter what Greene and the other wackos want. It sure doesn't seem like McHenry was keen on the job, though.

UPDATE (1556): It appears that the caucus overwhelmingly rejected the compromise and Jordan will now put himself up for yet another vote this afternoon. ¯\_(ツ)_/¯