Scalise Drops Out of Speaker Race. What Now?
The clown show still lacks a ringmaster.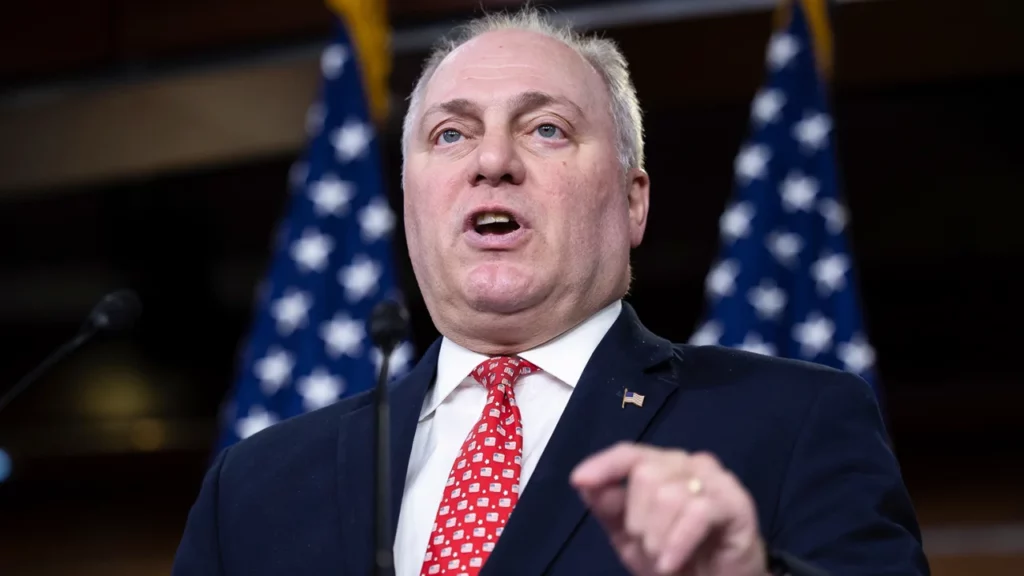 WaPo ("House speakership stalled as Scalise withdraws from race"):
Rep. Steve Scalise (R-La.) announced at a Republican conference meeting Thursday night that he is pulling out of the race to become speaker. The announcement came after a day full of lengthy meetings with fellow Republicans that several described as unproductive. Scalise had narrowly edged Rep. Jim Jordan (R-Ohio) in a Wednesday conference vote to be named speaker-designate but had made little progress getting to the 217 votes he would need in a floor vote to win the gavel.
Yet again, the online version has gone into live-blogging mode, which I suppose is easier than hiring editors. Other bits from scrolling down the page follow. I've taken the liberty of arranging them in an order that makes sense.
This is particularly insightful:
After Rep. Steve Scalise (R-La.) left the room, lawmakers remained to discuss the next steps, with many overwhelmingly saying they must unite for the sake of the country. But as one member pointed out, that means different things to many people.
Quite.
While Rep. Jim Jordan (R-Ohio) was present in the room, he never addressed the conference, according to multiple people in the room who spoke on the condition of anonymity to talk about an off-record meeting. But many Republicans consider Jordan as the only viable option and plan to see if he could win in conference Friday morning.

First, Republicans will try again to amend their conference rules and raise the threshold to elect a speaker from a simple majority to 217, the number necessary to win on the House floor. Several members said it will be a fight to amend it, but many believe they would rather have the change so members can elect a speaker behind closed doors and save public embarrassment if a speaker-designate can't win on the floor, like what would have happened to Scalise.

If that threshold is raised, then the question becomes who can get the necessary 217 votes. Some members believe Jordan won't get that number, while others say that if he notches even a majority of Republicans, they should go to the floor and vote as their conference rules state. Many Republicans are angry about the drawn-out process and just want to coalesce around any Republican at this point.

But divisions may prevent that from happening.
Ya think? My gut tells me there's a better chance that Hakeem Jeffries or Nancy Pelosi is the next Speaker than Jim Jordan. He simply has too much baggage for any Republican not in an incredibly safe district to cast a vote for him. But then again:
Rep. Marcus J. Molinaro (R-N.Y.), who is one of a bloc of four New York Republicans who represent relatively competitive districts, told reporters he's heading into Friday's speakership vote with an open mind.

"Jim Jordan can certainly earn my support," Molinaro said.
And:
Rep. Mike Garcia (R-Calif.) said after the Republican meeting ended that he's concerned that a Jim Jordan speakership could be weaponized against GOP lawmakers in swing districts. But he added that he intends to support Jordan if he is elected the speaker designate on Friday.
Color me skeptical. He's so manifestly a worst choice than McCarthy, Scalise, or McHenry that it boggles the mind that anyone thinks there are 218 votes for him.
Oh, and there's this:
Should Rep. Jim Jordan (R-Ohio) continue his quest for speaker, he will have a major problem: supporters of Rep. Steve Scalise (R-La.).

Scalise backers were furious that Jordan refused to acknowledge the election results Wednesday that nominated Scalise and didn't give a full-throated endorsement of the majority leader. They think that if Jordan would have clearly gotten behind Scalise, the party would have more easily been unified.
That would seem to be an obstacle.
Rep. Michael Lawler (N.Y.), who is considered one of the most vulnerable Republicans in the House, said his conference was nearing the time to increase the powers of Speaker Pro Tempore Patrick T. McHenry (R-N.C.).

"We need to work and elect a speaker," he said. "If we are somehow unable to get to 217 [votes] in the next 24 to 48 hours, then I think that needs to be looked at so that we can at least be focused on doing the work of the American people."
Of course, if there are enough votes to do that, why not simply, I don't know, elect McHenry Speaker?
"People looking for a perfect system should not be looking at the U.S. House right now," Rep. Dusty Johnson (R-S.D.) said after another day passed with Republicans unable to elect a speaker.
Truer words, Dusty. Truer words.
NYT chief Washington correspondent Carl Hulse ("With the World in Crisis, House Republicans Bicker Among Themselves") adds some context:
Two key U.S. allies are engulfed in vicious wars. A disruptive government shutdown is looming in just over a month. Americans are held hostage overseas by hostile forces. Uncertainty ripples across the country.

House Republicans, meanwhile, are consumed with an extended struggle of personal grievance, petty beefs, political payback and rampant attention-seeking that on Thursday night forced Representative Steve Scalise of Louisiana to withdraw as his party's candidate for speaker. The tumult has sidelined Congress at a critical moment and rendered the Capitol a bastion of G.O.P. dysfunction. The spectacle of their infighting is even more glaring at a moment of international crisis, a fact not lost on Republicans themselves as they remain unable to settle on a speaker who could put the House back in business.

"We are living in a dangerous world; the world's on fire," Representative Michael McCaul, the Texas Republican who chairs the Foreign Relations Committee, said on Thursday after leaving a closed meeting where Republicans groped unsuccessfully for a path out of their stalemate. "Our adversaries are watching what we do — and quite frankly, they like it."

"I see a lot of threats out there," he added, referring ominously to the ongoing disarray among his own colleagues unfolding in the Capitol basement. "One of the biggest threats I see is in that room, because we can't unify as a conference and put the speaker in the chair together."

In past moments of crisis, such as the aftermath of the Sept. 11, 2001, attacks, lawmakers have been able to set aside personal and political differences, if only temporarily, to show a unified front to reassure the country and the world. But there was no sign on Thursday that Republicans were ready to end their bickering despite the press of world events and it was unclear how they could right the ship after Mr. Scalise's wrenching decision.
While a goodly number of our commenters reject the notion, a large segment of the House Republican caucus—indeed, almost certainly a majority of it—agrees. While they may hold policy preferences you find abhorrent, they mostly want to do the job their constituents elected them to do. Unfortunately, there are enough votes—we can start with the eight who voted (along with every House Democrat) to oust Kevin McCarthy as Speaker without a viable replacement in place—to throw a wrench into any sensible compromise. So here we are.
In my staff meeting yesterday afternoon, as we were presenting some alternatives we had put together for rearranging our academic calendar in event the government shuts down on November 17, sending the civilian faculty home, my boss's boss, a colonel with very recent Hill experience, expressed his confidence that it was all for naught. With the Israel crisis underway, he was sure the Republican caucus would rally around Scalise and authorize support for Israel and then get to the work of keeping the government open. Alas, it took only a few hours for the first part of that to prove untrue.
And, again, I think the overwhelming number of House Republicans would happy rally around Scalise, McCarthy, McHenry, or any other sane member of their caucus and do just that. There just aren't enough of them.
As I've noted before—along with a few OTB commenters—the obvious solution is for the normies to form a coalition with Democrats to elect a Speaker and get on with the people's business. I just don't think that's possible in the current political climate, as most Republicans would be vulnerable to getting primaried if they voted to do that.