House Leadership Crisis Continues [Updated]
Jim Jordan is trying to bully his way into office. It almost certainly won't work.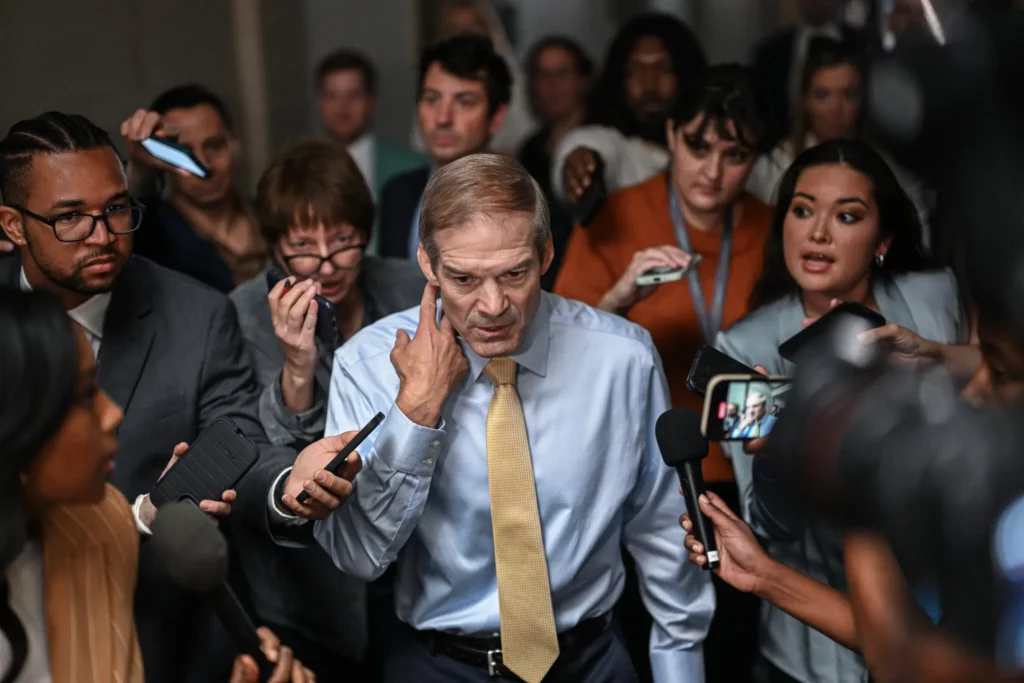 CNN ("Senior House Republican says GOP members ready to block Jordan"):
A number of House Republicans are in talks to block Rep. Jim Jordan's path to the speakership as the Ohio Republican tries to force a floor vote on Tuesday, according to multiple GOP sources.

One senior Republican House member who is part of the opposition to Jordan told CNN that there he believes there are roughly 40 "no" votes, and that he has personally spoken to 20 members who are willing to go to the floor and block Jordan's path if the Ohio Republican forces a roll-call vote on Tuesday.

"The approximately 20 I've talked to know we must be prepared," the member said. "We cannot let the small group dictate to the whole group. They want a minority of the majority to dictate and as a red-blooded American I refuse to be a victim."

But another GOP source familiar with the matter said that Jordan has had positive conversations with members and believes by Tuesday evening he will be elected speaker of the House. The House is expected to hold a vote for the next speaker on Tuesday at noon, according to an email from House Minority Whip Katherine Clark obtained by CNN.
The GOP source said that Jordan may decide to go to multiple ballots on the floor if necessary.

Republicans are expected to meet behind closed doors Monday evening.

Yet there is still sizable opposition to Jordan. The GOP member says there are some Republicans who are critics of Jordan and not willing to back him – and there are others angry at the hardliners who took out Kevin McCarthy and sunk Majority Leader Steve Scalise and don't want to reward those moves by electing Jordan, who is their preferred candidate.

"I know of many hard nos. …We can't reward this behavior," the GOP lawmaker said. "We can't let a small group be dictators."

The Republican conference nominated Jordan as speaker last week after Scalise dropped his bid for the role. Scalise had initially been selected by the conference as its nominee – after he defeated Jordan 113-99 in the conference's first speaker vote – but more than a dozen Republicans said they would not vote for Scalise, forcing him to withdraw.

Now Jordan is facing the same problem from Republicans angry at McCarthy's ouster and a small faction of the conference refusing to get behind Scalise after he won the first vote. After Jordan's nomination, he held a second, secret vote in the conference on whether Republicans would support him on the floor. Fifty-five Republicans voted no.
NYT ("Jordan Activates Right-Wing Pressure Campaign in Push to Win Speakership"):
Representative Jim Jordan and his allies have begun a right-wing pressure campaign against Republicans opposed to electing him speaker, working to unleash the rage of the party's base voters against any lawmaker standing in the way of his election.

Even after Mr. Jordan, the hard-right Ohio Republican, won his party's nomination for the post on Friday, he remained far short of the 217 votes he needed to win the gavel, with scores of his colleagues refusing to back him.

In efforts to close the gap, lawmakers and activists close to him have taken to social media and the airwaves to blast the Republicans they believe are blocking his path to victory and encourage voters to browbeat them into supporting Mr. Jordan.

It is an extraordinary instance of Republican-on-Republican fighting that underscores the divisions that have wrought chaos inside the party, paralyzing the House of Representatives in the process. Several of Mr. Jordan's supporters have posted the phone numbers of mainstream G.O.P. lawmakers they count as holdouts, encouraging followers to flood the Capitol switchboard with calls demanding they back Mr. Jordan — or face the wrath of conservative voters as they gear up for primary season.

"You want to explain to your voters why you blocked Jordan?" Representative Anna Paulina Luna, Republican of Florida, wrote on X. "Then bring it."

The strategy is reminiscent of the bullying tactics that Mr. Jordan and his allies have used over the past decade to pull the G.O.P. further to the right, and borrows a page from former President Donald J. Trump, who is backing Mr. Jordan.

It is also an approach that helped propel the House G.O.P. into its current leadership crisis. Republicans last year fielded several extreme-right congressional candidates who were popular with the base but ultimately could not win general elections in competitive districts, leaving them with a razor-thin majority in the House. A new generation of hard-liners has been able to exploit the tiny governing margin, dethroning one speaker and scuttling the bid of his heir apparent.

Mr. Jordan's closeness with the former president has given him unparalleled cachet with the party base, and his backers were counting on that to help him prevail in a vote that could come as early as Tuesday.

While Friday's votes were secret ballots, by Saturday, right-wing activists appeared to have identified about a dozen holdouts against Mr. Jordan as top targets for their onslaught.
The Messenger ("Rep. Crenshaw Knocks Jim Jordan Speaker Supporters' 'High-Pressure Campaign': 'Dumbest Thing You Can Do'"):
Rep. Dan Crenshaw, R-Texas, is supporting Rep. Jim Jordan, R-Ohio, for speaker of the House, but he's not too impressed with the tactics some of his fellow House Republicans are taking in campaigning for Jordan.

Appearing on CNN's State of the Union with Jake Tapper, Crenshaw knocked what he referred to as a "high pressure campaign" being proposed by some colleagues to ensure that they vote for Jordan for speaker.

The next House speaker vote will be held Tuesday.

"What I would really recommend to Jordan's allies too, is a lot of them have mounted this high-pressure campaign," Crenshaw told Tapper on Sunday. "They're going to whip up Twitter against the people who are against Jordan."

The Texas congressman called the strategy the "dumbest thing you can do."

"That is the dumbest way to support Jordan, and I'm supporting Jordan. I'm going to vote for Jordan. And as somebody who wants Jim Jordan, the dumbest thing you can do is to continue pissing off those people and entrench them," he said.
The Hill ("Turner: If GOP can't elect Speaker then 'deal will have to be done' with Democrats"):
Rep. Mike Turner (R-Ohio) said Sunday if House Republicans cannot elect a Speaker soon then a "deal will have to be done" with Democrats in order to get the chamber running again, as it nears two weeks since Rep. Kevin McCarthy's (R-Calif.) historic ousting.

Asked on CBS News's "Face the Nation" if there is a possible alternative scenario in which Republicans will need to work with Democrats to find a "mutually acceptable Speaker," Turner responded that while he prefers a Republican solution to electing a Speaker and supports Rep. Jim Jordan (R-Ohio), a few hard-line GOP members may force a bipartisan deal.

"I think Jim Jordan will be an excellent Speaker. I think he'll be able to get to 217. If not, we have other leaders in the House. And certainly, if there is a need if the radical, you know, almost just handful of people in the Republican side, make it unable … to be able to return to general work on the House, then I think obviously, there will be a deal [that] will have to be done," Turner said.
The whole thing is amateur hour. The radicals ousted McCarthy with no plan to replace him. And, having angered the rest of the caucus, they're now doubling down in a way that ensures they will not vote for their preferred candidate.
I fully agree with the faction that refuses to reward the nuts. But it does seem we're at the point where the only way to avoid the inmates running the asylum is to reach across the aisle and attract some Democratic votes for a more broadly acceptable candidate. That will almost certainly not play well in the more rabidly red districts but, at some point, there's no point in getting elected if you can't govern when you get to Washington.
[Update: From Matt]
Rather than starting a new post, I wanted to add to James's great summation of the current Jordan push with a report from Newsweek about Fox News host Sean Hannity getting involved in whipping up the vote:
Sean Hannity's Fox News show is reportedly involving itself in trying to get Republicans to elect a new House speaker, including by asking moderate GOP lawmakers why they aren't supporting Ohio congressman Jim Jordan for the role.

Axios reporter Juliegrace Brufke revealed an email from a member of Hannity's production team named "Stephanie" sent to some House Republicans seeking a response as to why they aren't backing Jordan for House speaker.

[…]

One House member said that Fox News' Hannity show has "gotten involved in the efforts" to elect the speaker and end the deadlock in the lower chamber by sending emails asking them why they aren't supporting Jordan.

https://www.newsweek.com/sean-hannity-fox-email-jim-jordan-opponents-house-speaker-1834850
For anyone familar with the text messages that emerged around the aftermath of the 2020 election and January 6th will probably not be surprised that Hannity is inserting himself into this process. It's another example of how Fox News hosts, if not the channel itself, is deeply intertwined with Republican Party Politics.