"David Duke Without the Baggage"
Some thoughts on the Speaker contest.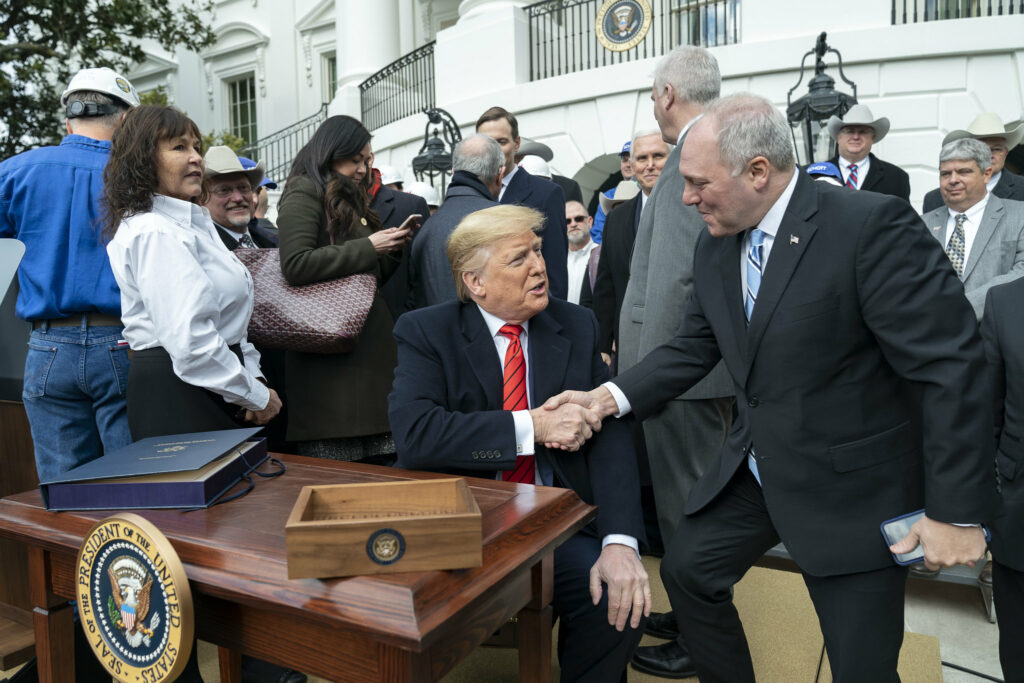 I heard the title phrase sometime in the past (I cannot remember precisely where or when) and was reminded of it again via John Oliver's program last Sunday. It is all over social media and the news at the moment (for example), especially now that US Representative Steve Scalise has been chosen as the ostensible next Speaker of the House (yes, we'll see). I was curious as to its origin, as most stories just used the word "reportedly" (or the like) in terms of attribution. I found what I think is the original source in a 2014 NYT article: Much of David Duke's '91 Campaign Is Now in Louisiana Mainstream.
Stephanie Grace, a Louisiana political reporter and columnist for the past 20 years, first with The Times-Picayune in New Orleans and now The Advocate of Baton Rouge, recalled her first meeting with Mr. Scalise.

"He was explaining his politics and we were in this getting-to-know-each-other stage," Ms. Grace said. "He told me he was like David Duke without the baggage. I think he meant he supported the same policy ideas as David Duke, but he wasn't David Duke, that he didn't have the same feelings about certain people as David Duke did."
I have to admit, I am not sure that this report is sufficient to justify the various headlines and references I have seen. Still, it isn't like there aren't real problems, as per this 2014 Politico piece about a 2002 speech, Scalise: I 'regret' speech to white supremacy group. This incident has also been raised in the context of the pending vote for Scales.
It seems fair to include the following attempt at what seems an informed view of the situation by political scientist D. Stephen Voss, Saddling Steve Scalise with David Duke's baggage. It is, no doubt, more soberly evenhanded than many might want at the moment. Still, I found it and it seems relevant, so I have shared.
Please note, I am not attempting to relieve Scalise of his own baggage, just trying to determine how seriously to take this particular bit of information. On the one hand, I can't find a place wherein he has denied saying it. On the other, we are talking here about a remembered decades-old pronouncement.
Keep in mind that part of why I was curious is that I actually thought it possible that Scalise was on the record saying such a thing and the fact that I thought it was possible is, to my mind, a serious indictment of the current state of the GOP.
And while we are talking indictments of the party, the fact that Scalise seems to be the less offensive choice is because the alternative was Jim Jordan. And both of them make McCarthy (who demonstrated himself to be dishonest and utterly self-serving) almost like a good choice.
The GOP is not exactly sending giants to the floor.
Meanwhile, Politico reports: Steve Scalise's celebration on pause.
And while Hamilton references are no longer cool, I can't help but note that Scalise does not have the votes.
"I just don't think Steve's got the votes," Rep. Barry Moore (R-Ala.) told reporters after huddling with his colleagues in the House Freedom Caucus on Wednesday afternoon. Moore had left the GOP's internal elections planning to vote for Scalise as speaker on the floor.

But he said he changed his mind after other conservatives argued that Scalise was a "rubber stamp for McCarthy." Moore said he plans to support Jordan on the floor.
Meanwhile, MTG is all class and full of deep reasoning about her vote (via the Insider): Marjorie Taylor Greene won't support her party's choice for House speaker because he has cancer.
"I like Steve Scalise, and I like him so much that I want to see him defeat cancer more than sacrifice his health in the most difficult position in Congress," Greene wrote on Twitter. "We need a Speaker who is able to put their full efforts into defeating the communist democrats and save America."
It is known that all communist fighters ought be cancer free.
The whole thing is (and I hate to get too technical, as I know sometimes readers feel I get too esoterically academic at times) a shitshow.
To be honest, all of this underscores that we have a clear multi-party system in the US that is being constrained and forced into two containers. The GOP is, without any doubt, at least two parties at the moment, one that is more traditionally conservative and one that is reactionary. But the structure of the system forces them into a coalition that all the constraints of the system make impossible to break. To put that another way: the cost of defecting from the coalition is high because it threatens renomination and, moreover, there is no viable place to go.
To flesh that out for a second. If I am a member of the GOP House caucus who wants to buck all this nonsense I likely risk being primaried. If I decide I want to just exit the Republican Party but stay in politics, I am doomed because the Democrats aren't going to have me, and there are no viable other parties to join. As I have noted before, that means that the reactionaries in the GOP get amplified because the entire situation incentivizes finding a way to cooperate internally as opposed to working externally.
None of this is to excuse the aforementioned shitshow nor the Republican's culpability in creating it, but rather to underscore that the structural conditions of American politics make it very difficult for it to be fixed in the short term (and I have doubts about the medium-to-long term). One can only hope that the anemic democratic remedies we have will come to bear on the party in 2024 and they will force some reevaluation of at least some of its members and voters.
Moreover, I will say again that if the Democrats get control of Congress in 2024, they have got find whatever ways they can to strengthen majority rule over minority rule. It is the only way to incentivize Republicans to behave differently.