Garth Brooks Wears Sanders Jersey; Hilarity Ensues
Because America.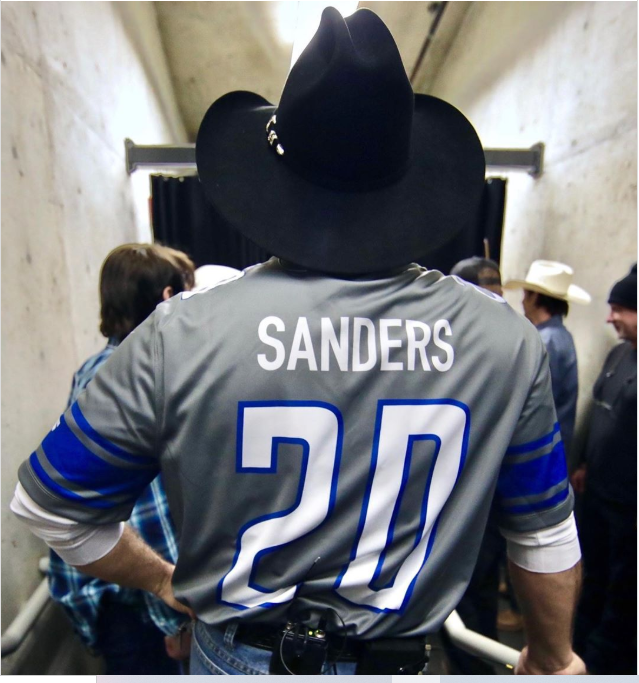 Country music icon Garth Brooks wore a Barry Sanders Lions jersey to a Detroit concert over the weekend, and the move confused Trump fans who thought he was supporting Sen. Bernie Sanders.

Brooks shared a photo of himself in the jersey on Instagram, where supporters of President Donald Trump accused the country star of making things "political."

In reality, Brooks was just supporting his favorite Lions icon — former running back and NFL Hall of Famer Barry Sanders — with the jersey.

[…]

"You guys got the greatest player in NFL history in my opinion in this jersey. I love this man," Sanders told the crowd. "And I can vouch for him first-hand from way back when he just came out of Kansas and got to Oklahoma State. He's also one of the greatest human beings that you'll ever get to witness and be with. He's a good cat. It's an honor to wear this jersey tonight."

Brooks, 58, competed in javelin throw at Oklahoma State University just years before Sanders won the Heisman while playing at the school.
So, not only was Sanders a Detroit icon but Brooks wasn't just pandering to the locals—he's genuinely a fan and has a personal connection. But, alas . . .
But fans online apparently didn't get the memo that Brooks and Barry Sanders had a long history.

"Can't you just do what you get paid to do ???? Why why why does it have to involve politics !!! So sad. We don't pay good money for anything other than to watch you perform. Thought you were different," one person commented on his Instagram post.

Another wrote: "If this is for Bernie Sanders, I'm done with you. I thought you were a true American that loves Our Country?"

"Love you. Hate the shirt," another fan wrote.
Sigh.