Gary Rossington, 1951-2023
The last original member of Lynryd Skynyrd has died.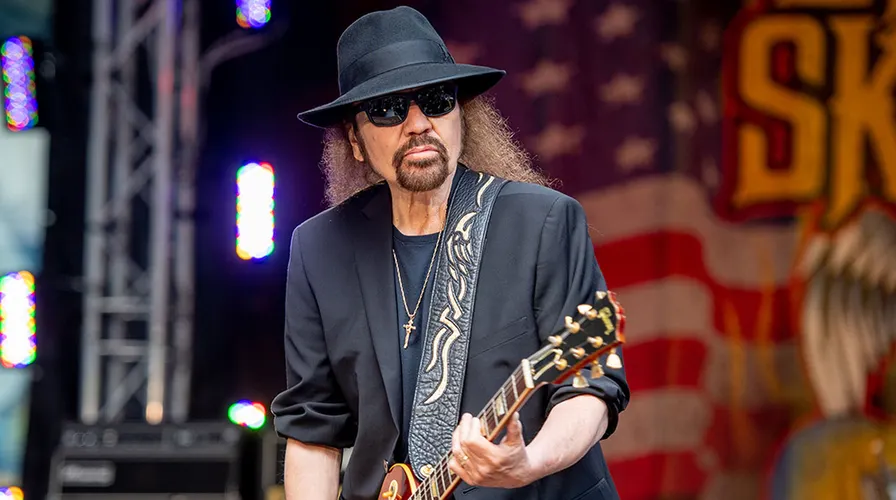 Rolling Stone ("Gary Rossington, Lynyrd Skynyrd's Last Original Member, Dead at 71"):
GARY ROSSINGTON, A founding member of Lynyrd Skynyrd whose ethereal slide guitar helped make the Southern rock band's song "Free Bird" an indelible anthem, died Sunday at the age of 71.

"It is with our deepest sympathy and sadness that we have to advise, that we lost our brother, friend, family member, songwriter and guitarist, Gary Rossington, today," the band wrote on Facebook. "Gary is now with his Skynyrd brothers and family in heaven and playing it pretty, like he always does. Please keep Dale, Mary, Annie and the entire Rossington family in your prayers and respect the family's privacy at this difficult time."

Rossington was Lynyrd Skynyrd's last surviving original member, a stoic figure who preferred to let his guitar do the talking and who cheated death more than once. He survived a brutal car accident in 1976 in which he drove his Ford Torino into a tree, inspiring the band's cautionary song "That Smell."[*] A year later, he emerged from the infamous 1977 plane crash that killed singer Ronnie Van Zant, guitarist Steve Gaines, and backing vocalist Cassie Gaines with two broken arms, a broken leg, and a punctured stomach and liver.

"I've talked about it here and there, but I don't like to," Rossington told Rolling Stone in 2006 of the crash, a mysterious part of rock & roll lore. "It was a devastating thing. You can't just talk about it real casual and not have feelings about it."

[…]

Rossington was born December 4th, 1951, in Jacksonville, Florida, and raised by his mother after his father died. Upon meeting drummer Bob Burns and bassist Larry Junstrom, Rossington and his new friends formed a band, which they tried to juggle amid their love of baseball. During a fateful Little League game, Ronnie Van Zant hit a line drive into the shoulder blades of opposing player Burns and met his future bandmates. Rossington, Burns, Van Zant, and guitarist Allen Collins gathered that afternoon at Burns' Jacksonville home to jam the Rolling Stone's "Time Is on My Side." An early version of Lynyrd Skynyrd was born.

"When we got together [as a band], the scene in Jacksonville was pretty bad. Nobody liked us because we liked the British thing — the Yardbirds, the Rolling Stones," Rossington told Rolling Stone. "Some places we'd get into fights — they didn't like us 'cause our hair was long. We went to Atlanta to make it out of the clubs there, because there was really only one club in Jacksonville at the time."

Adopting Lynyrd Skynyrd as the group's name — both a reference to a similarly named sports coach at Rossington's high school and to a character in the 1963 novelty hit "Hello Muddah, Hello Fadduh" — the band released their debut album (Pronounced 'Lĕh-'nérd 'Skin-'nérd) in 1973. A collection of country-tinged blues-rock and Southern soul, the album included now-classics like "Tuesday's Gone," "Simple Man" and "Gimme Three Steps," but it was the closing track, the nearly 10-minute "Free Bird," that became the group's calling card, due in no small part to Rossington's evocative slide playing on his Gibson SG.

"We always said we had a lot of balls back then, or gumption, whatever you call it, for playing a song that long. Singles are only two, three minutes at the most, and five is lucky," Rossington said in an interview with Guitar World. "'Free Bird' was nine minutes. They said, 'Nobody will ever play that song. You guys are crazy.'"

While the Lynyrd Skynyrd lineup changed often — Burns for Artimus Pyle in 1975, Ed King for Steve Gaines in 1976, Johnny Van Zant filling the shoes of his older brother Ronnie in 1987 — Rossington remained a constant. The only time he wasn't part of Skynyrd was during the group's breakup years following the plane crash. Along with Allen Collins, Rossington formed the Rossington-Collins Band in 1980, releasing the LP Anytime, Anyplace, Anywhere that same year, and the follow-up This Is the Way in 1981. The former's "Don't Misunderstand Me" mixed some of their old band's Southern swagger (Skynyrd alums Billy Powell and Leon Wilkeson were also involved) with a dash of funk and the lead vocals of Dale Krantz, whom Rossington would marry in 1982.

The Rossington-Collins Band split in the early Eighties, and Rossington and some of his former Lynyrd Skynyrd bandmates staged a tribute tour to their long-gone comrades in 1987, with Johnny Vant Zant on vocals. The tour eventually evolved into various incarnations of Lynyrd Skynyrd, and the band amassed a new generation of fans, even if they struggled at times to navigate a changing culture. When Skynyrd caught flak for their use of Confederate flag imagery (which they ultimately abandoned in 2012), Rossington said the polarizing symbol was meant to show where they were from and not to offend. "Though I know it's naïve to say that too," he admitted in the 2018 documentary If I Leave Here Tomorrow: A Film About Lynyrd Skynyrd.

Despite all the drama — and death — that Lynyrd Skynyrd endured, Rossington told Rolling Stone that he never considered Skynyrd to be a tragic band. "I don't think of it as tragedy — I think of it as life," he said upon the group's Rock & Roll Hall of Fame induction in 2006. "I think the good outweighs the bad."
That's almost certainly the right way to look at it but the band had no shortage of tragedy.
Keeping up with the lineup is challenging, even for a longtime fan. As the band's Wiki notes, the group originally included vocalist Ronnie Van Zant, guitarists Gary Rossington and Allen Collins, bassist Larry Junstrom and drummer Bob Burns, all of whom were students at Robert E. Lee High School. But Junstrum and Burns left the band and were replaced by Greg T. Walker and Rickey Medlocke, respectively. Walker was replaced by Leon Wilkeson and Medlocke soon left (although he would rejoin decades later and is now the band's lead vocalist). Billy Powell was added as the keyboardist and Wilkeson was replaced by Ed King.
All of that before the first album was recorded!
Of the founding members:
Ronnie Van Zant died in the plane crash, October 20, 1977, at the age of 29.
Garry Rossington just died over the weekend, as detailed above.
Allen Collins sustained severe injuries from the plane crash; lost his wife three years later during childbirth; was paralyzed in a crash that killed his girlfriend in 1986; and finally died January 23, 1990 from pneumonia related to his paralysis, at the age of 37.
Larry Junstrom was replaced before Skynrd cut their first album but had a long career with .38 Special, led by Ronnie's brother Donnie Van Zandt. He died October 5, 2019, aged 70.
Bob Burns left the band in 1974 after a mental breakdown. He died in a car crash April 3, 2015, at the age of 64.
Of those who were on the first album not already covered:
Ed King recorded the first three albums before leaving the band and was thus not on the airplane. He was part of the reformed band from 1987 to 1996, leaving because of congestive heart failure. He died of cancer August 22, 2018, at 68.
Billy Powell was in the plane crash but received relatively minor injuries. He was part of the reformed band from 1987 until his death, at age 56, on January 28, 2009 from a heart attack.
None of these members lived to what I would consider a ripe old age and only Junstrom, who wasn't part of the band in its heyday, and Rossington made it to 70.
Sure, the rock and roll lifestyle can take its toll. But Keith Richards is 79 and Ozzy Osbourne is 74. Hell, Jerry Lee Lewis made it to 87.
It's worth noting that Wilkeson, who was not on the first album, rejoined the band for the follow-up. He was in the plane crash, suffering severe injuries. He was part of the Rossington-Collins band but not the post-1987 Skynyrd. He died in his sleep on July 27, 2001, at age 49.
Two of the other early members who were neither founders nor on the first album are still alive. Walker (born July 8, 1951) made brief appearances on two Skynyrd albums released after the plane crash from archival material but had a decent career with Blackfoot from 1969 to 1985, with Medlocke as the lead vocalist. Medlocke (born February 17, 1950), as previously mentioned, has been the lead vocalist of the revived Skynyrd since 1996.
[*] UPDATE: I meant to note that the lines,
Whiskey bottles, and brand new cars
Oak tree you're in my way
from "That Smell" are pure genius. That co-writer Collins would himself die from the effects of an alcohol-related car crash while Rossington outlived them all is yet another tragic irony of the band.