George Allen Posts Overwhelming Win In Virginia Senate Primary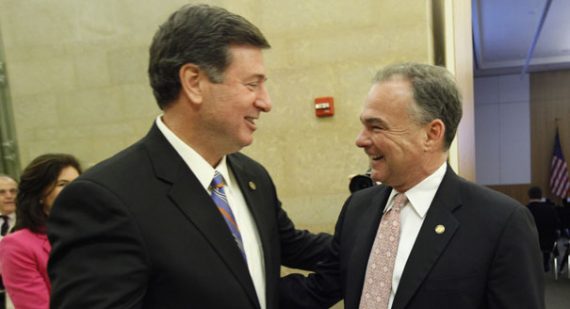 Former Senator and Governor George Allen scored an overwhelming, albeit entirely entirely unsurprising win in the Virginia Republican Senate Primary yesterday:
Political redemption, it seems, is almost never completely out of reach.

Six years ago, after losing his Virginia Senate seat and handing control of the chamber to Democrats, George Allen hinted that he could see a day when the bitterness and embarrassment of his defeat would no longer loom so large.

"Sometimes winds — political or otherwise — can blow the leaves off branches and even break limbs," a reflective Mr. Allen said in November 2006. "But a deep-rooted tree will stand, stay standing," and "will regrow in the next season."

That next season began Tuesday, when Mr. Allen officially claimed the nomination of the Republican Party to regain his Senate seat. His former rival, James Webb, announced his retirement after just one term, and now Mr. Allen is one difficult election away from regaining what he lost.

He may or may not achieve that goal. He faces Tim Kaine, a popular ex-governor of the commonwealth, in a race that will draw huge resources from both parties. Mr. Allen's fortunes are tied to those of Mitt Romney in the state; political observers on both sides predict that if Mr. Romney, the Republican presidential hopeful, wins Virginia, so will Mr. Allen.

But regardless of the outcome on Nov. 6, the Republican Party's willingness to once again embrace Mr. Allen stands as a testament to short memories, a willingness to forgive and the potent desire to win.
Allen has done a lot of work over the past six years to get back in the good graces of Virginia Republicans, but it also helps that the party has gained much confidence from it's gains over the past three years in statewide and Congressional election and, with Jim Webb's decision not to run for re-election, looked at the Senate seat as something they definitely have a chance to pick up. It also helped that there weren't any candidates of statewide stature that entered the race of the Republican nomination, although to some extent that was precisely because Allen himself had decided to run and received the blessing and endorsement of  Governor Bob McDonnell and other high ranking state Republicans. Nonetheless, a primary victory with 65% of the vote is nothing to sneeze at, and will certainly help to unite the party behind Allen heading into what is likely to be one of the most closely watched Senate races of the year.
As far as that race goes, Allen and Kaine, both of whom remain nearly equally popular with voters, have been running neck and neck for months, as this chart from TPM's PollTracker shows: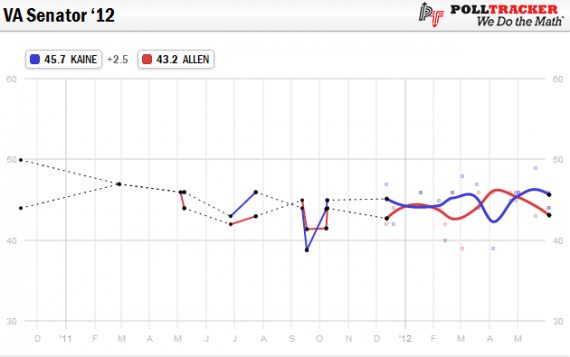 Given that Virginia is also going to be a hotly contested state in the Presidential race, it's likely that the Senate race will be contested over much the same ground as the Presidential race, and that those of us who live in the Old Dominion are going to be bombarded with ads from all four candidates, and uncountable numbers of SuperPACs, for the next five months. Have pity on us.