George Bush Wanted Jeb Bush To Run For President In 2012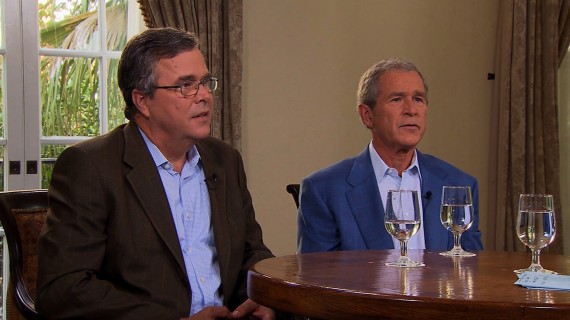 George W. Bush thinks his brother should have tried to follow in his footsteps this year:
Former President George W. Bush and his wife Laura wanted his brother Jeb Bush to seek the Republican presidential nomination in 2012, the former first lady said Wednesday in Florida.

"We wanted him to [run] this time," Laura Bush said in Sarasota, according to the Herald-Tribune. She added that she and the former president "wish he would" run, saying Jeb Bush would be a "wonderful" president in part due to his work on education.

Jeb Bush, the younger brother of George W. Bush and the son of former President George H.W. Bush, was governor of Florida from 1999 to 2007. Bush has ruled out seeking the presidency in this cycle.

Bush, who speaks Spanish and is married to a woman born in Mexico, has been active in trying to bring Hispanic voters – a crucial and growing vowing bloc that usually supports Democrats – to the Republican Party. Earlier this year, he said Republicans should not just run for president by attacking President Obama.

"It's good to be critical of (President Obama) — I think the president means well, but his policies have failed," he said. "But just to stop there and say, 'I'm going to win because I'm against what's going on' is not good enough."
Some of us wish it had been Jeb who ran in 2000, actually, but that's another story.
Jeb Bush would be an interesting candidate for President. By all accounts, he's unlike his brother in several significant respects, had a successful two terms in Tallahassee, and is able to reach out to the Hispanic community in a way that most Republicans are miserably failing to at the moment. At the same time, his last name is Bush and, even if you disregard the issue of the tainted legacy of the Bush 43 years, I'm not sure that the American public would really go for yet another entry into the dynastic Presidency category. Nonetheless, Bush will only be 63 in 2016 so he's technically got another chance to grab for the brass ring if he wishes.