George Washington Students Want to Drop 'Colonials' Nickname
Despite the obvious connection with the university's namesake, the word does have other connotations.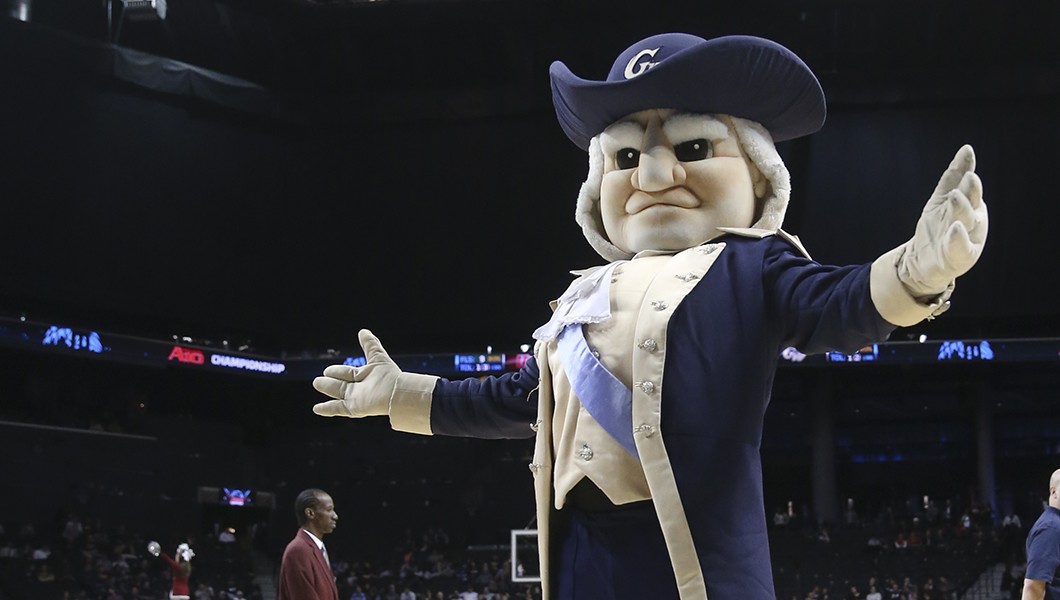 As it nears its bicentennial, students at the university named after the leader of the general who won America's independence and served as its first President want to change its mascot.
Students at George Washington University have voted to urge the removal of the Colonials name from the university's athletic teams. A petition that led to the vote said, "The use of 'Colonials,' no matter how innocent the intention, is received as extremely offensive by not only affiliates of the university, but the nation and world at large. The historically, negatively charged figure of Colonials has too deep a connection to colonization and glorifies the act of systemic oppression. Alternative nickname recommendations are 'Hippos' or 'Riverhorses.'"

Inside Higher Ed, "George Washington U Debates Colonials Name"
The controversy has apparently been brewing for a while.
At first blush, it's rather silly. The association between "George Washington" and "Colonials" is obvious and the "George the Colonial" mascot hammers the point home for the confused. Still, there's no question that "colonial" has another connotation in different contexts.
Fran Buntman, an associate professor of sociology who will speak at the event, said she will share her experiences growing up in South Africa during Apartheid, which sanctioned racial segregation between 1948 and 1994, to educate domestic students about the real-life impact of colonialism.


She added that the term "colonialism" is often misattributed to President George Washington's era, but Washington was an anti-Colonial who led an army of revolutionaries against British control of the 13 colonies.
"It's always mystified me as to why GW would want to be associated with the idea of colonialism, let alone celebrate it," Buntman said.


Buntman added that she wants to remain neutral on the topic as she speaks on the panel so students and officials can hear a solely educational perspective on the topic and form their own opinions.
"I do think I need to help them understand what a word means that they are embracing," she said. "I think sometimes, we don't know the history of something, and when we know that, it makes a difference to what we think about it."


Dane Kennedy, a history and international affairs professor who will sit on the panel, said he wants to inform students about the racial connotations of colonialism, given that the word often refers to a group of white people oppressing minority groups, like Native or African Americans.

"All I can say is that it is a term that has associations that we might not want to have GW associated with," he said. "The past is with us. The past is useful as a way of making sense of the present."

The GW Hatchet, "SA senator reignites effort to change Colonials nickname"
One could see where Native Americans would find the celebration of whites taking over their land offensive. But colonization was only tangentially related to African slavery. It does, however, carry some extremely negative connotations in Africa itself.
The relationship between either George Washington or the District of Columbia with hippos or river horses at first alluded me. Indeed, I don't think I knew that "river horse" is the literal English translation of hippopotamous. Apparently, it's a rather new one based on a story a former GWU president made up.