Georgia Judge: "Barack Obama Is A Natural Born Citizen"
The Birthers have suffered yet another totally predictable loss in Court.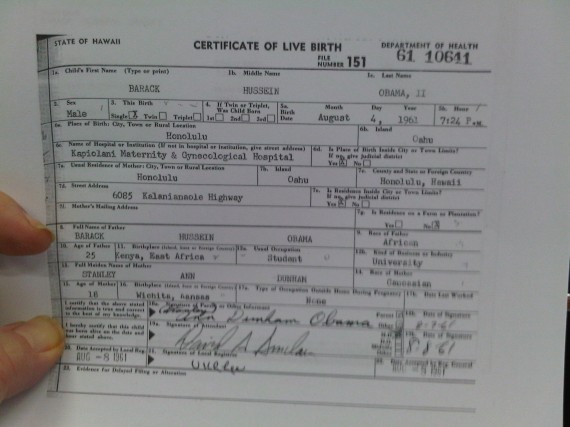 The birther movement suffered yet another totally predictable setback yesterday when a Georgia Administrative Law Judge ruled that President Obama was eligible to be President under the Constitution and would appear on Georgia's ballot:
President Barack Obama's name will remain on the Georgia primary ballot after a state law judge flatly rejected legal challenges that contend he can not be a candidate.

In a 10-page order, Judge Michael Malihi dismissed one challenge that contended Obama has a computer-generated Hawaiian birth certificate, a fraudulent Social Security number and invalid U.S. identification papers. He also turned back another that claimed the president is ineligible to be a candidate because his father was not a U.S. citizen at the time of Obama's birth.

The findings by Malihi, a judge for the State Office of Administrative Hearings, go to Secretary of State Brian Kemp, who will make the final determination. Last month, at a hearing boycotted by Obama's lawyer, Malihi considered complaints brought by members of the so-called "birther" movement.

With regard to the challenge that Obama does not have legitimate birth and identification papers, Malihi said he found the evidence "unsatisfactory" and "insufficient to support plaintiffs' allegations."

A number of the witnesses who testified about the alleged fraud were never qualified as experts in birth records, forged documents and document manipulation and "none … provided persuasive testimony," Malihi wrote.

Addressing the other claim that contends Obama cannot be a candidate because his father was never a U.S. citizen, Malihi said he was persuaded by a 2009 ruling by the Indiana Court of Appeals decision that struck down a similar challenge. In that ruling, the Indiana court found that children born within the U.S. are natural-born citizens, regardless of the citizenry of their parents.

Obama "became a citizen at birth and is a natural-born citizen," Malihi wrote. Accordingly, Obama is eligible as a candidate for the upcoming presidential primary in March, the judge said.
As I noted when I wrote about this last month, there was no legal merit to the claim that the President isn't a natural born citizen because his parents were not both citizens when he was born. That's not now the Constitution works when it comes to citizenship.
There are only two classes of citizen under the Constitution, people who are citizens from birth and people who become citizens through naturalization. It's rather obvious from context that when the Founders used the term "natural born citizen" in the Constitution, they did so to limit eligibility for the Presidency to those people who were citizens from the time they were born. The first Congress clarified this matter even further when it passed the first naturalization law, which provided that ""The children of citizens of the United States that may be born beyond the sea, or outside the limits of the United States, shall be considered as natural-born citizens of the United States."  This is why someone like John McCain or George Romney was eligible to be President; McCain was born to American citizens in the Panama Canal Zone, Romney's parents were American citizens who had fled to Mexico and stayed there until the Mexican Revolution in 1912.  The 14th Amendment further clarified this by providing that anyone born in the United States, other than the child of a foreign diplomat, was a citizen from birth regardless of parentage. In 1898, in United States v. Wong Kim Ark that the Supreme Court definitively stated that people born of immigrant parents in the territorial United States are citizens from birth, in other words they are natural-born citizens. All Judge Malihi had to do was applied this law and history to the facts, and the finding was rather straightforward. Barack Obama was born in the United States, his mother was a U.S. Citizen. Therefore, under at least two legal theories he is a natural born citizen. Any argument to the contrary is simply utter nonsense.
There is some significance, I suppose, in the fact that this is the first time that a Court at any level has ruled on the merits of the birther's idiotic claims and rejected them as the nonsense they are. However, I doubt that's going to deter them. Already, the same group of people are making similar arguments about Marco Rubio and Bobby Jindal, both of whom were born in the United States to immigrant parents who had not yet become citizens. Much like the people who believe that the 16th Amendment was never actually ratified, or that history has suppressed the passage of an amendment that makes it illegal for lawyers to serve in Federal Government positions, this is a legal conspiracy theory that's likely to be around for as long as the tin-foil hat brigade is around.
Here's Judge Malihi's decision:
Farrar-Welden-Swensson-Powell v Obama – Judge Malihi Final Decision – Georgia Ballot Challenge – 2/3/2012