The Birthers Go Down To Georgia
You thought the birthers went away? Silly you.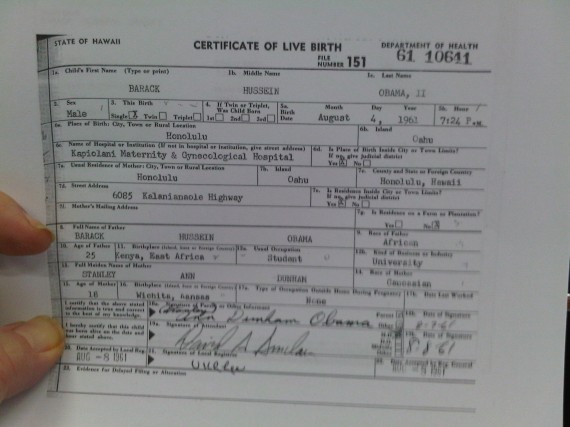 If you thought that the birthers went away after President Obama released an official copy of his "Long Form" Birth Certificate in April, after having released a Certified copy of the same all the way back in 2007, boy were you wrong. It hasn't gotten much national attention, but there is a currently proceeding making its way through the administrative hearing process in Georgia seeking to have Barack Obama excluded from the Georgia General Election Ballot. Their arguments are the old familiar ones, of course. They allege that the President's birth certificate isn't real, and that even if it is, he isn't a "natural born" citizen because one of his parents was not an American citizen at the time of his birth. The legal authority they offer in support of this particular claim is an old, obscure, Supreme Court case called Minor v. Happersett which makes certain statements not central to its holding about what a "natural born citizen" might be. It wasn't until 24 years later, though, in United States v. Wong Kim Ark that the Supreme Court definitively stated that people born of immigrant parents in the territorial United States are citizens from birth, in other words they are natural-born citizens.
In any event, the usual cast of characters, including our old friend the lawyer/dentist/real estate agent Orly Taitz, filed a Complaint with the Georgia Secretary of State who, following the applicable law, referred the matter to an Administrative Law Judge . The President's attorneys had attempted, without success, to kill the case on procedural grounds but it would appear that the rules are slightly different in administrative hearings so matters are still going forward. Yesterday, a hearing was held:
A hearing on whether President Obama should be removed from the November ballot in Georgia ended Thursday without a ruling — and also without Obama.

The president's lawyer boycotted the proceeding — triggered by citizenship challenges brought by a group of so-called "birthers" — calling it "baseless, costly and unproductive." Lawyers for the challengers said the president should be held in contempt for not complying with a subpoena.

"This court has authority to take appropriate steps to punish him in contempt," said state Rep. Mark Hatfield, a Waycross Republican who represents two men from Duluth and Morrow who filed challenges.

Judge Michael Malihi, who recently refused to quash the subpoena summoning Obama, never addressed the request. He cut off another lawyer when he began to complain that Obama's no-show amounted to "contempt for the judicial branch."

"I'm not interested in commentary on that, counselor," Malihi quickly interjected during the hearing, which drew about 80 spectators and members of the media.

Obama's name is on the November ballot, put there by the Democratic Party under standard practice. The challenges were filed last year with the Secretary of State's office, which referred them to the State Office of Administrative Hearings. Malihi will now make a recommendation to Secretary of State Brian Kemp. Kemp's decision can be appealed to a Fulton County judge.

On Thursday, lawyers raised two arguments for why Obama should not be on the ballot. One contended an 1875 Supreme Court opinion says only a "natural born citizen" — someone born in the U.S. and whose parents were U.S. citizens — can be president. (Obama's father, who was from Kenya, was not a U.S. citizen.) The other alleged Obama's birth, social security and passport records are forgeries.

California lawyer Orly Taitz, a leading proponent of challenges to Obama's candidacy, made the latter argument. She turned and faced the gallery — and the TV cameras — during her opening statement, prompting Malihi to tell her: "Counsel, please address the court."

During closing arguments, as Taitz began referring to documents that were not in evidence, Malihi pointedly asked, "Counsel, are you testifying?"

Taitz abruptly halted her arguments, took the witness stand and began testifying. Malihi soon cut her off.

The claims raised Thursday have been brought in courts across the country in dozens of cases, all of them dismissed. Obama released his long-form Hawaii birth certificate last year, quieting but not extinguishing the challenges. Malihi's ruling earlier this month that Obama should appear gave renewed hope to undeterred "birthers" and made Georgia the latest battleground.

Marietta lawyer Melvin Goldstein, who has practiced extensively before the court, called Malihi a "very fair and very reasonable" judge. "But this issue has been adjudicated and then dismissed so many times, I can't imagine his decision would be contrary to decisions in the other cases."
Even if Malihi were to rule against Obama for some bizarre reason, though, that would hardly be the end of the process. The Secretary of State would have the discretion to accept or reject Malihi's findings and, presumably, even after that there would be recourse to the actual court system for further appeal. The idea that this is going to prevent the President from appearing on Georgia's ballot is simply absurd. These arguments have failed in every Court before which they have been made and they are going to fail again. It's really a pathetic display, and an embarrassment to the legal profession. Of course, Donald Trump is probably enjoying it immensely. In short, I wouldn't sweat this one very much if I were the President, which is likely the reason that his attorney didn't even bother to show up yesterday.