Gingrich: Abolish 9th Circuit
Newt Gingrich last night declared that he would abolish the 9th Circuit Court of Appeals.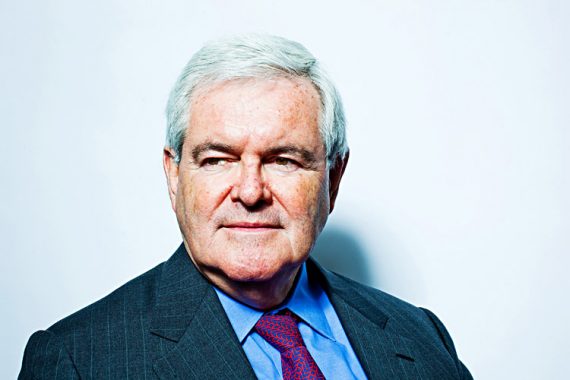 Newt Gingrich last night declared that he would abolish the 9th Circuit Court of Appeals.
Raw Story ("Gingrich: Abolish 'anti-American' Ninth Circuit judges"):
Republican presidential candidate Newt Gingrich declared Thursday that he would work to abolish federal judges if he didn't agree with their "anti-American" or "dictatorial" rulings.

At a GOP debate in Sioux City, Iowa, Fox News moderator Megyn Kelly noted that at least two conservative former attorneys general had blasted Gingrich's "dangerous" and "totally irresponsible" plan because it would alter the balance of powers.

"It alters the balance because the courts have become grotesquely dictatorial, far too powerful," Gingrich admitted. "I've been working on this project since 2002 when the Ninth Circuit court said that 'one nation under God' is unconstitutional in the Pledge of Allegiance. And I decided that if you had judges that were so radically anti-American that they thought 'one nation under God' was wrong, they shouldn't be on the court."

"Like Jefferson, Jackson, Lincoln and FDR, I would be prepared to take on the judiciary if, in fact, it did not restrict what it was doing," he added.

As for those conservative former attorneys general, Gingrich wanted to know if they had studied "Jefferson, who in 1802 abolished 18 out of 35 federal judges?"

"I would suggest to you, actually as a historian, I may understand this better than lawyers, and as lawyers, those two attorneys general are behaving exactly like law schools which have overly empowered lawyers that they can dictate to the rest of us," he insisted.
I would suggest to you, actually as a political scientist, I may understand this better than a historian. Especially one who did his dissertation on the Belgian Congo. And this is a classic example of Gingrich coming up with wild, absurd ideas and convincing himself that they're good public policy.
Yes, it would be technically possible to abolish the 9th Circuit. All the lower courts are a creature of Congress, which has the absolute power under Articles I and III of the Constitution to  establish, dis-establish, and otherwise rein in the powers of all courts except the Supreme Court. But recall that Jefferson was president when the judiciary was still finding its way. Marbury vs. Madison, the 1803 case that staked out the power of judicial review, happened in response to an early controversy in his administration. And observe that the filibuster did not come into being until 1837, well after Jefferson's death. There's simply no way that there would be 60 votes for abolishing the 9th Circuit.
Additionally, the practicalities of the matter are that we need the 9th Circuit or something like it. That is, we need an intermediate court of appeal that handles the enormous caseload coming out of California, not to mention the other states and territories under the 9th's jurisdiction (Alaska, Arizona, Hawaii, Idaho, Montana, Nevada, Oregon, Washington, Guam, and the Mariana Islands). And, given the nature of the judicial confirmation process, the judges will essentially be picked by Senators from those states, which tend to be liberal Democrats.
Actually, a far more useful proposal for dealing with a Circuit whose opinions are so far outside the judicial mainstream that they're constantly being reversed by the Supreme Court would be to reorganize the circuits. The 9th, in particular, is clearly too big given the population of California.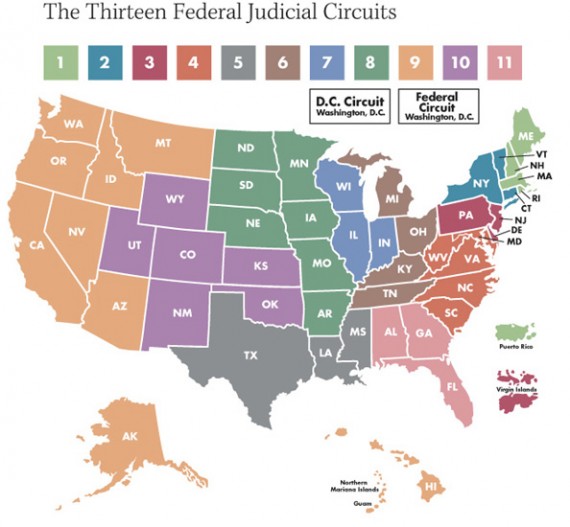 Thirty years ago, the 5th Circuit was split into two with the creation of the 11th Circuit. It would be pretty easy to create a new 12th Circuit and realign the existing 9th and 10th Circuits to create a more moderate balance. Off the top of my head, the 9th could cover Washington, Oregon, Idaho, Montana, and Wyoming; the 10th could cover Northern California, Nevada, Utah, Colorado, and Kansas; and the 12th could cover Southern California, Alaska, Hawaii, Arizona, New Mexico, Oklahoma, and the territories. Given that this would give Senators more power, it would be unlikely to be filibustered.